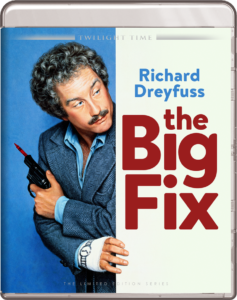 Without a doubt, one of the most romanticised professions in cinema was the modest private eye, particularly during the 1940s. However, when the reality-driven 70s hit, they were far less glamourized and often shown to be semi-competent individuals. Now on Blu-ray from Twilight Time Movies, The Big Fix follows private eye, Moses Wine, an ex-60s radical hired by an ex-girlfriend to investigate a political smear campaign that quickly turns deadly.
What happens to idealistic-minded youth when confronted with the responsibilities of adult life, like marriage and raising children? The Big Fix explores this question primarily through our protagonist, Moses, played by Richard Dreyfuss, a divorced father of two caught between lifestyles as he laments over his past days of social activism. His new political-oriented case sends Moses on a journey of a rather complex nature while giving him a candid glimpse into the lives of whom he would have once considered peers. Some have contained their cause despite landing in jail while others have transitioned into professional life. It's this theme of personal conviction and principals which ultimately plays a significant part in the film's plot, which is weighed down by one too many details, making it difficult to follow at times. Despite the slightly convoluted quality, The Big Fix is an intriguing piece from start to finish that regularly changes up the tone from light comedy to serious drama, giving the film a slight unconventional edge. Richard Dreyfuss is hilariously sarcastic as Moses while he juggles work with parenting and his romantic life with old flame Lila (Susan Anspach), but easily dials up the dramatics when things heat up. The star would have been fresh off his Best Actor win for The Goodbye Girl at the time and his prowess as a leading man really shows. Supporting players such as John Lithgow, Bonnie Bedelia, Susan Anspach, Fritz Weaver and F. Murray Abraham elevate the film and each turn in memorable performances, Abraham especially as the ironic activist Eppis.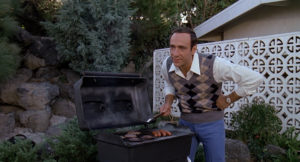 VIDEO AND AUDIO
Presented in 1.85:1 widescreen, the image on this region-free disc is high in contrasts which brings out a lot grain and noise during some scenes. However, close up shots really show the impressive level of clarity and sharpness and remains consistent throughout. I did notice a strange green hue surround the opening credits, but it's not a distraction and would probably go unnoticed by most. Overall, I can't imagine another label improving upon what is a great release. English DTS 1.0-HD Master Audio is a little low in volume regarding dialogue but is nonetheless a clear and rich track that measures up well with the visuals.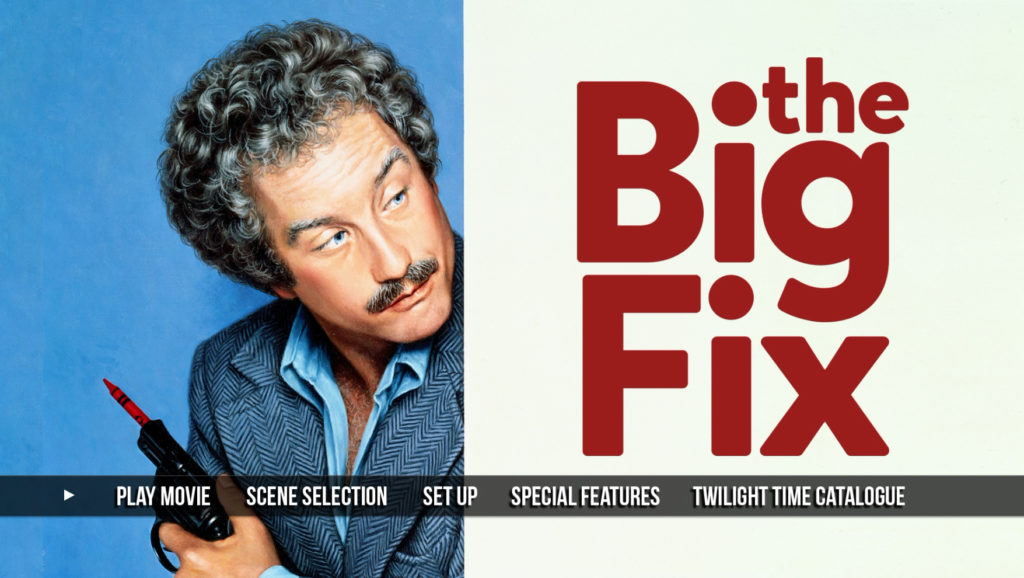 SPECIAL FEATURES
Isolated Score Track
Original Theatrical Trailer
8 Page Booklet
Bill Conti's upbeat music allows for the best use of the 'Isolated Score Track' feature, especially around the 49-minute mark when Moses finds himself being tailed. Reminiscent of the musical stylings of Rocky II, the night-time setting on LA's empty streets makes for one of those quintessential 70s movie moments. Like most Twilight Time releases, a short booklet featuring an informative and interesting essay from Julie Kirgo is included. Filled with background details on the genre as well as a dissection of finer plot details, this addition will no doubt help viewers who felt a little "lost" keeping track of all the film's players.
If you have a nose for mystery, The Big Fix will put you to work, while also offers a relatable slice-of-life narrative for those who have ever be reluctant to let go of an earlier phase in their life.
THE BIG FIX
(1978, dir: Jeremy Paul Kagan)
★★★★
direct blu-ray screen captures
You can follow cinematic randomness on Twitter and Facebook where you'll find all my cinematic exploits. Thank you for visiting!