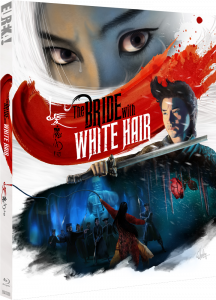 Wuxia, meaning 'martial heroes', is a genre of Chinese fiction the revolves around adventures set in ancient times. Capitalized by the film industry, you're likely familiar with the style even if you haven't seen one of the many titles that were most prevalent during the 80s and 90s. The Bride with White Hair gave me my first time in this fantastical world via the new Blu-ray release from Eureka Entertainment in the UK.
Directed by Ronny Yu, a rather flamboyant Hong Kong filmmaker, the film follows a Romeo and Juliet-type story between two warriors. Zhuo Yihang (Leslie Cheung) a skilled swordsman in the martial arts warrior Wudang Sect, falls in love with Lian Nichang (Brigitte Lin), a young mysterious woman raised by wolves and later adopted by an evil cult led by conjoined twins. As a coalition of sects engage in battle with their malevolent adversaries, Zhuo and Yihang attempt a life of peace away from their opposing communities, but it soon results in chaos.
Western horror fans are likely familiar with Ronny Yu through Curse of Chucky and Freddy vs Jason, which are noticeable departures from the wuxia genre. However, the climactic scene in Freddy vs Jason does adopt some of the nuances seen in The Bride with White Hair, which is a very fast and tightly-edited style that seemingly defies gravity and physics with our heroes performing an array of high-flying acrobatics whilst wielding swords and other weaponry. Narratively speaking, things literally move very quickly and like a lot of Asian cinema of this nature, this film has a very hectic quality and if you don't speak the language, a concentrated effort in reading the subtitles is required. However, in many instances actions speak louder than words and the romantic element between our hero and villainess is quite intense; portrayed as a rather aggressive dance of sorts. This element is enhanced by the film's epic musical treatment, which in turn, lifts film's overall mood and production. Performances from Leslie Cheung and Brigitte Lin are solid, and the two clearly had a dynamic on-screen connection and help propel the story forward while countering the violence with a powerful expression of their forbidden love. Cheung, unfortunately, took his own life in 2003, although his legacy lives thanks to his presence in films like The Bride with White Hair.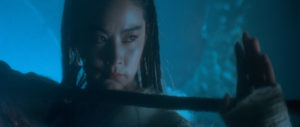 VIDEO AND AUDIO
Eureka hasn't made the leap to 4K distribution just yet, but they've taken a very hands-on role in the film's ultra HD restoration, carrying out the colour grading exclusively, which has officially been approved by Ronny Yu and the results speak for themselves. Presented in 2.35:1 widescreen the image has distinctive pallet with a radiant glow that seems to encompass every frame, heightening the mood of this fantasy's aesthetic. The region B (locked) disc's primary LPCM 2.0 track in Cantonese is without a doubt the best mono presentation I've ever heard. It's surprisingly immersive with solid volume and base, not to mention it is very well-balanced with loud dialogue. Of course, if you have the tech, the DTS-HD 5.1 will give you the best possible output of sound.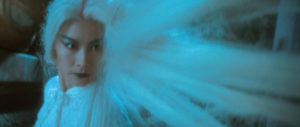 SPECIAL FEATURES
Limited Edition O-Card slipcase featuring new artwork by Darren Wheeling (2000 copies)
Cantonese audio, available in original stereo and restored 5.1 presentations
Optional English and Mandarin audio tracks
Newly translated English subtitles
Brand new feature-length audio commentary by Asian film expert Frank Djeng (NY Asian Film Festival)
Audio commentary with director Ronny Yu
Brand new interview with director Ronny Yu (41 mins)
Brande new interview with actor Joe Tay (21 mins)
Brand new interview with screenwriter Jason Lam Kee To (56 mins)
Brand new interview with editor David Wu (81 mins)
Brand new interview with composer Richard Yuen (24 mins)
Archival "making of" featurette
Limited Edition collector's booklet featuring new writing by James Oliver and Travis Crawford (2000 copies)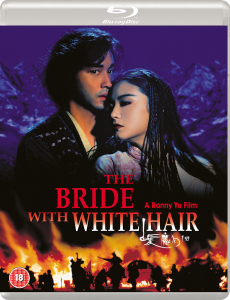 With an abundance of bonus material, Eureka Entertainment has commissioned several new interviewers and audio commentaries to provide the most retrospective examination possible. Ronny Yu, who now resides in Australia, talks about his influences behind making The Bride with White Hair and how he used his film to try and raise the bar for big-screen viewing in Hong Kong theatres, which had fallen behind in terms of the technology they employ. Actor and singer Joe Tay reflects fondly on his experience making the film and speak highly of Leslie Cheung, who was not only the film's male star but a creative force behind The Bride with White Hair, a sentiment reiterated by the composer, Richard Yuen. Recorded from his studio, Yuen goes into detail about how he achieved the very fanciful and almost operatic musical scores, even fabricating a language in part. He cites the late James Horner as a significant influence, which you can hear in the film's main theme. Sealing the deal for collectors and fans is Darren Wheeling's slipcase, which is still available along with the collector's booklet.
The Bride with White Hair is a perfect kind of strange. It bears a resemblance to Hollywood cinema while remaining true to its very specific vision and having conjoined twins as the primary villain is not something you'll see often, if at all.
BRIDE WITH WHITE HAIR  
(1993, director: Ronny Yu)
★★★★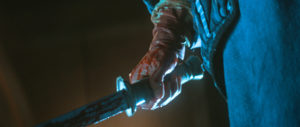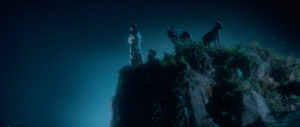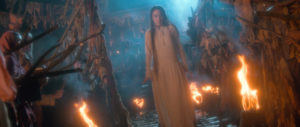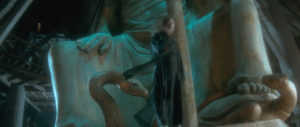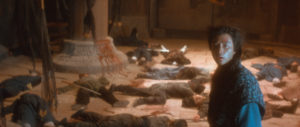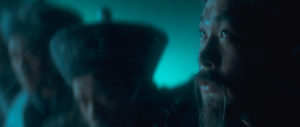 direct blu-ray screen captures
You can follow cinematic randomness on Twitter and Facebook where you'll find all my cinematic exploits. Thank you for visiting!