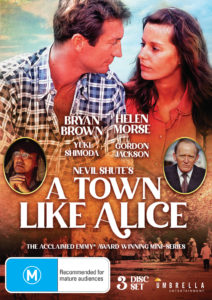 Umbrella Entertainment has been doubling down on their efforts in bringing Australian-made content to physical media, first with the creation of new sub-label, Sunburnt Screens, and the recent restart to their popular line of Ozploitation titles. Between these two events, Umbrella has unearthed the classic TV mini-series, A Town Like Alice, adapted from Neil Shute's novel, now on DVD for the first time; assuming the other DVD editions I've seen are unlicensed.
Set over the course of three 106-minute episodes, this romantic drama follows the lives of Jean Paget (Helen Morse) and Joe Harmon (Bryan Brown), who cross paths in Malaya while prisoners of the Japanese during World War II. Separated by tragedy, they attempt to reunite a few years after the war's end but face numerous obstacles and circumstance that stand to threaten their quest for happiness in the harsh Australian Outback.
A Town Like Alice first came to the screen in 1956 via film, coming in at just under two-hours, whereas this made-for-TV retelling struggles to sustain its feature-length episodes, often resulting in periods that feel almost stagnant due to their drawn-out quality. The first episode is the most enjoyable and went by rather quickly, showing the sudden upheaval caused by the arrival of the Japanese. We follow Jean and her fellow female prisoners who spend more time walking than Frodo and Sam as they're sent from location to location, unwanted by their own captures. Their road to nowhere extracts a heavy toll, but small moments of relief and joy help keep maintain spirits and counteracts the dire tone. As the remaining two-episode unfold, the first chapter feels more and more like a distant memory, which works well within the context of the story as a whole. Jean and Joe's path eventually merge, which brings about a new set of challenges, many of them social; such as the struggle of acceptance and introducing change to a community that's very much stuck in its ways. While I do see the value in what's being portrayed, it's a real slog to get through. I feel the message could have been covered in half the time without losing its impact. Performances are very patchy among the supporting cast but stars Helen Morse and Bryan Brown are both solid as Jean and Joe while Gordon Jackson as Jean's solicitor, Noel, gives a very dignified performance as a man torn between a fleeting chance at love and professional responsibility to his client.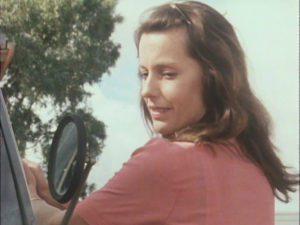 VIDEO AND AUDIO
Advertised as, and I quote Umbrella's Facebook post, "Newly restored from original film elements", unfortunately, the image doesn't reflect the quality one would normally expect from a restoration. I reached out to Umbrella for clarification and I was told the by their customer service representative that the process was more of a clean-up of the source material; files for which were provided directly from the National Film and Sound Archive of Australia. Commercial breaks were edited and removed to help create a seamless presentation for the DVD and to Umbrella's credit, they've done a great job in that department. There's no questioning their efforts, but the picture falls short of what's capable of standard definition. Presented in 1.3:1 (4:3 Standard) NTSC Colour, the region 4 disc offers a decent audio track in Dolby 2.0 Mono that produces good volume.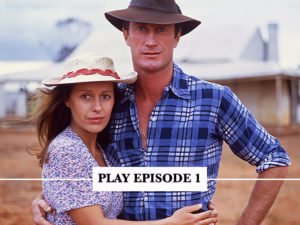 There's no denying that A Town Like Alice certainly has its fans, as the series does capture and exploit a romanticised narrative of post-war life about individuals looking to start again, but the prolonged story-telling on a rather straight forward narrative, compounded by a poorly advertised DVD release did not bode well for me. However, it's a part of Australia's television history and Umbrella deserves credit for making it easily accessible.
A TOWN LIKE ALICE  
(1981, director: David Stevens)
★★★
direct dvd screen captures 
You can follow cinematic randomness on Twitter and Facebook where you'll find all my cinematic exploits. Thank you for visiting!