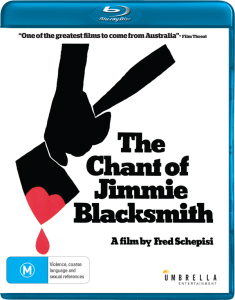 Films like Wake in Fright, Picnic at Hanging Rock or Pricilla Queen of the Desert are the "masterpieces" off Australia cinema that usually get thrown around when the topic of conversation arises. However, while recognized as such in its own right, The Chant of Jimmie Blacksmith isn't as well known to mainstream audiences. Hopefully that will soon change as the widely popular Umbrella Entertainment have put together what can only be described as a definitive edition of the internationally acclaimed feature.
Based on Thomas Keneally's novel, this shocking tale surrounds the plight of the young Aboriginal half-cast Jimmie Blacksmith who is raised in rural Australia by his tribe and educated under a stern Methodist minister. Determined to make an honest and respectable life for himself he is slowly driven to madness by the blatant racism and discrimination rife throughout colonial society. The Chant of Jimmie Blacksmith is nothing short of stunning and remarkably relevant. Fred Schepisis paints polarising portrait of a rapidly modernising Australia following Federation, which still has much progress to make in recognising the rites of indigenous peoples and their respective culture; an issue that remains a blight Australia's national character to this day. Wonderfully acted by first time performers Tommy Lewis as the titular protagonist and Freddy Reynolds as his brother Mort, this rich and tragic story of relentless hardship is beautifully shot by cinematography Ian Baker who captures the natural beauty of the vast landscapes.
VIDEO AND AUDIO
Despite the film's age and lack of previous home video releases, picture and sound have come together extremely well, providing clarity on both fronts.
SPECIAL FEATURES
I don't think one could've asked for anything more in the way of extra content, which covers such a broad spectrum it feels as if you're living through the film's production and subsequent release.
Introduction by Fred Schepisi
A Conversation with Director, Fred Schepisi & Cinematographer, Ian Baker
Interview with Tommy Lewis
Audio Commentary with Fred Schepisi
Melbourne Premiere from Willesse at Seven, Jun 1978
GELLULOID GYPSIES: Making Jimmie Blacksmith – Interviews with key cast and crew
Stills Gallery
Theatrical Trailer
Q&A session with Fred Schepisi and actor Geoffrey Rush at the Melbourne International Film Festival, 2008
Making Us Blacksmiths – Documentary on the cast of Aboriginal lead actors, Tommy Lewis and Freddy Reynolds
The Chant of Jimmie Blacksmith arrives on Blu-ray region free, which is undoubtedly a plus for international customers and the film itself, one I would sight as compulsory viewing for any fan of Australian cinema.
THE CHANT OF JIMMIE BLACKSMITH
(1978, dir: Fred Schepisi)
★★★★½
You can follow cinematic randomness on Twitter and Facebook where you'll find all my cinematic exploits. Thank you for visiting!