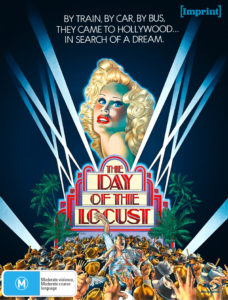 With the majority of available titles now sold out, Imprint Films have gained a solid foothold in Australia's physical media market since the label's launch back in COVID-dominate May. One release that's still beckoning to collectors is The Day of the Locust, an unpolished gem that remains a very polarising interpretation of 1930s Hollywood and comes adapted from the novel by Nathanael West.
William Atherton is aspiring impressionist artist, Tod Hackett, illustrating for a major film studio while renting an apartment at the San Bernardino Arms, famously known to film fans as the residence of "The Dude". This iconic piece of real estate is somewhat of a junction for a number of characters circling the outskirts of fame, who are either trying to make it big or are hanging to a now distant past. Karen Black as an active film extra, Faye, catches the eye of Tod while dreaming of becoming the screen's next leading lady, despite her obvious lack of talent. The two have a cold and hot relationship as Faye, with her dazzling beauty, brings repressed accountant, Homer Simspon (Donald Sutherland), into this miss-matched trio. The Day of the Locust is a stark examination of the Hollywood machine, from the mechanics of filmmaking to the strange perversions that lure in many of the industry big wigs and outsiders. It feels very long-winded as there's no real plot or story, but if you view the film as a slice-of-life drama, it's quite easy to enjoy and numerous supporting acts add to the very surreal feeling of strangeness. Burgess Meredith as Faye's ageing father, Harry, brings a very theatrical quality as he scrapes by as a 'snake oil' salesman, while neighbour, Abe (Billy Barty), rubs shoulders with the underworld and processes tremendous moxie for his size. Darting in and out of scenes is a young Jackie Earle Haley, a child star in waiting, dressed like a member of the Lolli Pop Guild, who spends the film mastering the art of being obnoxious. Despite being top-billed Donald Sutherland takes a back seat to co-stars, Atherton and Black, although his performance as a man on the edge of sanity is both frightening and hilarious. Most people know William Atherton for his role in Ghostbusters and Die Hard, in which he plays pretty despicable characters, but his performances as Tod I think will change your perception of the actor. He proves to be very capable as a leading man while capturing the nativity of young new-comer to Tinseltown, and in part, serves as the audience's eyes and ears while in this bewildering world.
VIDEO AND AUDIO
I can't fault either the DTS 5.1 or LPCM 2.0 Mono tracks, they're more than serviceable, especially in surround sound, but the image falls very short from the quality expected from a 1080p presentation. There's a notable lack of sharpness and the 1.78:1 picture is very diluted with blown-out whites, resulting in colours that not only rarely pop but appear remotely vibrant. You could make the excuse that being a first-time Blu-ray release, it's merely laying the groundwork for a future restoration, but you could also argue that Imprint should have strived for a better HD print given the label's premium status. However, I still enjoyed the movie despite the sub-standard picture and it's by no means unwatchable, just not befitting to the format. English subtitles are available.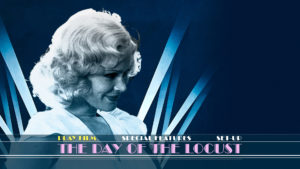 SPECIAL FEATURES
NEW 2020 Video Interview with actor William Atherton
NEW 2020 audio commentary by Kat Ellinger, author and editor-in-chief of Diabolique Magazine
NEW 2020 video interview "Kim Newman on The Day of the Locust"
Teaser Trailer
Theatrical Trailer
Limited Edition slipcase with unique artwork on the first 1500 copies
Imprint Films have commissioned some very fresh bonus content for this debut release, including a 21-minute sit down with actor William Atherton, who at 73 years of age, is still very lively. He speaks openly and honestly about the film, Nathanael West's novel, and his own personal experiences in relation to them. Kim Newman offers his interpretation from more of film buff perspective as does Kat Ellinger via her commentary. Artwork represents the glitz and glamour of 1930s Hollywood with a colourful aesthetic and Imprint's quality packaging does in some part make up for the disappointing HD transfer.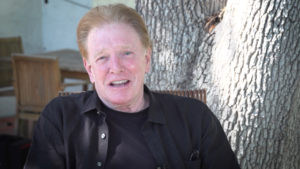 The Day of the Locust is a film I recommend, but it does have a specific audience. However, with all its eccentricity, there's a rather nasty racial undercurrent towards its depiction of African-Americans, which is a little jarring at times, but no doubt a reflection of the time period in which the film is set.
THE DAY OF THE LOCUST  
(1975, director: John Schlesinger)
★★★½
Head over to the Imprint Films Facebook page for the latest releases, giveaways, great deals and more!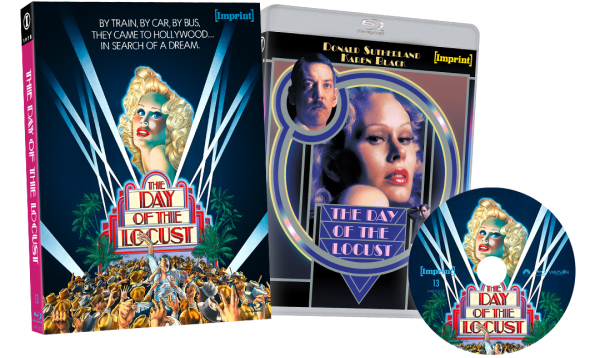 direct blu-ray screen captures
You can follow cinematic randomness on Twitter and Facebook where you'll find all my cinematic exploits. Thank you for visiting!