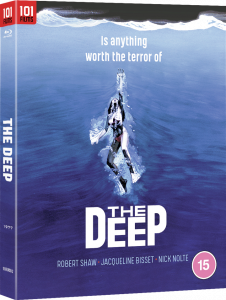 I remember The Deep playing a lot on TV when I was a kid, often following an airing of Jaws due to the Shaw/Benchley connection, and being falsely advertised by the network as something more in line with Spielberg's classic. It wasn't until I finally sat down to watch the movie that I discovered that the plot is actually about treasure hunting with an underlying criminal element; and now it's out on Blu-ray in the UK from 101 Films, part of their popular 'Red Label' line.  
While on vacation in Bermuda, a young couple, David and Gail (Nick Nolte and Jacqueline Bisset) recover some questionable artefacts when scuba-diving among one the many shipwrecks along the shallow coast. When the two bring their findings to renowned treasure hunter, Romer Treece (Robert Shaw), they attract the attention of local criminals.
I think it's a shame this very 'on-location' production is often overlooked as not only does it offer an exciting story, but a very scenic view of a tropical paradise with breathtaking underwater sequences that take up large portions of the picture. One's idea of treasure is defined in rather stark contrast by what's discovered inside the wreck of a WWII supply ship. Ampoules of amber-coloured liquid and golden relics from centuries ago drive the plot as our three heroes work to satisfy a villainous drug kingpin, Henri "Cloche" Bonduran, played by the refined Louis Gossett Jr. While the film tends to steer at times towards romantic interludes with our attractive couple, things generally stay on track and a feeling of ever-present danger rarely subsides. Underwater scenes hinge a lot on the physical language of the actors, and Nick Nolte talks about this in one of the bonus featurettes. The performer strives to develop his character while below the surface, and I think he succeeds as we get a good sense of his bravery and adventurous spirit. Honesty, if the whole film took place beneath the waves, you'd still have a pretty good movie. It taps into our natural curiosity and enjoyment of exploring parts unknown. Robert Shaw is terrific as Treece, who embodies the story's essence. It's nothing short of tragic that he passed away just a year after The Deep hit theatres. Jacqueline Bisset is very enthusiastic as Gail, who gels well with Treece and like Nolte, performs well underwater as an accomplished diver.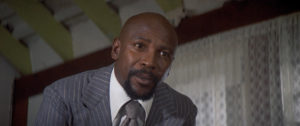 VIDEO AND AUDIO
The Deep sounds better than it looks via a very rich and loud 5.1 DTS-HD Master Audio track with a secondary in LPCM 5.1 that's also impressive, both of which really help elevate the underwater experience with reverberating sounds and the muffled vocals from the actors. However, the picture, while very sharp, isn't as clean as I expected and noticeable amounts of digital noise degrade the presentation to a degree. Although, colours show up very nice throughout the tropical setting and blue, of course, being the most dominate, looks very inviting during the many dive sequences. Overall, I think this Blu-ray release is very much warranted and comparing it to my first viewing of the film via Crackle, it's a night and day comparison in 101s favour.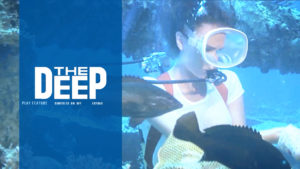 SPECIAL FEATURES
Cinema Retro mini-magazine: The Deep 'Film in Focus' Special
Commentary with film critic Kevin Lyons (NEW)
Interview with Underwater Art Director Terry Ackland-Snow (NEW)
The Making of the Deep
Select Scenes from the 3-hour Special Edition
If you enjoyed the film you really must watch The Making of the Deep, a vintage 48-minute documentary that originally aired on television as a "CBS Special Presentation". Narrated by Robert Shaw who's wearing the most epic Celtic cardigan I've ever seen, takes those watching at home through the making-of process, mainly the underwater filming with all its technical challenges. It really makes you appreciate the lengths which the filmmakers went to give audiences the most authentic experience possible. Studios today wouldn't even entertain the notion of a film like The Deep being made; and even if they did, the insurance companies would stop the production dead in its tracks. Terry Ackland-Snow's interview, which runs for about 15-minutes, isn't as interesting but again re-iterates the effort made to film in an aquatic environment. One of the Select Scenes shows the ill-fated Goliath just prior to its sinking, which is unnecessary in an equally unnecessary 3-hour cut, which takes away a lot of the mystery surrounding the lost supply vessel. Other scenes go into an additional subplot that was probably cut as it does slow down the film's momentum. 101 haven't opted for anything different in regards to cover art, which is similar to the novel on which the film is based and it's visually reminiscent of Jaws, which instantly draws your attention.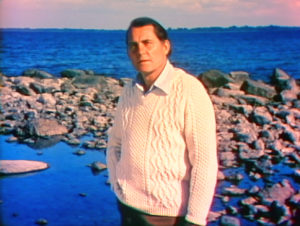 The Deep with all its natural beauty may seem like a cruel reminder of summery getaways in this COVID climate, but if you're stuck at home I think it will lift your mood by giving you an ample dose of adventure via the splendour of high-definition.
THE DEEP
(1977, director: Peter Yates)
★★★★
direct blu-ray screen captures
You can follow cinematic randomness on Twitter and Facebook where you'll find all my cinematic exploits. Thank you for visiting!