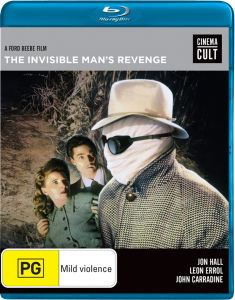 Fifth film and fourth sequel in the Invisible Man series, The Invisible Man's Revenge accompanies Gill-man sequel Revenge of the Creature from September's vengeance-fuelled titles on Blu-ray under Shock Entertainment's dedicated label Cinema Cult. All but completely removed from the 1933 original, fugitive Robert Griffin is aided by an eccentric scientist who makes him invisible via a secret formula. Equipped with his new power, Griffin seeks to extract revenge from his former friends over a financial doublecross.
If you're looking to take a stab at the world of Universal Monster Classics and aren't particularly fussed with where you start, then I recommend The Invisible Man's Revenge as suitably random jumping off point. Like its predecessors, the madness that ensures from invisibility develops quickly, while lending itself to some fun visual gags along the way, often at the expense of others. Made decades before the digital age even began, the practical means the filmmakers use to achieve the title effect is still impressive to this day and prompts curiosity from the viewers as to how it was actually done. Despite the plot being a little thin, Jon Hall is decent as the film's anti-hero Robert Griffin, while screen legend John Carradine is terrific as scientist Doctor Drury, who has no qualms about giving his beloved pets the power of invisibility. For what reason? Well, that remains to be seen (no pun intended).
VIDEO AND AUDIO
Featuring cover artwork that I'm sure avid collectors will recognise from the Universal Monsters VHS series, The Invisible Man's Revenge looks sharp on this particular Blu-ray release with a rather smooth finish to the transfer, that isn't without minimal film grain.   However, high definition is a little revealing at times regarding the film's special effects, but thankfully not enough to break the illusion entirety. Presented in the film's original aspect ratio of 4:3 letterbox, the disc is region B encoded under a Dolby Digital 2.0 English audio track.
The Invisible Man's Revenge is a fun B-picture within Universal's back-catalogue from the 1940s. If you're venturing into the realms of classic cinema this October, then this is one title worth adding to your list.
Note: The Invisible Man's Revenge is also available on DVD from Shock Entertainment.
THE INVISIBLE MAN'S REVENGE
(1944, dir: Ford Beebe)
★★★½
You can follow cinematic randomness on Twitter and Facebook where you'll find all my cinematic exploits. Thank you for visiting!