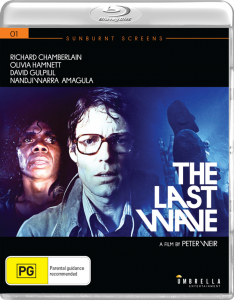 When COVID-19 hit our shores earlier this year, formats for the already struggling physical media market were grim, especially regarding new release films. However, it seems some distributors are enjoying a wave of prosperity, including Umbrella Entertainment, who surprised many with the announcement of a new sub-label, Sunburnt Screens, which is intended to focus on "landmark Australian cinema" to quote their social media post. The Last Wave officially marks the first volume, Peter Weir's follow-up to his hauntingly poetic classic, Picnic at Hanging Rock, in which a Sydney lawyer must defend a group of Aboriginals involved in a ritualized murder.
American actor with the most English sounding name imaginable, Richard Chamberlain, is our presumed Aussie lead David Burton, whose first criminal defence case opens the doors to the world of Aboriginal Dreamtime, which he seems to be subconsciously connected through premonitions and a possible ancestral link. While the story unfolds, there's a recurring theme of unseasonal weather, particularly unexpected heavy downpours playing on a motif of water, the source of life. The Last Wave doesn't really make anything clear to the audience, nor does it try do. Peter Weir is attempting to examine the profound relationship between Australia's native people and the natural environment, specifically how it's been affected by the urbanisation of the land and people; the erosion of tribal law and culture. David Gulpilil as one of the accused, Chris Lee, attempts to guide our protagonist through the increasing frequency of unusual events by giving him fleeting glimpses into this spiritual realm, which seem to be resonating a very ominous warning of things to come. Visually, I think the film speaks more than the dialogue, with a clear focus on nature's growing fury which is heightened with tremendous sound effects and practical elements. Both Chamberlain and Gulpilil takes the viewers on very mysterious journey and their performances very naturalistic, especially Gulpilil, who to his credit as an Australian screen icon, never really seems to be acting. The added presence of an Aboriginal elder, played by real-life tribal elder Nandjiwarra Amagula vindicates the intended purpose of Weir's idea and the subject matter that at time was falling through the cracks in among white Australian society.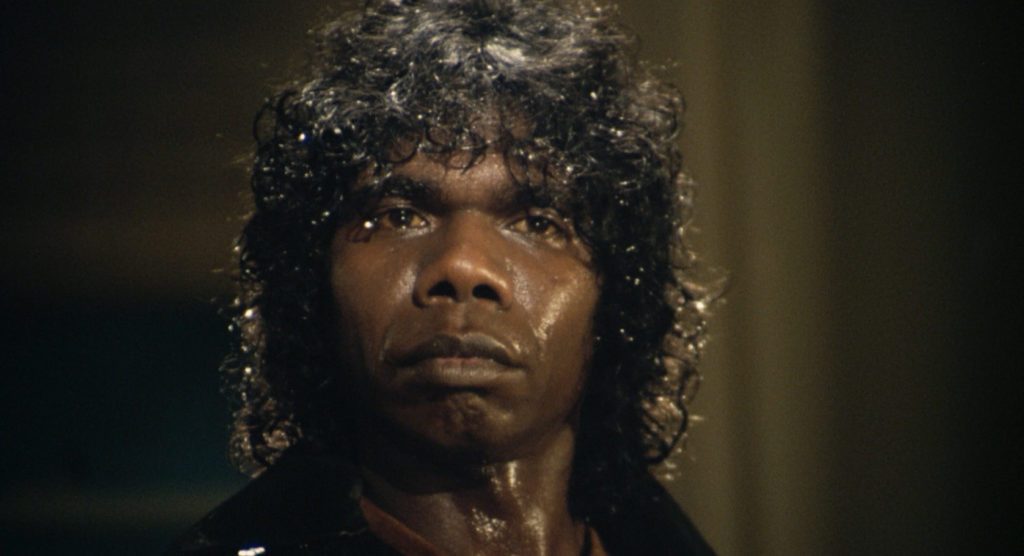 VIDEO AND AUDIO
Newly restored and remastered from a 4K scan, the image quality is a vast improvement over the previous HD release from Germany in 2012. Roar Digital in Melbourne, the post-production team who have been behind a number of Umbrellas 'Ozploitation' releases, have preserved the film's arid Australian aesthetic with a light saturation of warm colours, which have great contrast against the scenes of torrential rain that often take place during night. Presented in 1.85:1 widescreen, the 2.0 DTS-HD Master Audio track is very clear and rich in details, but frustratingly low in volume (to be the fair much of dialogue is spoken in hushed tones). English subtitles are included and while the release is labelled as Region B, I would not be surprised if it's actually Region-Free as that's often the case with Umbrella's Blu-ray titles.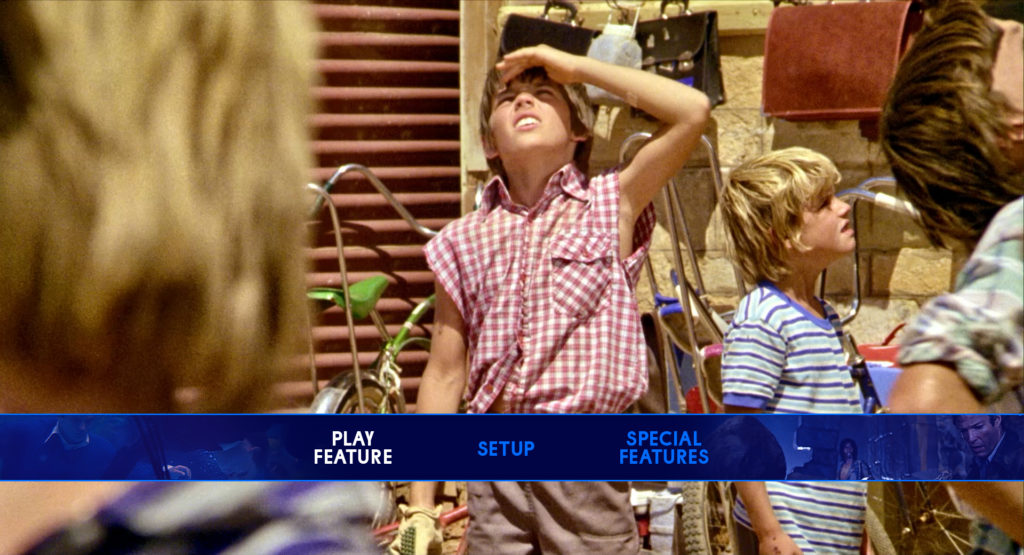 SPECIAL FEATURES
Interview featurettes with: Lead Actor Richard Chamberlain, Producer Jim McElroy and Director of Photography Russell Boyd.
David Stratton on The Last Wave
Trailers from Hell: The Last Wave with Brian Trenchard-Smith
Edition from the 1980 documentary David Gulpilil: Walkabout to Hollywood
Theatrical Trailer
Gallery
In what very well may be the first Blu-ray release in Australia to reflect COVID-19 restriction, actor Richard Chamberlain gets on Zoom with Paul Harris, presenter of the Film Buffs Forecast, for an in-depth interview about The Last Wave and working with director Peter Weir. Chamberlain speaks fondly of his experience making the film, although producer Jim McElroy's interestingly contradicts some the actor's positive testimony. David Stratton also gives his two cents on the film while telling a somewhat 'Rupert Pupkin-style' anecdote to a mildly enthusiastic audience. I was happy to see Trailers from Hell on this disc, which is a really entertaining and fun way of viewing trailers learning about movies, and regular presenter Brian Trenchard-Smith doesn't hold back in expressing love for the overlooked Peter Weir classic. In regards to Sunburnt Screens, Umbrella have opted for a simple template with minimal art that I think works well for upcoming volumes, but apart from the sleeve the sub-label is not represented in any way on the disc itself. I would have liked to have seen more consistency across the board.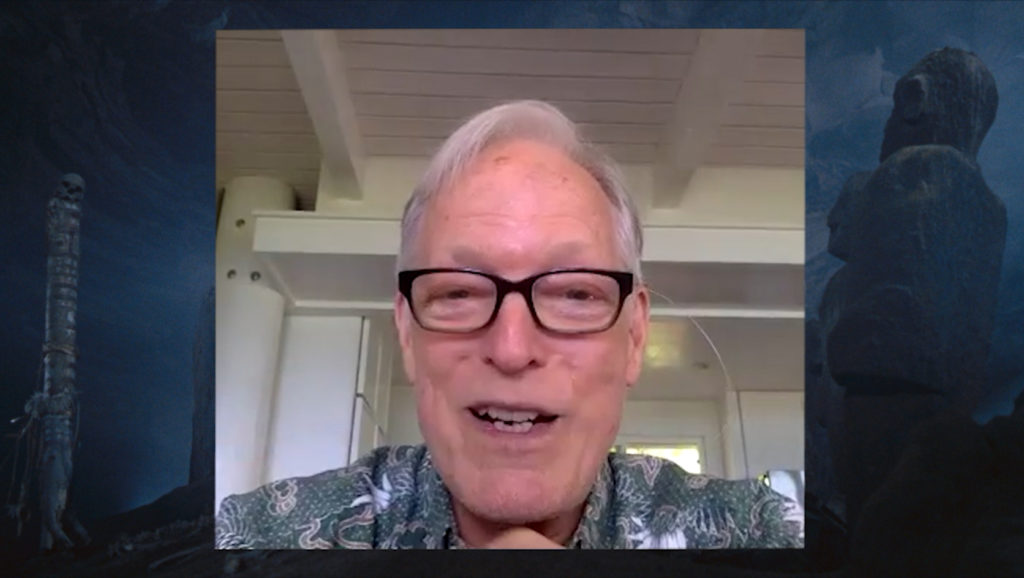 The Last Wave channels the mystical and spiritual concepts of tribal Aboriginal lore more than any other film before or since, which makes it one of the most aesthetically Australian features ever produced. Umbrella couldn't have picked a more suitable title to debut their new label. Hopefully, The Cars That Ate Paris is one the horizon.
THE LAST WAVE
(1977, director: Peter Weir)
★★★★
direct blu-ray screen captures 
You can follow cinematic randomness on Twitter and Facebook where you'll find all my cinematic exploits. Thank you for visiting!