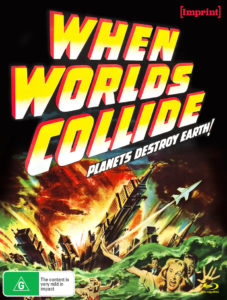 I remember first hearing about When Worlds Collide via a loose reference on an episode of Seinfeld, in which George Costanza likened the cataclysmic event to the unwanted merging of two separate parts of his social life. That's actually very relatable. Now the George Pal classic has collided with Blu-ray for the very first time, available now in stores and online from Imprint Films, No. 6 in their second wave of titles.
When a star and it's orbiting planet are discovered to be on a collision course with Earth; a group of survivalists along with those who made the alarming observation scramble to prepare a rocket ship that will take them a new world. What sounds like a very fantastical premise, might not be outside the realm of possibility as collision's with planetary objects has been theorised to be a significant factor in how our own planet was formed billions of years ago. It may well happen again, but we'll likely to be long gone. When Worlds Collide treats this idea seriously, which gives it credence as a potential way of humans preventing its own extinction, should the technology be available. Impressively, the film makes an effort to explain the methods of how our characters mean to escape disaster, with common principles and practises almost a decade before America's space program began. Their plan is even dependent on the funding from private enterprise, much like today's aerospace companies. However, the contribution of personal wealth can lead to dangerous compromising, dictated by the film's antagonist, business magnate Sydney Stanton.
There's an impressive and wide use of miniatures, which show up great in HD, which is a relief as the format tends to be a bit too revealing with older films. Combined with other practical element's the sequences of global destruction are achieved well, managing to keep the special effects as the main showpiece despite the film's age. Performances are all pretty decent among the cast of humanitarian figures, and not surprisingly, there's a light romantic subplot weaved between the seriousness. I think this speaks volumes about the casually sexist view studios had towards film audiences with the notion that women would only accompany their boyfriends or husbands to the theatre if there was a sprinkle of romance involved. Although, in the case of When Worlds Collide, it's not completely empty as the all-but-doomed love also serves as a way of helping our hero realise his importance and value to the eventual survivors, should they succeed.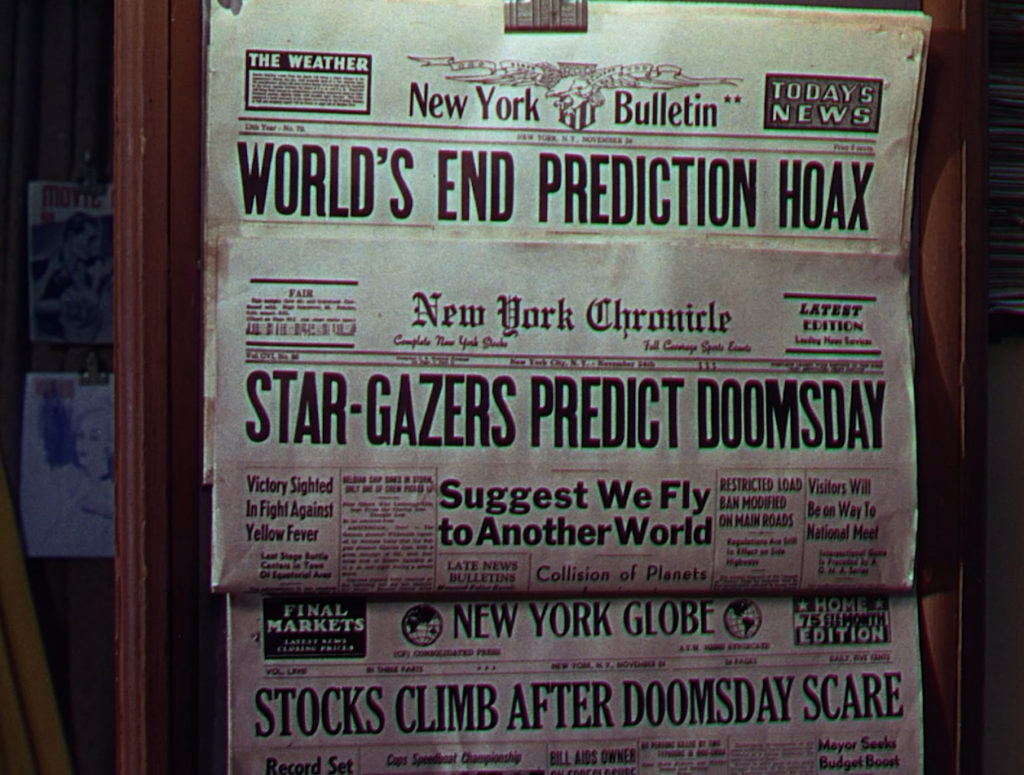 VIDEO AND AUDIO
Imprint's first edition, The War of the Worlds, set the bar pretty high for HD rendering of 50s science-fiction and while When Worlds Collide falls just short of matching the inaugural release, it looks superb for its Blu-ray debut. Sharpness is very finely tuned with the 1.33:1 Technicolor image delivering the biggest wow-factor. Although, it's clear you're watching a 1080p upgrade of a previously released digital transfer as some moments throughout the feature appear a little scratchy and not as clean. LPCM 2.0 Mono provides an authentic uncompressed audio experience with good volume and clarity, which is a plus considering how impactful sound is to the film, giving weight to the many miniatures.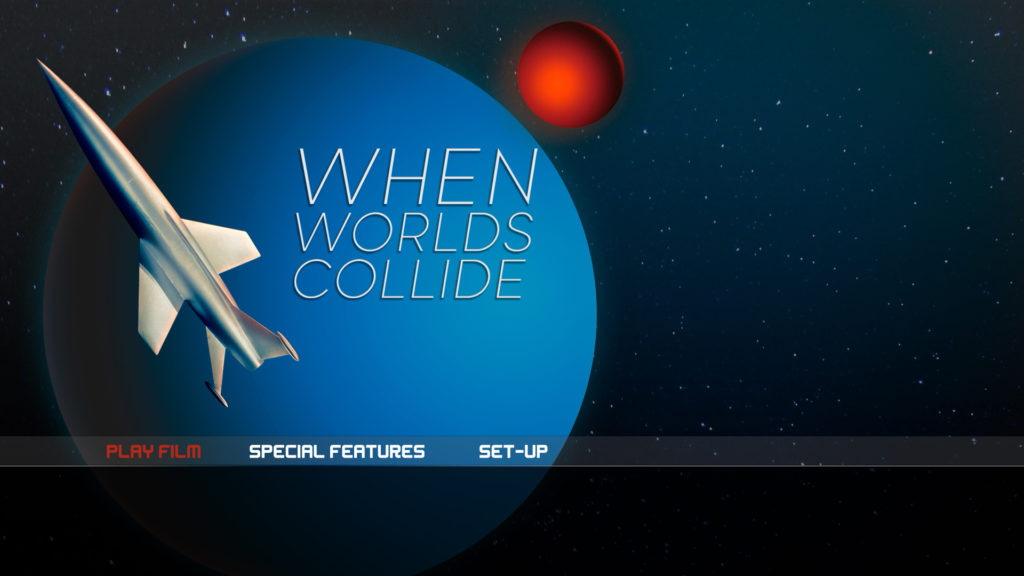 SPECIAL FEATURES
NEW exclusive audio commentary by film critics Barry Forshaw & Kim Newman
90min of Extended Interviews with Gene Roddenberry, Ray Bradbury, Ray Harryhausen, Roy Edward Disney, Wah Chang, Russ Tamblyn & Duke Goldstone recorded for the 1985 documentary, Fantasy Film Worlds of George Pal
LPCM 2.0 Mono
Optional English subtitles
Theatrical Trailer
Photo Gallery
Limited Edition slipcase on the first 1500 copies
"Nerdlingers" the world over, myself included, will be pleased with this collection of science-fiction authorities with renowned British journalists and film critics, Barry Forshaw and Kim Newman providing an in-depth commentary. Interestingly the 90 minutes-worth of interviewers equal the length of Fantasy Film Worlds of George Pal, so I'm not sure why Imprint didn't include the documentary instead. Never the less you'll certainly be enticed to seek it out. Artwork differs greatly between the slipcase and the inside-sleeve, which opts for a simpler and more artistic approach while a more recognisable theatrical image is front and centre.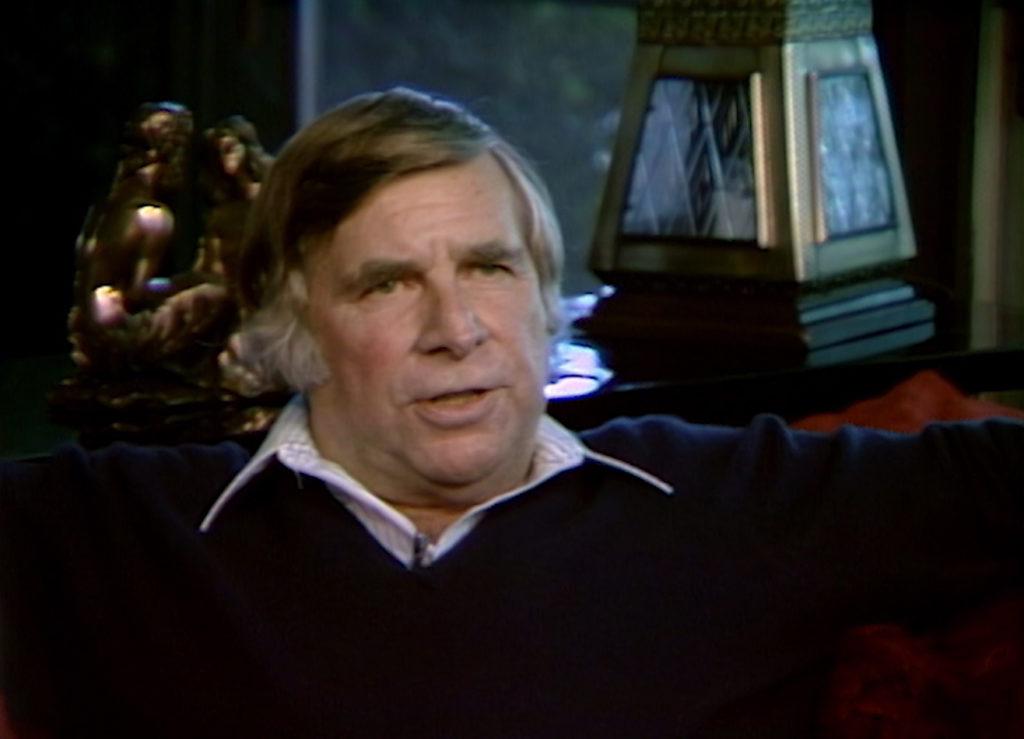 When Worlds Collide begs the question of whether we're destined live and die on planet Earth or to prosper on another world in the distant future, furthering the species. If we do have to leave one day, I hope someone takes this Blu-ray release with them, because it's as good as it gets.
WHEN WORLDS COLLIDE
(1951, director: Rudolph Maté)
★★★★½
Head over to the Imprint Films Facebook page for the latest releases, giveaways, great deals and more!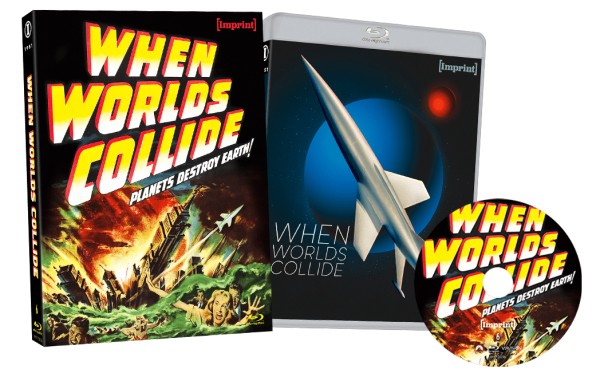 direct blu-ray screen captures
You can follow cinematic randomness on Twitter and Facebook where you'll find all my cinematic exploits. Thank you for visiting!