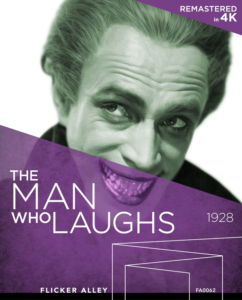 If you enjoy movies but had never seen nor heard of The Man Who Laughs, it would only take a quick glance at the title figure's fixed grotesque grin to realise what an impact it's had on the medium and beyond. Now over ninety years after its release, Paul Leni's tragic romantic drama has been restored and released on Blu-ray by the prestigious Flicker Alley in the United States.
When a proud noble refuses to kiss the hand of the tyrannical King James, he is mercilessly executed while his son, Gwynplaine, is surgically disfigured. Years later the now adult Gwynplaine has become the star of a travelling carnival, headlining its 'freak show' act. The Man Who Laughs is a familiar story in the sense that it revolves around a central figure persecuted and ridiculed due to an obvious deformity but offers more beneath the surface. Gwynplaine has acceptance from his fellow performers and father-figure Ursus, the carnival owner. He's also in love with Dea, a blind young woman who Gwynplaine saved as a child, but believes himself unworthy of her affection due to his disfigurement. This belief and feeling of unworthiness transcends to the common folk he and his troupe perform before, mere peasants to the ruling class favoured by the new monarch Queen Anne (yes the very same from The Favourite) and her cohorts. However, a twist of fate attempts to usher Gwynplaine into a life of privilege; a societal ugliness which the film presents in poetic contrast to our lead's plight. Initially, I found The Man Who Laughs quite easy to follow, but as the story evolved I admit to having a little trouble, but I chalk that down to not be accustomed to watching silent films on a regular basis. From a production standpoint, interior and outdoor sets are rich with lively details and the masses of extras give the film a lot of energy and help enhance its considerable scope and scale. Costume design, in particular, appears very authentic and quite expensive, especially the jewelled crusted outfits of the vamp Duchess Josiana, played callously by Olga Baclanova. While you could argue that The Man Who Laughs is an ensemble, Conrad Veidt is magnificent as Gwynplaine who is almost Shakespearian despite the absence of sound. Mary Philbin is wonderfully gentle as Dea while Cesare Gravina is humble and compassionate as Ursus.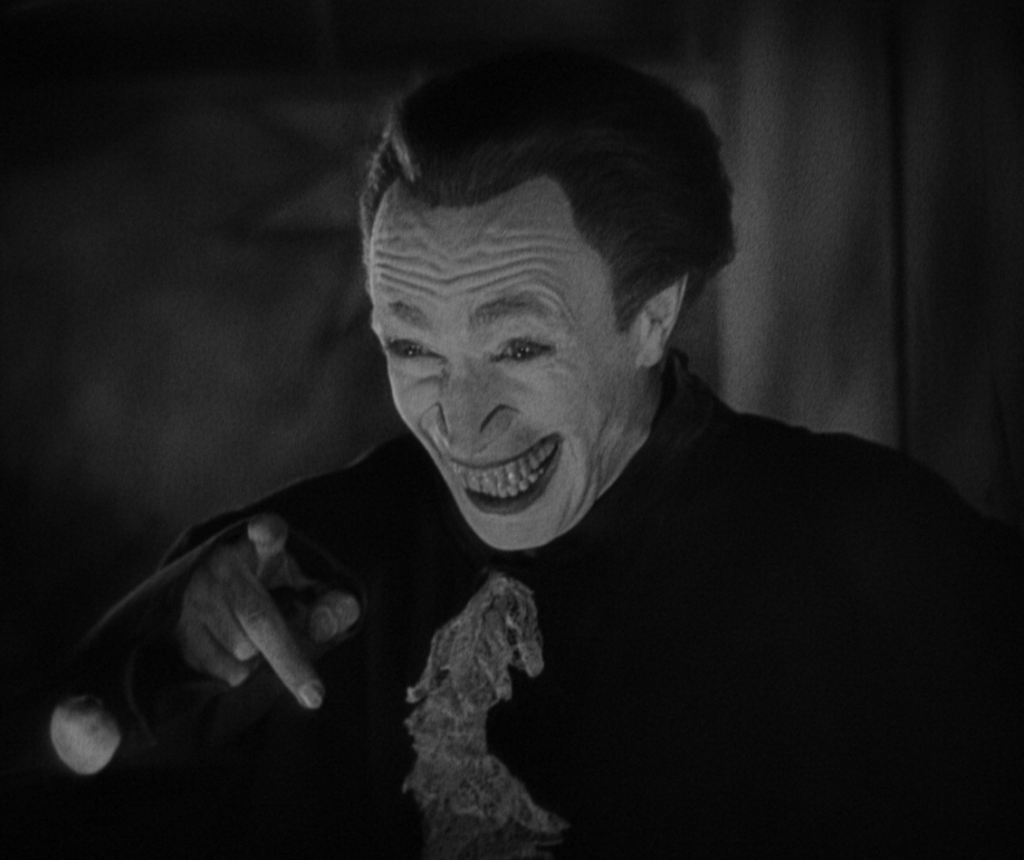 VIDEO AND AUDIO
Straight out of the vault of Universal Pictures, a 35mm composite fine-grain created in 1954 from the original camera negative was the primary source behind this stunning restoration of The Man Who Laughs. Additional work such as stabilization, de-flickering, repairing of scratches and warps, and the fine removal of dirt is thanks to the team at NBCUniversal and to StudioPost. Needless to say, this is an incredible effort and true testament to what can be achieved when a major studio and boutique label work hand-in-hand. I honestly can't fault the picture, which is very sharp and clean, to say the least, despite a few very brief moments when the quality does dip slightly. The new recorded Berklee School of Music score sounds magnificent in DTS-HD 2.0 Master Audio, creating the feeling of watching a majestic stage play, mirroring the dramatic moments of our cast of characters perfectly.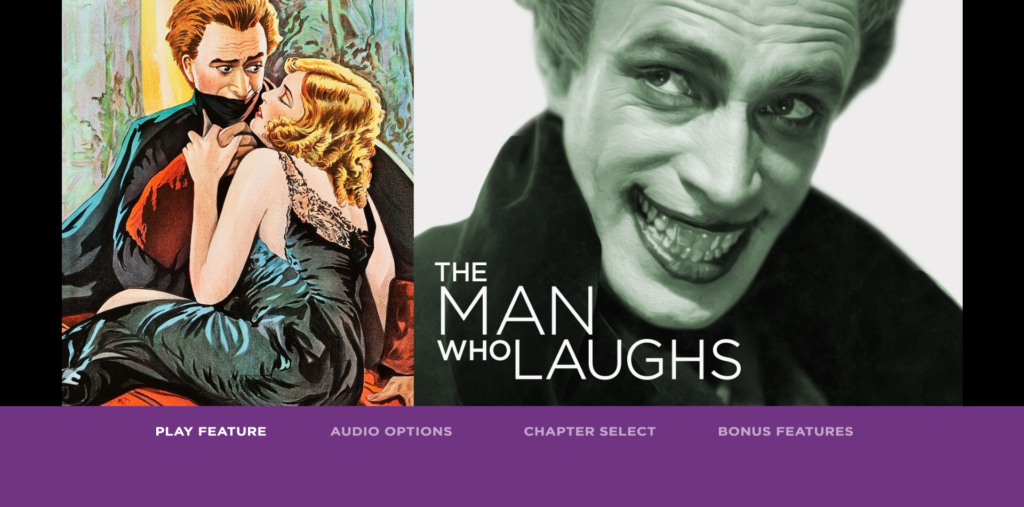 SPECIAL FEATURES/BONUS MATERIAL
"Celebrating Universal's Masterpiece" – A new booklet essay written by film historian and author Kevin Brownlow.
Paul Leni and The Man Who Laughs – A Visual essay by film historian and author, John Soister, on Leni's work at Universal during this period. (13.42)
Rare Image Gallery – A slide show presentation of vintage promotional materials and production stills.
Optional Audio Track – The film's original 1928 Movietone score is presented here as a secondary audio track.
"Notes on the New Score" – A short essay by composer Sonia Coronado of the Berklee School of Music on their new score for The Man Who Laughs.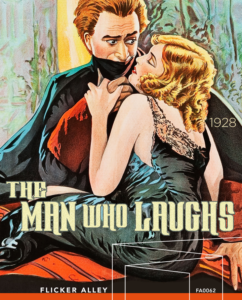 If you're a collector of fine art or just a movie-goer hungry for history, then this dual formatted Blu-ray & DVD release will be more than satisfactory with beautiful reverse artwork. Essays by author and historians Kevin Brownlow and John Soister provide an informative retrospective on the silent classic and its significance to the early days of Universal Pictures. Few releases offer such substantial reading material paired with visual content, which is partly what makes this comprehensive edition a piece to admire in addition to being so collectable.
The Man Who Laugh's legacy is highly evident, from the Batman universe to the way these poignant tales of hardship are told on screen. You'll likely never look at the villainous Joker the same way again or on a subtler note 'The Red Triangle Circus Gang' in Batman Returns, similarities that are hauntingly beautiful.
Browse the full selection of silent classics and more at www.flickeralley.com
THE MAN WHO LAUGHS   
(1928, dir: Paul Leni)
★★★★
direct blu-ray screen captures
You can follow cinematic randomness on Twitter and Facebook where you'll find all my cinematic exploits. Thank you for visiting!