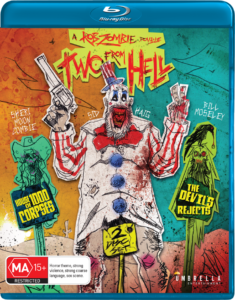 With the highly anticipated Three From Hell on the horizon, Rob Zombie's long-awaited third instalment in his Firefly series; Umbrella Entertainment have packaged both House of 1000 Corpses and The Devil's Rejects together as a double bill, appropriately titled Two From Hell. Out now on Blu-ray with a stack of extras and exclusive artwork.
Can you believe Zombie's debut feature is 16 years old? Hiring the controversial release on DVD still feels like yesterday. House of 1000 Corpses follows two young couples who are travelling through the backwoods of Texas on an urban legends road trip, but a nightmare quickly ensues when they encounter a bizarre and sadistic family of serial killers. Much like the old-timey 'Ghost Train' our young protagonists ride, watching this unleashed horror film is like walking through a carnival spook house, which each room more extreme than the one before it. Inspired by the likes of The Texas Chainsaw Massacre, mayhem, carnage and some of the most grotesque creatively, stamp this rural horror excretion for an unforgettable experience. Our villainous troupe of carnie killers, are unapologetically vile through their relentless torment of outsiders, presenting typical stereotypes native to Texas, but with a dark twist. Captain Spaulding, the unofficial poster boy of Rob Zombie's brand of onscreen terror, is a defining role for veteran character actor Sid Haig. He steals every scene with his showmanship, quick temper and off-colour humour, the type of antagonist you equally love and hate. Zombie's real-life wife Sherrie Moon Zombie is terrifyingly childlike as Baby Firefly while Bill Moseley is evil incarnate as Otis. It's hard to escape the grip of House of 1000 Corpses once you press play. Its surreal quality leads you down a rabbit hole where the supernatural eventually presents itself in the most shocking way possible.
Inevitable sequel The Devil's Rejects is a harsh reverse of fortune, which finds the Firefly family on the run from vengeful law enforcement who are prepared to stop at nothing until justice is served. Unlike its predecessor, which aims to be a straight-out bombastic horror movie, The Devil's Rejects is a throwback to 70s grindhouse, an ultra-violent road thriller that's highly disturbing in both nature and content. Our trio of put-upon killers, Otis, Baby and Captain Spaulding don't break from their habit for murder and mayhem, even while Sheriff Wydell, play by William Forsythe (undeniably the most William Forsythe of roles), hunts them with equal intensity. Making our villains into the victims in a sense is a strange twist, especially when, Wydell, the film's protagonist constantly walks a fine line between good and evil. We can't help but root for the Firefly family, however reprehensible they appear to be. The Devil's Rejects is not without moments of crude humour, which shamelessly takes aim at backwater folk and their questionable eccentricities relating to farm animals, which is a welcome break from the main narrative. I feel it would be unfair to measure performances by the level of acting skills because the cast certainly vary, but in terms of selling their roles to the audience no one falters. There's an energy and unbridled passion that makes these unique characterisations stand out, which has become a signature trope of Zombie's style of filmmaking.
VIDEO AND AUDIO
Calibrate your speakers, because the 7.1 DTS-HD HR and the 6.1 DTS-HD HR tracks (H1KC and TDR respectively) will take your home cinema to the very edge of audible oblivion. Immersive, loud and finely balanced, it's almost a little too close for comfort given the nature of the two films, but I can't think of a higher compliment. Much like Simon Sherry's chaotically savage artwork suggests, colours are terrifyingly vibrant, especially those that matter and night scenes present great clarity, while not hindering the film's intended effect of moonlit bloodlust. Both discs offer sound and vision of the highest order.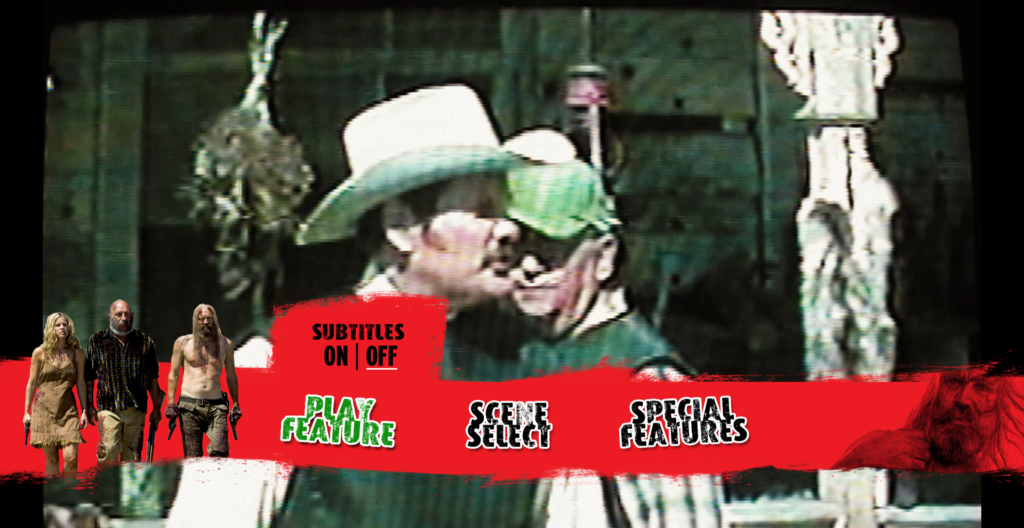 SPECIAL FEATURES/BONUS MATERIAL
Often when we dive into bonus material we see a different side of the production along with the its cast and crew, but I feel like Rob Zombie's films never really break character, which very much the case for these two titles. Despite the content being mostly ported from previous releases, there's good variety with behind-the-scenes and Umbrella's exclusive interview with William Bassett provides an unbiased perspective of House of 1000 Corpses as a supporting character.
House of 1000 Corpses (Disc 1)
Audio Commentary with Director Rob Zombie
Making of Featurette
Rehearsal footage
Casting footage
Cast and crew interviews
New interview with William Bassett
Theatrical Trailer
Going for a more novelty approach, The Devil's Rejects offers a selection of mock-up material, such as two insane commercials and retro-style television with a dark but fun twist. They're each well-presented and like the previous disc, ported from previous releases, but amounting to a more complete and definitive edition, which is enticing to fans and collectors alike.
The Devil's Rejects (Disc 2)
Bloody Stand-up
Matthew McGrory Tribute
Buck Owens: Satan's Got to Get Along Without Me
"Mary the Monkey Girl" Commercial
Captain Spaulding's Xmas Commercial
Otis' Home Movies
Deleted Scenes
Blooper Reel
Make-up Test
The Morris Green Show
Umbrella Entertainment's flare for double features reaches new heights with Two From Hell, which wholeheartedly pairs two distinctive landmark horror films of the early to mid-2000s in the best way possible for fans of the divisive filmmaker.    
TWO FROM HELL – HOUSE OF 1000 CORPSES & THE DEVIL'S REJECTS   
(2003 & 2005 dir: Rob Zombie)
★★★★
direct blu-ray screen captures
You can follow cinematic randomness on Twitter and Facebook where you'll find all my cinematic exploits. Thank you for visiting!