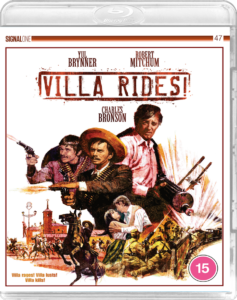 Sometimes you don't have to know the facts behind a "based on a true story" film to know it's going to be historically inaccurate and Villa Rides is a perfect example, which has rode into the HD territory of the United Kingdom with a Blu-ray release from Signal One Entertainment, out next week January 16th.
Mexican rebel, Pancho Villa (Yul Brynner) leads his nation's revolution, helped reluctantly by an American gunrunner, Lee Arnold (Robert Mitchum) equipped with a magnificent flying machine and plenty of action ensues.
With the addition of Charles Bronson playing Villa's right-hand man, Fierro, Villa Rides is a sprawling Technicolor western that achieves its intended purpose, to entertain above all else. Admittedly, the film's rather bloated runtime of 125 minutes is felt throughout the final act with more endings than Return of the King; which comes across as somewhat of a half-hearted attempt at exploring the morality of Villa's cause while giving a very trivialised justification. Nevertheless, it's the film's action sequences that are by far the most impressive element, with real explosions, hundreds of extras on horseback and full-size disposable set pieces, all for the viewer's benefit.
Our starring trio all have a presence in their respective roles and they're actors who I always enjoy watching regardless, but the fact we have Brynner, born in Russia, and Bronson, of Lithuanian origin, playing two very prominent Mexican figures, is a little cringe in retrospect, to use today's vernacular. However, they're not giving bad performances by any means, they're just quite a sight when we first meet them, some may argue comparable to an SNL sketch. We even have Czechia-born, Herber Lom, playing Gen Huerta, so clearly, Villa Rides was a calling card for Eastern European performers. Mitchum is a little downbeat as Arnold, but Bronson, who has never really strayed from playing a particular type, is strangely charming as the trigger-happy Fierro, while Brynner is all-in as Villa and loving every minute of it.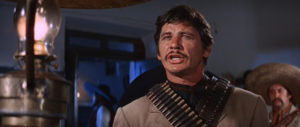 VIDEO AND AUDIO
I'm not sure if the studio added a little orange hue to the 2.35:1 image or if our "Mexican" cast was given a spray tan. Either way the 1080p presentation holds up well against today's influx of 4K scans and restorations and the Mono 1.0 PCM track is loud in overall volume but naturally is a little flat in terms of audio scope. Optional English subtitles are included.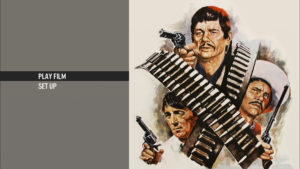 In this age where the demand for content is equalling that of crude oil, I appreciate that there are labels like Signal One Entertainment who strive to simply make these lesser-known Hollywood classics accessible in a physical format. Villa Rides is available now for pre-order for £10.83 online.
visit signal1entertainment.com to see the full slate of upcoming releases on blu-ray 
VILLA RIDES 
(1968, director: Buzz Kulik)
★★★★
direct blu-ray screen captures
You can follow cinematic randomness on Twitter and Facebook where you'll find all my cinematic exploits. Thank you for visiting!