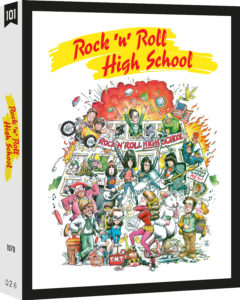 Roger Corman, who is currently 96 years young, has always aimed to please. He makes movies merely for entertainment and knows just how to market them; often aligning them with a current trend or a recent event to maximise exposure. Corman's rebellious teen comedy, Rock 'n' Roll High School, is one of the most celebrated examples and it's out now on Blu-ray from 101 Films in the UK.
When the new principal, Miss Togar, (Mary Woronov) is placed in charge of Vince Lombardi High School, her totalitarian methods are challenged by a delinquent student and rock 'n' fanatic, Riff Randell (P.J. Soles), who seeks to overthrow the "system" with the help of her favourite band, the Ramones.
Rock 'n' Roll High School is more than a heightened view of secondary education, it's a look through exaggerated adolescent eyes, presenting not an accurate portrayal, but more how we remembered it, or so we think. P.J. Soles, who, despite being 28 years old at the time, is fantastic as our protagonist. She owns this character; embodying the energy and enthusiasm exhibited by the film in a way that's not only positive but empowering.
Riff's bestie, the more reserved and somewhat nerdy, Kate Rambeau (Dey Young), heads the film's subplot that takes us through the halls on her quest to snatch up the school's main "Jock", Tom (Vincent Van Patten). She enlists the help of student enterpriser, Eaglebauer played by Clint Howard (Ron's gorgeous younger brother). He's a hilarious parody of a student who manages to find immunity to the social dynamic by being that kid who "knows how to get things", whereas the ultra-strict, Miss Togar, is the ultimate personification of a feared disciplinarian. In true super-villain fashion, she has two idiot sidekicks, perverted hall monitors, tasked to do her bidding.
The Ramones are not for a second wasted, as they make an almost surreal entrance to a line of eager fans where they're booked to perform. Having heard, but never really seen the band up close, lead singer, Joey Ramone, was an unconventional front man to say the least, with a voice that was unmatched. Although, as actors, this was clearly the Ramones' first rodeo, but it works well given the style and nature of this very loose feature.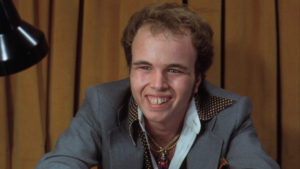 VIDEO AND AUDIO
Presented via a 4K scan from the original camera negative, Rock 'N' Roll High School, looks and sounds exactly as it should, vibrant and loud. Although slightly muted, and I do mean slightly, colours will display differently depending on your screen, but via your standard LED television, you'll be impressed with the 1.85:1 image, which has some nice texture. 101 has not disclosed the audio track, nor have blu-ray.com for that matter, but it's stereo and I would assume it's the same 2.0 DTS-HD track used by Shout Factory, which needless to say sounds great.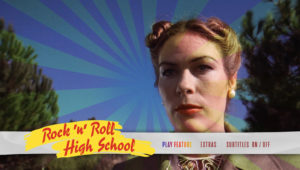 SPECIAL FEATURES
Class Of '79: 40 Years of Rock 'N' Roll High School, featuring interviews with filmmakers and cast
Commentary with director Allan Arkush, producer Mike Finnell and screenwriter Richard Whitley
Commentary with Executive producer Roger Corman and actress Dey Young
Commentary with Allan Arkush and actors P.J. Soles and Clint Howard
Commentary with screenwriter Richard Whitley and Russ Dvonch
Back to School: A Retrospective, with interviews from Allan Arkush, Roger Corman and more
Staying After Class: An Interview with Actors P.J. Soles, Vincent Van Patten and Dey Young
Interview with Roger Corman conducted by Leonard Maltin
Interview with Allan Arkush including a look at rare, behind-the-scenes stills
Audio outtakes from the Roxy
Original Radio Ads and TV Spots
Theatrical Trailer
101's release of Rock 'n' Roll Highschool comes with a multi-generational array of extras ported from previous DVD and Blu-ray releases which will be a treat to region B owners. Right off the bat, there are a total of four commentaries to choose from which each features a pair of Rock 'n' Roll alumni. For those who prefer to watch interview content, there are two retrospectives. First up is a 25-minute sit-down with the director, producer, screenwriters, editor, and stars Dey Young, Clint Howard, and Loren Lester who appear to be from the mid-2000s. Short and sweet, each individual shares their personal experiences working on the film and their impression of its modern-day impact. Even more casual, Staying After Class, filmed in the early 2010s, depicts an unmoderated reunion between former "high school" students PJ Soles, Dey Young, and Vincent Van Patten and runs for around 16 minutes.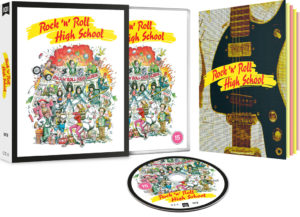 Director Allan Arkush goes more in-depth with his relationship with Rock n Roll Highschool in both a short interview featurette and the documentary, Class Of '79: 40 Years of Rock 'N' Roll High School. Perhaps a highlight of this set, the 70-minute plus retrospective offers a deep dive into the film's conception, even as far back as Arkush's own "rebellious" student experience, and journeys through the filmmaker's rise through Corman's company. Despite featuring many of the same subjects, all interviews are worth watching due to the inclusion of different cast and crew members and changing perspectives over time.
If you get your hands on a copy of this stacked Limited Edition, order up some Chicken Vindaloo to go and re-imagine your high school experience with this outlandish time capsule of 1979 that panders to teenage fantasy and memories of rock 'n' roll.
ROCK 'N' ROLL HIGH SCHOOL    
(1979, director: Allan Arkush)
★★★★
direct blu-ray screen captures
You can follow cinematic randomness on Twitter and Facebook where you'll find all my cinematic exploits. Thank you for visiting!