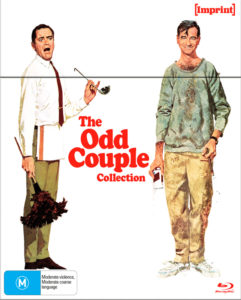 I often look at Imprint's simplistic and durable style of packaging and think to myself, "Where was this magnificent label during the boom years of box sets?". Nevertheless, they're here now giving us collections that are raising the bar, like The Odd Couple Collection which features both films and eleven randomly selected episodes of the original sitcom, which hits shelves on Blu-ray back in February.
Based on Neil Simon's hit 1965 Broadway play of the same name, the inevitable big-screen adaptation stars Walter Matthau and Jack Lemmon as two mismatched bachelors, Oscar Madison and Felix Ungar, who share a New York apartment. Oscar is a friendly, easy-going slob, while Felix is uptight, super neat and the occasional hypochondriac, but their chemistry is what most casting directors can only dream of.
Often you can tell when a movie is based on a stage play, as they tend to be very static regarding how they're shot. Despite it being obvious at times during The Odd Couple, it's well 'staged' for film audiences as Oscar's unusually large apartment adds to the occasional moments of frantic comedy with our duo darting in and out of numerous rooms. We even get a nice glimpse of NYC nightlife, mostly during the opening as we follow a suicidal Felix. Matthau and Lemmon's comedic style combined with Simon's script is loaded with snappy dialogue and jokes that literally offer 'a-laugh-a-minute' and while the film is relentlessly funny, there's a tenderness shared between our leads. Through their distinctive traits and behaviours, they gradually become better people, each finding that comfortable middle where they can still be themselves while mending their flaws. Larry King called The Odd Couple "a perfect comedy" and I tend to agree.
Thirty years later, The Odd Couple II, reunites our two stars for what was their last film together; a comedy of errors in typical road trip fashion as the two travel to the wedding between Oscar's son and Felix's daughter. Watching this sequel for the first time in over ten years, brought back fond memories of when I was binging on the Matthau/Lemmon filmography. I even had the poster up in my bedroom, which had me perplexed over why Jack Lemmon looked so different. It's a funny sequel, but more on the silly side, which I think made it more appealing and suitable to audiences at the times. It's still true to the characters, who don't miss a beat, although a certain joke is run into the ground.
Capitalising on the success of the highest-grossing film of 1968, Garry Marshall (Happy Days) developed a sitcom version of The Odd Couple for Paramount Television, which aired on ABC from September 24, 1970, to March 7, 1975. Jack Klugman and Tony Randall stepped into the shoes of Oscar and Felix, which proved successful given the show's five-season run. I'm honestly not the biggest fan, although I think Klugman makes a decent Oscar, considering the more black and white portrayal of the two characters. I'm reluctant to say, but dumbed-down for television, the series lacked that sharp and sophisticated comedy that made the play and movie so special. However, Tony Randall's version of Felix is insufferable. He's arrogant, narcissistic and quite frankly, insane. Lemmon's every-man quality made Felix likeable despite his peculiar hang-ups, whereas Randall carries himself in a rather snobbish manner, which rubs me the wrong way. I think it's more a matter of personal taste as the premise does work as a TV series and there are episodes that gel a lot better than others, mainly due to Klugman's enthusiasm and energy.
VIDEO AND AUDIO
The Odd Couple
With a 5.1 DTS HD surround track, Neal Hefti's signature theme sounds white-hot as we follow a depressed Felix walking the streets of New York City and of course the other audio elements such as dialogue sound amazingly clear. It's easily the best I've ever heard the film sound and an optical LCPM 2.0 Stereo & Track are available for a more authentic experience. Imprint has used Paramount's 1080p transfer from 2020 and it's clear the major studio has taken great pride in keeping one of their most beloved comedies in excellent condition. Presented in 2.35:1 the image features a very strong colour with deep blacks while still maintaining that slight vintage looks of late 60s cinemas. English HOH subtitles are included.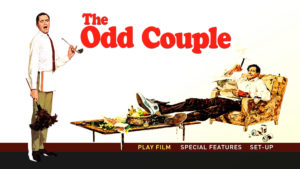 The Odd Couple II
Unlike the urban setting of the original film, The Odd Couple 2, takes place in a more summery environment, mainly Sothern California, which looks amazingly vibrant and detailed via Paramount's 1080p transfer. You can see every wrinkle on Matthau's face and that other guy, who I can only assume is Jack Lemmon. 5.1 DTS HD and LPCM 2.0 Stereo are both excellent, which robust dialogue and the gentler rendition of Neal Hefti's sounds crystal clear. English subtitles are included.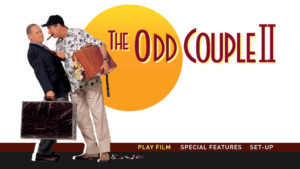 The Odd Couple (TV Series)
Not spared for the HD treatment, The Odd Couple television series matches the films in terms of quality being that it was shot on celluloid. Although, naturally being made for the small screen, the image is presented in 1.33:1. In terms of sound, the LPCM 2.0 Mono track does seem to vary with each episode. While some come through quite loud, others are low with a rough quality to them, but serviceable nonetheless. English subtitles are included.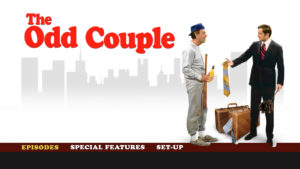 SPECIAL FEATURES
The Odd Couple
Audio commentary by film historians Nathaniel Thompson and Howard S. Berger (2021)
In the Beginning – featurette
Matthau & Lemmon / Lemmon & Matthau – featurette
Memories from the Set – featurette
Inside The Odd Couple – featurette
The Odd Couple: A Classic – featurette
Isolated audio track featuring Neal Hefti's score
Theatrical Trailer
Film and Production Photo Galleries
Aside from a new commentary from film historians, The Odd Couple's special features come ported from the 2013 US Blu-ray release. First up is an additional commentary by Chris Lemmon and Charlie Matthau, which is equal parts amusing and informative, as both men obviously share their father's chemistry. The following five featurettes work as a multi-part retrospective that runs for around 50 minutes, and showcases interviews with famous fans, and those who worked on the film such as Gene Saks and David Sheiner.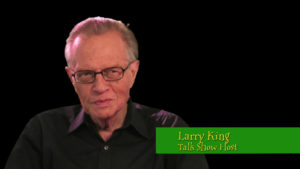 The Odd Couple II
Audio commentary by film historian Scott Harrison (2021)
Two Grumpy Men: Directing The Odd Couple II – interview with director Howard Deutch (2021)
Promotional interviews with actors Jack Lemmon, Walter Matthau, Jean Smart, writer Neil Simon and director Howard Deutch
Jack Lemmon, America's Everyman – 1996 documentary
Walter Matthau, Diamond in the Rough – 1997 documentary
Theatrical Trailer
Photo Gallery
Similar to its predecessor, The Odd Couple II includes another all-new commentary by a film historian as well as the boxset's only new featurette in the form of an audio interview with director Howard Deutch. Played over clips from the film, Deutch's recollection is short (10 minutes), but informative as he explains the ups and downs of working on such a physical shoot with older stars. Briefer still is a series of interviews with key players of The Odd Couple II from the time of its premiere, which runs for about three to five minutes each. Finally, two documentary specials on the lives and careers of Jack Lemmon and Walter Matthau from the late 1990s, will no doubt be a treat for fans of the actors.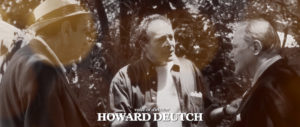 The Odd Couple (TV Series)
Audio commentary by series executive producer Garry Marshall on "They Use Horseradish, Don't They?"
Two Original Series Promos
Gag reel with audio introduction by producer Garry Marshall
Opening titles without narration
Isolated music and effects audio track on every episode
Series Photo Gallery
The 10 episodes act as a "special feature" of sorts for the two films, but surprisingly this disc includes its own supplementary material. Old promotional commercials and a short gag reel offer an interesting time capsule while the opening credits minus narration and isolated music and effects tracks for each episode are a nice bonus. The selling point here, no doubt, will be series creator Garry Marshall's commentary for They Use Horseradish, Don't They?
The Odd Couple Collection is limited to 1500 copies and is a wonderful tribute to Walter Matthau and Jack Lemmon, who will forever be regarded as one the most beloved and hilarious double-acts in showbiz. If you own this set, display it proudly should have the space.
THE ODD COUPLE COLLECTION
(1968-1998, director: Various)
★★★★★
Head over to the Imprint Films Facebook page for the latest releases, giveaways, great deals and more!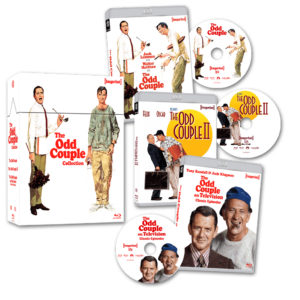 the odd couple 
the odd couple 2 
the odd couple tv series
direct blu-ray screen captures
You can follow cinematic randomness on Twitter and Facebook where you'll find all my cinematic exploits. Thank you for visiting!