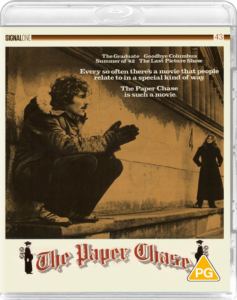 I had no ambition to continue my education after high school, which in retrospect may have been a poor decision, but we naturally continue to learn as life takes us forward, for better or worse. If it's any consolation, I've attended my fair share of college lectures, vicariously through numerous motion pictures, like The Paper Chase, which has just graduated to Blu-ray, thanks to the re-emergence of UK-based label, Signal One Entertainment.
Timothy Bottoms, a name befitting to your favourite childhood plushie, stars as a first-year Harvard Law student, James T. Hart. Between striving for excellence in the classroom and romancing a local woman, Mr. Hart develops a rather peculiar fixation with his professor, the nation's sharpest legal mind, Charles W. Kingsfield Jr, played by John Houseman in his Oscar-winning role.
The Paper Chase doesn't sound particularly interesting on paper (no pun intended), but it's strangely captivating for reasons I don't entirely understand. Perhaps it's how the film captures the fundamental quality of being a new student mixed with feelings of nerves and eagerness, off-set by an intimidating teacher. James' objective is to reach the "upper echelon" of the lecture hall, being the go-to hand-raiser armed with perfectly articulated answers, which he hopes will impress Kingsfield. Whereas classmate, Kevin, an accumulator of facts, struggles to put forth his knowledge in a cohesive manner, while slowly buckling to the heavy weight of the intense course work, of which the film has no qualms about portraying in an almost frightening way.
Bottoms, who only hit the scene two years prior in Dalton Trumbo's anti-war drama, Johnny Got His Gun, is excellent as the often pedantic student, much to the frustration of his elegant love interest, played by Lindsay Wagner, who tries to curb Hart's unrealistic expectations and over-ambition. John Houseman as Kingsfield is beyond convincing with a persona that's unmistakable for a senior educator, and it's no wonder network television snatched up his talents for a small-screen adaption of this film.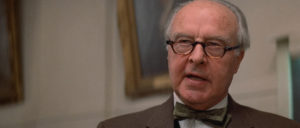 VIDEO AND AUDIO
Now having re-watched this academic classic on Blu-ray and free of the limitations of digital streaming, I can report accurately on its visual quality, which is noticeably sharp and textured for what would now be considered a dated 1080p transfer. Colours are not what I would call muted, although they're very rustic and typical of the early 70s. Thankfully, the high-definition 2:39:1 presentation adds a more vibrant appearance. The sound, however, is quite low in Mono 1.0 PCM, although uncompressed and quite rich in quality and the same can be said for the PAL-formatted DVD copy in this dual format release.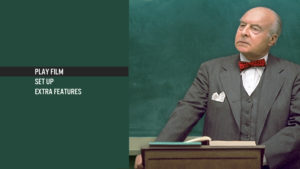 SPECIAL FEATURES
Audio Commentary by Producer Robert C. Thompson
Still Gallery
Trailer
This Blu-ray's sole special feature is an excellent audio commentary with the film's producer, Robert C. Thompson. Ported from a nearly 20-year-old DVD release, this commentary proves to remain insightful as it covers all major bases of the "making of" The Paper Chase including information on casting, shooting locations, anecdotes about the actors, and an explanation of why it was nominated for a "Best Sound" Oscar. – by Hannah Lynch
The Paper Chase is a low-key academic masterpiece, which doesn't entice me on going back to school, but it doesn't discourage me either. I think part of the film's message is that our education in whatever field, or whatever stage in life, is what we make of it and how we can often lose sight of why we're trying too hard to 'make the grade'.
THE PAPER CHASE  
(1973, director: James Bridges)
★★★★
direct blu-ray screen captures
You can follow cinematic randomness on Twitter and Facebook where you'll find all my cinematic exploits. Thank you for visiting!