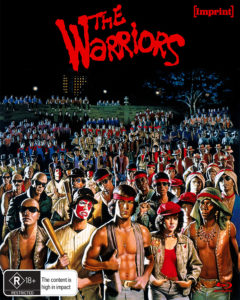 I remember there being much fanfare for The Warriors Director's Cut ahead of its DVD debut in 2005, which included a PlayStation 2 video game adaptation. Subscribing to the hype, I purchased a copy from my local Kmart during the Easter long weekend of that year; spending Saturday afternoon bopping vicariously all the way back to Coney and loving every minute of it.
While a product of their time, the comic book style transitions inserted by Walter Hill were naturally met with some controversy, quietly tolerated by fans until now with Imprint Films bringing the much sought-after theatrical cut to Blu-ray for the first time in a complete set that can only be described as "magic…a whole lot of magic."
When a respected and mythical gang leader is assassinated during a midnight conclave in Brooklyn, the Warriors are falsely accused of the act and must fight their way back to their home turf on Coney Island, evading every gang in the city.
I honestly don't how many times I've seen The Warriors; somewhere between not enough and too many. It's a glorious and stylistic battle cry from the last days of 70s cinema with the slums of New York City on proud display as our backdrop for a group that isn't overtly menacing, but nonetheless tough and courageous.
With the story rooted in Greek mythology, Sol Yurick's original novel is adapted creatively to the big screen, portraying a street-level sub-culture removed from the usual crime-dominated narratives centred around gangsters and mafia types. Yet there's a subtle irony when the slain leader, Cyrus, proposes a truce in order to become the dominant force in New York's underbelly: he makes his compelling case from a children's playground, somewhat fitting as street gangs are usually comprised of teens and young adults.
Eerie are the armies of the night who hunt our titular Warriors, unmistakable, while mostly unspoken, from the Baseball Furies to the High-Hats, and let's not forget the Orphans who are so far down they're not even on the map. Our journey down the various streets and through empty subway stations is fraught with danger, which remains palpable with each viewing, yet I can laugh and cheer at our heroes' antics, like Swan's (Michael Beck) deadpan demeanour, and Ajax's (James Remar) constant complaining and eagerness to fight …among other things.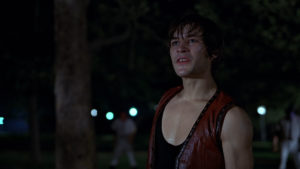 VIDEO AND AUDIO
Paramount's master of The Warriors has served the studio well for years ever since the director's cut first appeared in standard definitionimprint films
. The superior 1080p presentation in 1:78:1 is impressive despite not being the product of a recent scan of the film's negative. Although, I would not be surprised if that's on the horizon. Close-up shots of the actors look especially detailed, and for a film that's shot almost entirely at night, it's never a strain to see due to its very precise lighting and cinematography. Sound is tight in DTS-DH 5.1 surround making that highly electric opening theme seem even more powerful and potent. While the dialogue is of a reasonable volume, it does dip briefly in some places. Overall, it's a solid track as is the uncompressed LPCM 2.0 Stereo option. English HOD subtitles are included.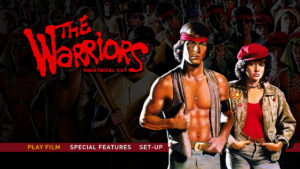 SPECIAL FEATURES
Disc One: The Directors Cut
NEW Audio commentary by author/historian Chris Poggiali and former editor of
Fangoria/author Michael Gingold (2022)
Introduction to the New Edition by director/co-writer Walter Hill
The Warriors: The Beginning – featurette
The Warriors: Battleground – featurette
The Warriors: The Way Home – featurette
The Warriors: The Phenomenon – featurette
Previously released on DVD, the director's cut of The Warriors comes with ported special features including an introduction by director Walter Hill explaining his decision to add the (sometimes) controversial "comic book" transitions. Also included is a four-part hour-long documentary, which is quite detailed and expansive. Featuring almost all major members of the cast and crew, this featurette takes viewers through the entire making-of journey of The Warriors from its conception up to the modern day. – by Hannah Lynch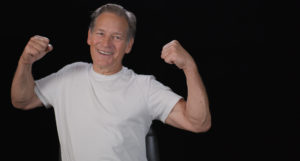 Disc Two: Original Theatrical Cut
NEW Audio commentary by film critic/author Walter Chaw (2022)
The Warriors from the Cutting Room Floor – Deleted/Extended Scenes from the television version
NEW Sound and Fury: Scoring the Warriors – interview with composer Barry De Vorzon (2022)
NEW Last Train to Coney Island – interview with actor David Patrick Kelly (2022)
NEW We Got the Streets – interview with actor James Remar (2022)
NEW Nowhere to Run – interview with actor Dorsey Wright (2022)
NEW Literally Classic: The Ancient Greek Roots of The Warriors – featurette (2022)
NEW Magic… Whole Lot of Magic – video essay by Chris O'Neill (2022)
The Warriors' Scrapbook – Photo Gallery
Theatrical Trailer and TV Spot
Perhaps most enticing to collectors and fans alike is the fact that the second disc in this set, containing the theatrical cut, comes packed with all new supplements which run an additional hour plus! While previously interviewed for the director's cut DVD, the new individual sit-downs with stars James Remar, David Patrick Kelly, and Dorsey Wright as well as composer Barry De Vorzon are one-on-one and thus go more in-depth with their personal backgrounds and experiences making the film. This disc also explores the film's ties to Greek mythology through the Literally Classic featurette, a 20+ minute discussion on the subject with a UCLA assistant professor of classic literature. Short and sweet, Chris O'Neill's tranquil video essay on the themes and symbols present in The Warriors will be bound to bring a few fresh ideas and interpretations to light for even the most die-hard fan. – by Hannah Lynch
As you would expect I follow a lot of different boutique labels on social media, most of whom sell their product well, but with Imprint, you can tell there's genuine affection towards the movies they release, which was very much the case for The Warriors, a cult classic that makes us all appreciate our little piece of turf. It sold out quick, but I'm confident that Imprint will eventually bring it back via a standard release with all the extras.
THE WARRIORS    
(1979, director: Walter Hill)
★★★★★
Head over to the Imprint Films Facebook page for the latest releases, giveaways, great deals and more!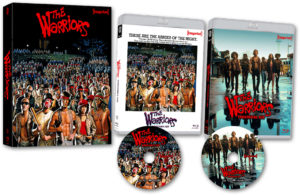 direct blu-ray screen captures
You can follow cinematic randomness on Twitter and Facebook where you'll find all my cinematic exploits. Thank you for visiting!