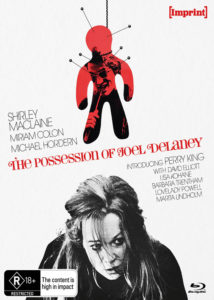 Whether you believe in it or not, the very notion of being taken over by a malevolent force, the recently departed or demonic, is terrifying. The Exorcist, of course, took the idea to its most extreme, shocking audiences the world over but The Possession of Joel Delaney, released one year prior, is a more grounded take on possession. Starring a very fashionable Shirley MacLaine and Perry King in the titular Joel, Imprint Films have bought the obscure classic to Blu-ray for the first time every with exclusive bonus content.
When an upper-classic Manhattan divorcee, Norah (MacLaine), becomes alarmed over her brother's increasingly bizarre and violent behaviour, she enters a world outside of her privileged and comfortable life, where she must face a frighting reality.
The Possession of Joel Delaney evokes mixed feelings, especially towards MacLaine as the protagonist who is remarkably unsympathetic despite the character's harrowing ordeal. While a loving mother to her children, she seems to have little consideration for anything or anyone outside her social orbit. Her relationship with Joel often comes across as romantic, which is a little uncomfortable. Perhaps this subtle suggestion of a taboo relationship is a factor in what makes Joel the target for the invading force.
Most of the first act is generally quite slow but establishes the characters and their environment of New York City during winter well, which is very enticing for those like myself who live in a different hemisphere. Norah's search for answers ushers in the second act where the film takes on much more life and energy through its questionable depiction of Puerto Rican culture, in particular the mysticism of Santería. On one hand it feels respectful then on the other there's an impression that it's shown from a white perspective, purposely shocking and something to fear, which culminates with the film's utterly insane and disturbing climax. If you're wondering where R rating comes, it's without a doubt the last 15 minutes.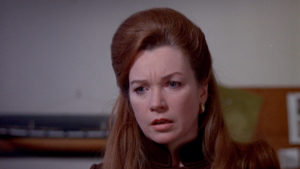 People like yourself; you try to buy God. And your mind is closed.
VIDEO AND AUDIO
Winched up from the seemingly bottomless well that is Paramount's back-catalogue, Imprint Films presents their 1080p transfer for this Blu-ray debut in 1.78:1, differing from the film's original aspect ratio of 1.85:1. What's the difference you may ask? Slightly less rectangular. Imprint have done a fine job in giving this classic its first HD treatment. It's not polished and despite appearing a little washed out at times, the natural and seasonal colours of early 70s New York, particularly our leading lady's wardrobe, shows up nicely. Not surprisingly, we have another LPCM 2.0 Mono track, but this one's quite good with consistent volume. There are a few moments of crackling and some of the effects sound a little flat, but it's raw uncompressed audio. English HOH subtitles are included.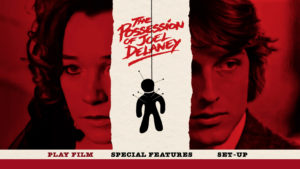 SPECIAL FEATURES
1080p high-definition transfer by Imprint films
Audio commentary by film historian Lee Gambin (2021)
Fashionably Possessed: The Art of Frank L. Thompson – video essay by costume historian Elissa Rose (2021)
There is a Common Sorrow Here – video essay by film historian Chris O'Neill (2021)
Being Joel Delaney – interview with actor Perry King (2021)
Shirley MacLaine, Kicking Up Her Heels – Documentary (1994)
Theatrical Trailer
With the exception of an archival documentary on leading lady Shirley MacLaine, Imprint's release of The Possession of Joel Delaney, appropriately comes with all-new special features. The first two featurettes are video essays narrated by film historians, the first of which, Fashionably Possessed, offers an in-depth look at the wardrobes depicted throughout the picture and how they relate to its themes. Meanwhile, There is a Common Sorrow Here is a more general overview of the film and how it relates to the rest of the genre. Lead actor Perry King sits down for a 35-minute interview for Being Joel Delaney and offers insight into not only his experience making the movie but his career as a whole. While the performer does sometimes change the subject a bit, it's refreshing to see an actor so obviously passionate about the movie industry. – by Hannah Lynch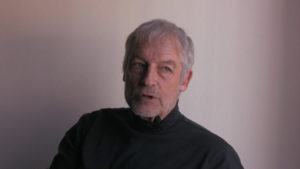 I'm not sure if enjoy is the right word, but in the spirit of cinema, I enjoyed watching The Possession of Joel Delaney, although I got more out of the release as a whole with its enlightening bonus content, which does acknowledge the film's flaws. I do really love the cover design, both inside and out. The use of red and black has a jarring quality, plus there are little details you won't notice at first glance.
THE POSSESSION OF JOEL DELANEY
(1972, director: Waris Hussein)
★★★★
Head over to the Imprint Films Facebook page for the latest releases, giveaways, great deals and more!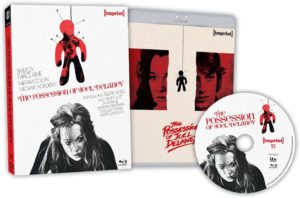 direct blu-ray screen captures – selected by Hannah Lynch