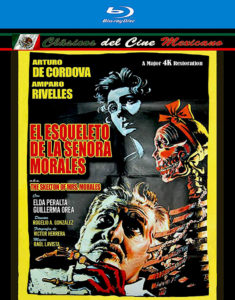 VCI Entertainment's relatively new line, Classics of Mexican Cinema, has grown significantly over the past twelve months with a batch of varied genres, ranging from family drama to superhero capers. Their most popular title, which has been subject to all but numerous praise within online film communities is The Skeleton of Mrs. Morales, a darkly-comedic thriller, which is often listed among the 100 best Mexican films of all time.
Pablo Morales (Arturo de Córdova) is a jovial taxidermist who lives above his shop in a rather spacious home with his wife, Gloria (Amparo Rivelles), of twenty years. However, their marriage suffers from indifference, specifically in regards to children. Pablo wants to be a parent while the deeply religious Gloria does not, who has grown bitter and obsessive, partly due to being crippled. She rejects Pablo's warmth and advances which ultimately results in murder.
Placing the subject matter aside for a moment, The Skeleton of Mrs. Morales attempts to dispel pre-conceived notions many outsiders have of Mexico; the dry and dusty region populated by peasants and bandits. Stereotypes perpetuated by Hollywood. We're presented with a vibrant and developed Mexico with characters that range for middle-class to affluent, all while preserving cultural sentiments and identities; the church, in particular, has a strong bearing on our story. Furthermore, the film is technically quite sophisticated, mirroring the camera style seen in many Western thrillers and boasts some mood-rich cinematography that not only has a Hitchcock vibe but helps to enhance the melodrama.
Arturo de Córdova, who was a major star in Mexican cinema, is very hard to dislike as Pablo, even after his unjustified act of murder. His cheerfulness and friendly nature has afforded him a moderately respectful standing in the community, while his company is enjoyed by his drinking buddies. Although, his wife and her social circle find Pablo's behaviour disconcerting. Gloria is unfortunately painted in a negative light, who is more or less a stereotype of an overbearing and overly religious wife.
Spanish-born actress Amparo Rivelles, plays Gloria especially well; wearing her emotional afflictions very much on her sleeve, yet she appears very radiant in some scenes despite her cold persona. While there's no excusing Pablo's act, it's the situation that leads to it, in which every key player bears some responsibility, underling a theme of selfishness. Pablo wants passion in his marriage but isn't very considerate nor particularly sympathetic to Gloria and his indulgent behaviour and the suggestive relationship with their housekeeper becomes a cause for resentment and jealously. Gloria's dependence on the church and venerable emotional state is taken advantage of by her very animated and judgmental priest, while her sister Clara's coddling is born out of sheer dislike towards Pablo. Whereas Gloria's brother-in-law, Don Amado, sides with them for the sake of his harmonious marriage.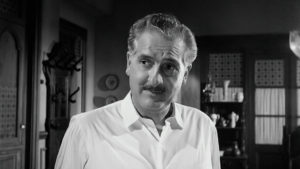 VIDEO AND AUDIO
Having undergone a major 4K restoration, The Skeleton of Mrs. Morales looks great, offering viewers a clear and detail-rich 16:9 image with deep blacks which are consistent in quality. I did notice the disc itself appears to be BD-R, which often implies image compression. However, VCI has assured me there was no compromise in regards to quality, stating the highest bit-rate achievable was given to the transfer, which would be the same on a replicate Blu-ray disc. As for region coding, VCI has labelled the cover as region-free, but I was only able to playback the disc on a Region-A machine, not my primary player which is a Region-B locked PlayStation 3. There are no details regarding the audio track, but I think it's safe to assume Dolby 2.0, which is loud and much like the picture, very clear.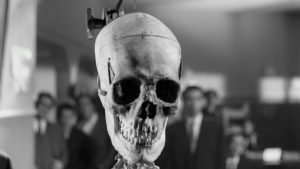 The Skeleton of Mrs. Morales deserves its standing as a staple of Mexican cinema. It's a smart and often playful film, not to mention a shining example of what makes dark comedies so appealing. It's been marketed heavily as a horror film, and yes, Mrs. Morales' fate can be considered horrific, but the often light approach steers it away from the genre. I recommend picking up the Blu-ray as the re-watch value is high and VCI rightfully deserve the praise for bringing the classic to mainstream audiences.
THE SKELETON OF MRS. MORALES
(1960, director: Rogelio A. González)
★★★★
direct blu-ray screen captures
You can follow cinematic randomness on Twitter and Facebook where you'll find all my cinematic exploits. Thank you for visiting!