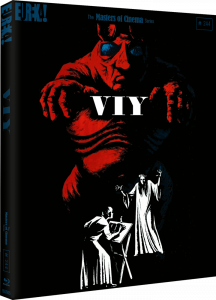 I doubt many have wondered what the first horror movie made by the Soviet Union, but it's a little feature with an equally little title, Viy, based on Nikolai Gogol's 1835 short story of the same name. Produced during a rather intense period of the Cold War, this faith-based dark fantasy is rather light-hearted in comparison to Western horror films, which often aimed to terrify above all else. The simple tale follows a young and awkward priest, Khoma Brutus, upon being ordered by his seminary to preside over the wake of a young woman in a remote village where earlier, he encountered a witch.
Viy is for the most part rather quirky, almost comedic in style, with many of its junior characters acting very buffoonish in contrast to their more restrained and strict elders, who themselves have a slightly cartoonish quality. I don't know if Russians would appreciate that assessment, but it's by no means a criticism, in fact, it lends itself to the fairytale-like story that revolves around good and evil. More specifically, an attack on one's faith.
Visually, the film borrows heavily from the artistic styles of prominent filmmaking nations, most noticeably, German expressionism. There's a bombardment of bizarre images during the final act, many of which are akin to those experienced in nightmares, with no rhyme or reason to them. Ghoulish creatures and sub-human entities give hints of Hammer Horror, which at the time was at the height of its Gothic era, clearly influencing the set design of Viy, it's setting of a wooden church, in particular. Some of the visual effects appear dated for the time period, but again reflect a specific style, which in this case seems to be silent films, even steering towards the medium's dominant turquoise colour hue that came about with subsequent theatrical screenings decades later. Viy is also quite short at only 76-minutes, much like the Universal Monster Classics, adapting a similar narrative structure in addition to an emphasis on atmosphere.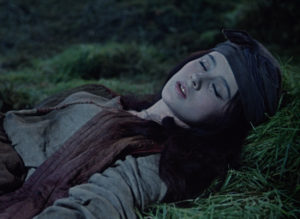 VIDEO AND AUDIO
1080p Presentation
Original Russian Mono Audio
Optional English Mono Audio
Optional English Subtitles and English SDH
Eureka Entertainment has all the bases covered for the English-speaking market with optional audio and subtitles. I watched Viy with the original Russian audio for authenticity and it sounded very clear, although somewhat jarring at first as I haven't watched many Russian films. It's a remarkable language, to say the least. I can't fault the picture, which has a gentle matte texture and there are no signs of damage to the film. Colours offer a specific pallet of varying shades of brown with blue-green and turquoise saturation in place of more natural and earthly greens. Presented in 1.37:1 both discs are region B encoded.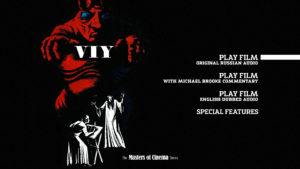 SPECIAL FEATURES
Limited Edition Exclusive O-Card slipcase
LIMITED EDITION EXCLUSIVE BONUS DISC: A HOLY PLACE [Sveto Mesto] (1990, dir. Djordje Kadijevic) A adaptation of Nikolai Gogol's short story and a stunning example of Serbian Gothic cinema from director Djordje Kadijevic. Described by critic Dejan Ognjanovic as "an unparalleled excess of perversity and terror"
New Interview with A HOLY PLACE director Djordje Kadijevic (Limited Edition Exclusive Only)
Brand new audio commentary with film historian and eastern European cinema expert Michael Brooke
Brand new video essay on Russian novelist and VIY author Nikolai Gogol
Archival documentary on VIY
Three Russian silent film fragments, The Portrait [1915, 8 mins], The Queen of Spades [1916, 16 mins], and Satan Exultant [1917, 20 mins]
Newly commissioned sleeve artwork by Peter Savieri
A collector's booklet featuring a new essay on Aleksandr Ptushko by Tim Lucas, and a new essay by Serbian writer and film critic Dejan Ognjanovic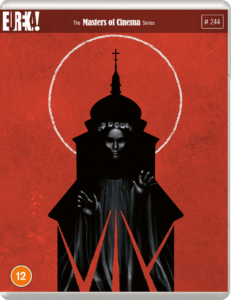 There's a wide assortment of bonus content that gives viewers a crash course of sorts in Eastern European filmmaking during the Soviet era. Eureka ensures that buyers by far get their money's worth with this lucrative set, even including a bonus feature, Sveto Mesto with its own exclusive featurette. The aforementioned picture, which is actually a Serbian production, is a more recent adaptation of Nikolai Gogol's short story, and utilises techniques familiar to modern film audiences, even though it's over thirty years old.  A hidden gem, Sveto Mesto, is more erotic, sexual, and bloodier than its predecessor, and contains cultural references skewed towards its Serbian audience. Unfortunately, most of the humour from Viy is missing from the '90s adaptation, perhaps making it more digestible for fans of darker horror tales. Graciously, Eureka includes an interview with the director of Sveto Mesto, which gives added context to the film's background and story. The set is topped off with essays, short films and Eureka's exclusive and devilish artwork, all bringing a distinctive Russian flavour to this Blu-ray release. Worth a mention is Michael Brooke's insightful commentary which will no doubt be a helpful guide for Western fans.
Viy may not be the most conventional horror film and it's not one I would consider scary, but it's certainly creepy, especially towards the end which is reason enough to watch this Soviet-era classic. Natalya Varley as the story's unholy beauty assaults the viewer with an evil glare and maniacal smile while summoning hordes of underworld dwellers.
VIY
(1967, director: Konstantin Ershov & Georgiy Kropachyov)
★★★★
direct blu-ray screen captures
You can follow cinematic randomness on Twitter and Facebook where you'll find all my cinematic exploits. Thank you for visiting!