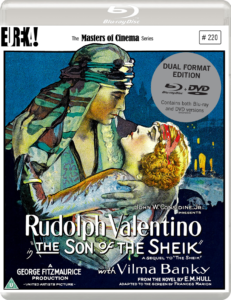 We've all heard of Rudolph Valentino, well most of us have, the iconic Italian-born actor and one of the original leading men in Hollywood pictures, whose untimely passing in 1926 coincided with the end of silent movie era. Starring in many films of high adventure and romance, Valentino reprised one of his most famous roles in the sequel, The Son of the Sheik, out now on Blu-ray from Eureka Entertainment.
When the affluent Sheik Ahmed falls for the poor, dancing girl Yasmin (scandalous, I know) he is made to believe she betrayed him, sending the titular lead on a quest for revenge. At first, our hero sets his sights on his former sweetheart, enacting a form of punishment which is quite harsh, not to mention problematic, in today's climate. Despite Ahmed's rough behaviour and feelings towards Yasmin, the pair can't seem to sever their tender emotions for one another, no matter how hard they try. Luckily, our protagonist eventually learns that the dancer is not to blame for the act of violence done to him, and he sets off in a heroic fashion to find the real perpetrators. Watching the original from 1921 isn't necessary from what I could gather in this follow-up, which is only 68 minutes long. Ahmed's father, The Sheik from the first film, does make an appearance however, through a dual role performed by Valentino in convincing aged make-up. The elder Sheik's part in this picture is to touch upon the unfair divide between social classes, primarily the rich and poor, as he is initially disapproving of Ahmed's sudden love affair with Yasmin. Despite the short run-time, the story isn't rushed, but feels very hectic at times and is a little difficult to follow, but there's a lot of energy as one would expect from a silent film and the production itself is quite impressive with detailed sets and lavish costumes in every scene. It's easy to see why Valentino was so endearing to film audiences and he had an undeniable screen presence through his good looks and heroic charm. All the boxes are ticked in regards to action-adventure cinema of the time period, with our leads and their adversaries alike poised on horseback, galloping across the sandy plains, sometimes while duelling. Swordplay is fast despite some very basic choreography; it's a far cry from Obi-Wan and Darth Maul, put it that way, but fun to watch even for just the novelty of it.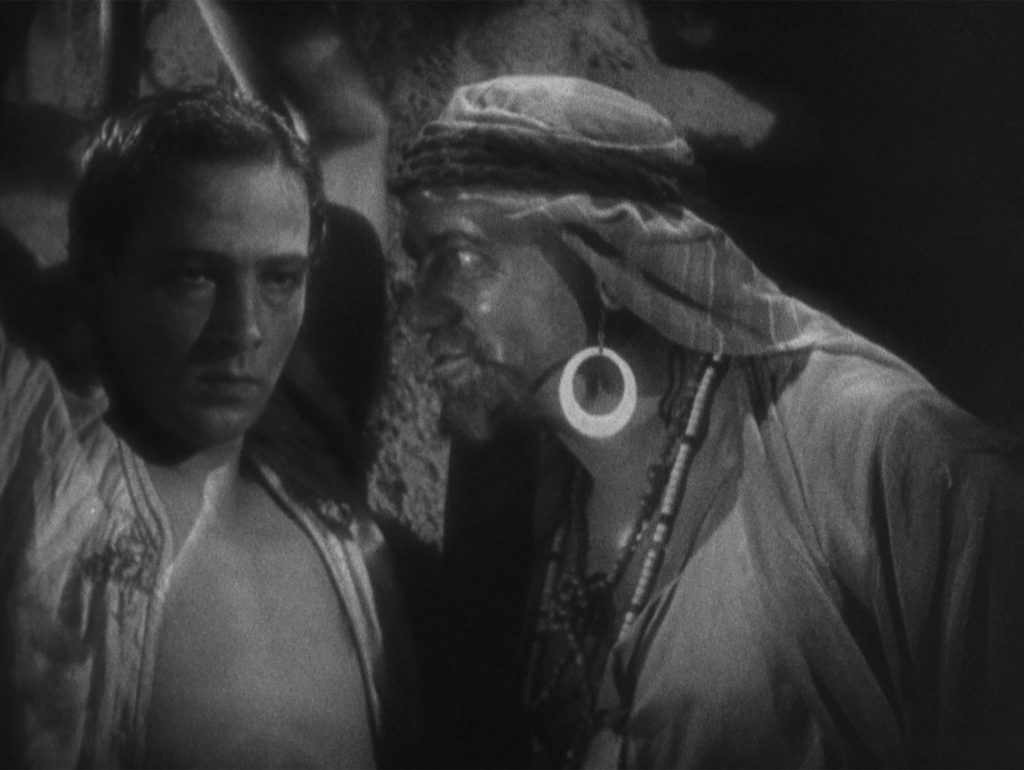 VIDEO AND AUDIO
Considering the film is 94-years-old, Eureka have done a fine job with the 1080p high-definition digital restoration, although the image is a little on the darker side, but remarkably sharp nonetheless. Sound is very robust and grand in DTS-HD Master Audio 5.1, which really does elevate the film, especially during the climactic scenes.
SPECIAL FEATURES
Loitering Within Tent – A brand new video essay by David Cairns
Introduction to the film by Orson Welles
A collector's booklet featuring a new essay by critic and film historian Pamela Hutchinson
Eureka are providing a very educational flare in their releases of the titles from Hollywood's silent era, with both written and video essays for aspiring film historians. Orson Welles' introduction to the film is a nice retro throwback and seems very appropriate given his own contribution and significance to cinema.
The Son of the Sheik is worthy of efforts made to preserve the film, as it's a great example of early genre cinema and a simple crowd-pleaser that still holds a lot of value. Whether you're a collector or just someone curious to check out a silent movie, you won't be disappointed with this premium release.    
THE SON OF THE SHEIK
(1926, director: George Fitzmaurice)
★★★½
direct blu-ray screen captures
You can follow cinematic randomness on Twitter and Facebook where you'll find all my cinematic exploits. Thank you for visiting!