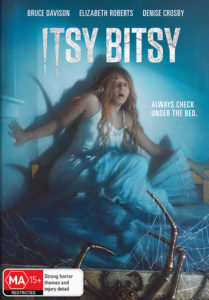 Scary movies about spiders pretty much sell themselves as did Itsy Bitsy which was produced last year by Shout! Studio, and has since crawled down the water spout to DVD & Digital in Australia through Eagle Entertainment.
Kara is a single mother struggling to raise her two children following an all-too-recent tragedy. She takes a job as a private nurse in the Mid-West, uprooting her family from New York City, to care for semi-retired antiquities appraiser, Walter, who's suffering from multiple sclerosis. While living on her patient's remote farm, a recently acquired ancient relic releases a forgotten evil in the form of a giant venomous spider. Itsy Bitsy opens with a very intense and nightmarish ritual, involving dark worship and human sacrifice among other things. It helps set the mood and evokes a feeling of dread within the viewing. Unfortunately, neither of which really last as the evil and very primal origins are simply just a means of getting the eight-legged freak to the film's central location. Most of the supernatural quickly erodes, never really following through on to explore more in relation of the entity that lives inside the spider. Nevertheless, as a creature feature, the film certainly delivers and despite a low kill count, the animatronic spider looks fantastic, delivering the nastiest of flesh-melting bites, resulting in puddles of revolting goo. Bruce Davison as the handicapped Walter is the film's most interesting character by far. It's a shame his screen time was limited as opposed to Kara, played by Elizabeth Roberts, who's past trauma mirrors the unfolding horror stalking her family. Denise Crosby (Pet Sematary) randomly pops up as the local Sheriff, Jane, but isn't significant to the plot.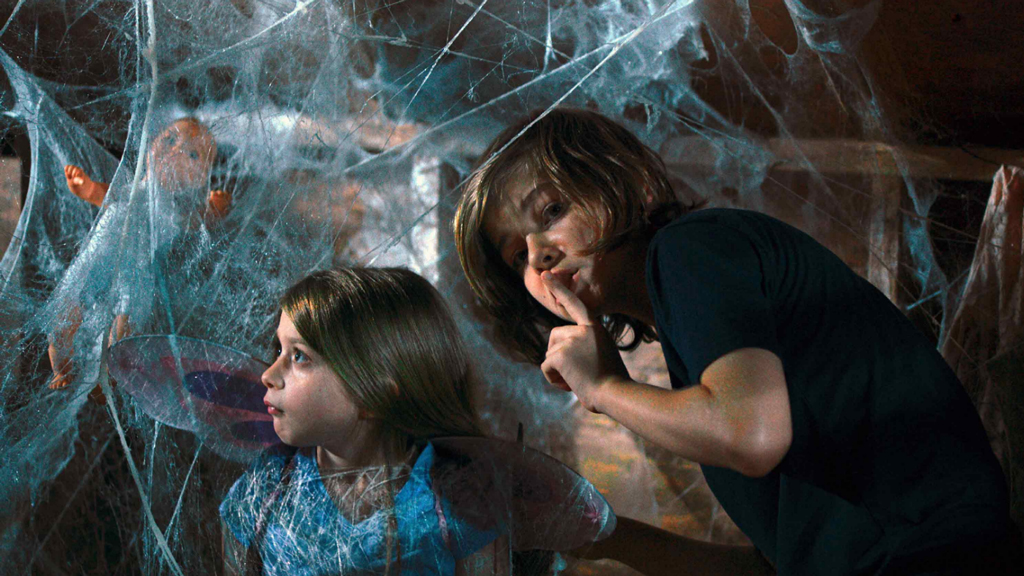 VIDEO AND AUDIO
I watched Itsy Bitsy via a HD digital screen so I can't comment accurately on what I saw and heard, but in terms of aesthetic, it's quite dark as one would expect, but not to the point where it's difficult to see what's going on. Much like a gothic Hammer film, there's a very specific colour pallet to accentuate the spider's features and offspring.  Presented 2.40:1 widescreen, the region 4 encoded disc (PAL formatted) offers sound in Dolby Digital 5.1 English with unfortunately no subtitles.
Itsy Bitsy suffers mostly from sub-par acting but remains a serviceable B movie in the tradition of 80s cinema that once flourished on VHS. Practical effects with moments of stop motion that are well refined, blending in well with its surrounding and are used with restraint.
ITSY BITSY
(2019, director: Micah Gallo)
★★★
production stills courtesy of Eagle Entertainment 
You can follow cinematic randomness on Twitter and Facebook where you'll find all my cinematic exploits. Thank you for visiting!