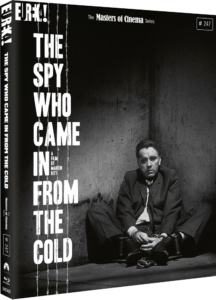 It seemed only appropriate that I usher in the winter months with the bitter Cold War thriller, The Spy Who Came in from the Cold, based on the best-selling novel by John le Carré. Available for the first time on Blu-ray in the UK from Eureka Entertainment, seven-time Academy Award nominee, Richard Burton, is at his absolute best as a British agent, Alec Leamas, on a final mission that will take him into East Germany where he's to sow dissension among the Communist ranks.
Tonally focused, this deadly serious mission of deception exhibits a remarkable emphasis on realism and subtle detail, as we the viewer are plunged into the ice-cold heart of espionage, practised between East and West. Leamas takes on the guise of an embittered government employee as a means of inviting recruitment by the other side; although it's difficult to know where the act begins and ends, which is not only a credit to Burton's performance but adds to the level of intrigue that surrounds the well-crafted plot. Working as a lowly library assistant, Leamas strikes up a budding romance with a co-worker, Nancy (Claire Bloom), a member of the British Communist Party. However, the young woman has a far more relaxed and accepting attitude compared to her militant counterparts in the East, serving as an example of neutrality while speaking out against the very divided stance taken by opposing superpowers.
In regards to being a spy film, there's very little in the way of action and gunplay, yet it feels like you're watching the genre's pinnacle title; which it most certainly is, especially for its time. Dialogue is key, to which you must pay close attention as to work out who's sincere in what is a very crafty game of political chess. Performances are first-rate by everyone. Richard Burton is captivating as the jaded Leamas, a worn-down tool of the peace-time conflict, whereas Claire Bloom provides the warmth Leamas desires after years in a profession devoid of compassion. Sam Wannamaker symbolizes one of the many pieces in the well-oiled machine as a Communist middle-man, who serves the high-ranking counter-intelligence agent, Fiedler, played by Oskar Werner; and lastly Peter van Eyck rounds out the cast as the elusive Mundt, who is the mysterious and undefined catalyst in our hero's mission.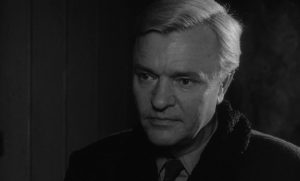 VIDEO AND AUDIO
Arching back to the title's realism, the filming technique ages well and benefits greatly from high definition and this 1080p presentation is one of the most striking displays of black & white I've seen in a long while. Uncompressed LPCM Stereo audio goes a long way, providing volume to the dialogue-heavy track in addition to some of the jarring and fear-inducing sounds from over the Berlin wall. English SDH subtitles are included.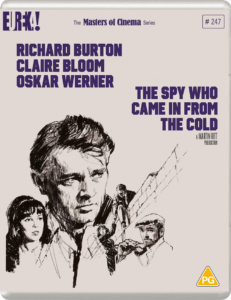 SPECIAL FEATURES
Limited Edition Exclusive O-Card slipcase with new artwork by artist Grégory Sacré (2000 copies)
Brand new audio commentary with film scholar Adrian Martin
Brand new video essay by critic and filmmaker David Cairns
A collector's booklet featuring a new essay by Richard Combs
Much like the many classics released by Eureka, the emphasis on film history brings a lot of value, especially David Cairns' video essay on how the film came to be, which also points out the conflict between Richard Burton and the director Martin Ritt. Both the film's commentary and booklet take a more analytical route that's very fitting, given the subject matter, and the artwork on both the slipcase and inside cover offers a nice contrast in styles, while still presenting the film's very serious nature.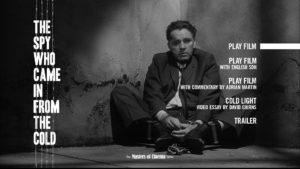 The Spy Who Came in from the Cold couldn't be a more perfect fit for Eureka's Masters of Cinemas series. It's a stark reflection of a political climate built on suspicion and fear that flies in the face of democracy while reinforcing the notion of freedom within reason.
THE SPY WHO CAME IN FROM THE COLD
(1965, director: Martin Ritt)
★★★★½
direct blu-ray screen captures
You can follow cinematic randomness on Twitter and Facebook where you'll find all my cinematic exploits. Thank you for visiting!