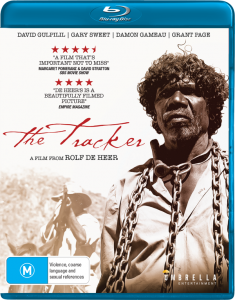 Rolf de Heer's (Bad Boy Bubby) polarising tale of racial injustice, The Tracker, comes to Blu-ray for the very first time thanks to Umbrella Entertainment, who have endeavoured to deliver the definitive edition of one of Australia's most important and significant films.
Set in 1922, four men relentlessly track a fugitive across the outback, an aboriginal man accused of murdering a white woman. Despite a simple narrative, the reality of a what is grim and highly questionable situation comes into play rather quickly. Our characters, known by their defining personality characteristics make up the film's dynamic, particularly David Gulpilil in the titular role as the indigenous lead, who's unrivalled skill and purpose bring about feelings of admiration and sadness. Rolf de Heer's directorial style is highly artistic combined with camera work reminiscent of 70's genre cinema; opting for a modern soundtrack with long beautiful interludes performed by an aboriginal singer, acting as a subtle narration over the film itself. Traditional paintings are used to illustrated the atrocities that occur at the hands of our antagonist as opposed to more first-hand view, although the effect is far from lost with this unconventional technique. Gary Sweet as the amoral instrument of so called justice is thoroughly convincing and despicable through an unflinching performance, whereas the loss of innocence is represented through a young officer played sympathetically by then up and coming actor Damon Gameau. Suffice to say that the film's heart comes from David Gulpilil, who embodies not only the aboriginal spirit, but one of human decency and acceptance.
VIDEO AND AUDIO
Presented in a new 4K scan and fully restored from the film's inter-positive, picture quality achieves a pinnacle in high-definition home media with deep colours on a pallet synonymous with the dry Australia outback, while sound is remarkably crisp, among the some of the clearest I've heard in a 5.1 DTS – HD track.
SPECIAL FEATURES
David Gulpilil: "I Remember …" exclusive featurette
Interview with Rolf de Heer and David Stratton from The Movie Show
Outtakes
Interviews on location
Peter Coad Featurette
59th Venice International Film Festival 2002
IF Awards 2002
World Premier Adelaide Festival of Arts 2002
Melbourne International Film Festival 2002 – Opening Night Film
AFI Awards 2002
Archie Roach Alien Invasion music clip
Much like Umbrella's equally brilliant Blu-ray release of The Chant of Jimmie Blacksmith, there's a significant load of bonus content covering the film's theatrical release sixteen years ago, which needless to say had a profound effect on the Australian film industry, not to mention international audiences.
It's staggering to think that what is practiced in The Tracker was still happing twenty years after Federation, during a period of modernisation for an emerging content. While obviously not as abhorrent, the issue of racism still exists within our culture, rearing its ugly head all too often in recent years.
Note: Umbrella Entertainment have also released this film on DVD.
THE TRACKER
(2002, dir: Rolf de Heer)
★★★★
You can follow cinematic randomness on Twitter and Facebook where you'll find all my cinematic exploits. Thank you for visiting!