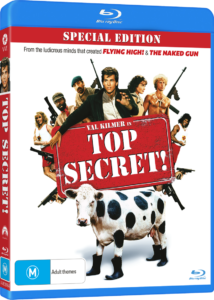 Most up and coming actors start with small roles on either television or film, but Juilliard graduate Val Kilmer came out of the gate with top billing in the spy-parody Top Secret! from the creators of Flying High and The Naked Gun. Now on Blu-ray for the first time ever thanks to the Australian distributor, Via Vision Entertainment, the blatantly silly and sometimes risqué comedy follows American rock and roll singer Nick Rivers, who find himself mixed up in a resistance plot to rescue an imprisoned scientist in East Germany.
Top Secret takes most of its inspiration from the WWII spy genre that was most prominent during the 1960s, with a splash of those corny beach-party movies that starred Frankie and Annette. With the plot making little sense, it's very inconsequential as the main attraction are the endless parade of sight gags, most of which are pretty clever and of course, funny. Humour comes from a literal style as well as visual tricks that swerve the viewer's perception; a neat little comedic art form that we don't see a lot of in comedies nowadays. Val Kilmer proves himself a valuable triple threat as Nick, who is fraught with danger at every turn, but always has the time to belt out a rock 'n' roll fable for the ladies. His love interest, Hillary (Lucy Gutteridge) accompanies Nick on their perilous journey throughout East Germany, where the powers that be, have done well in recycling all those old Nazi uniforms. Kilmer and Gutteridge perform well together as they play it straight, which helps elevate the comedy and delivery of jokes, including one of the most impressive which takes take place entirety underwater. Cartoon villains and various stereotypes make up much of the supporting cast, but there's a brief and memorable cameo from Peter Cushing in one of his final screen roles. His likeness in which, preserved via face-cast, would go on to be used in Rogue One over thirty years later.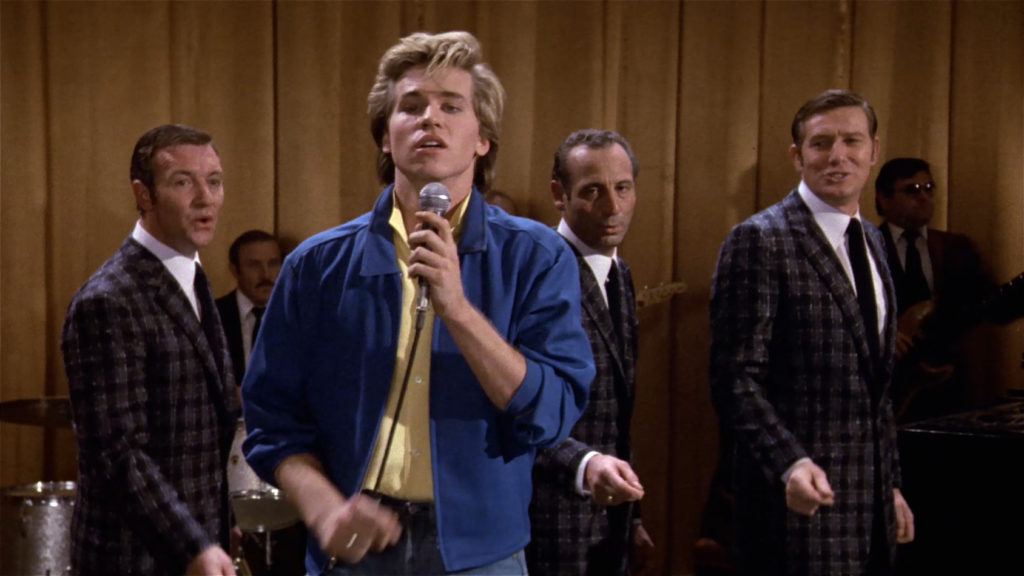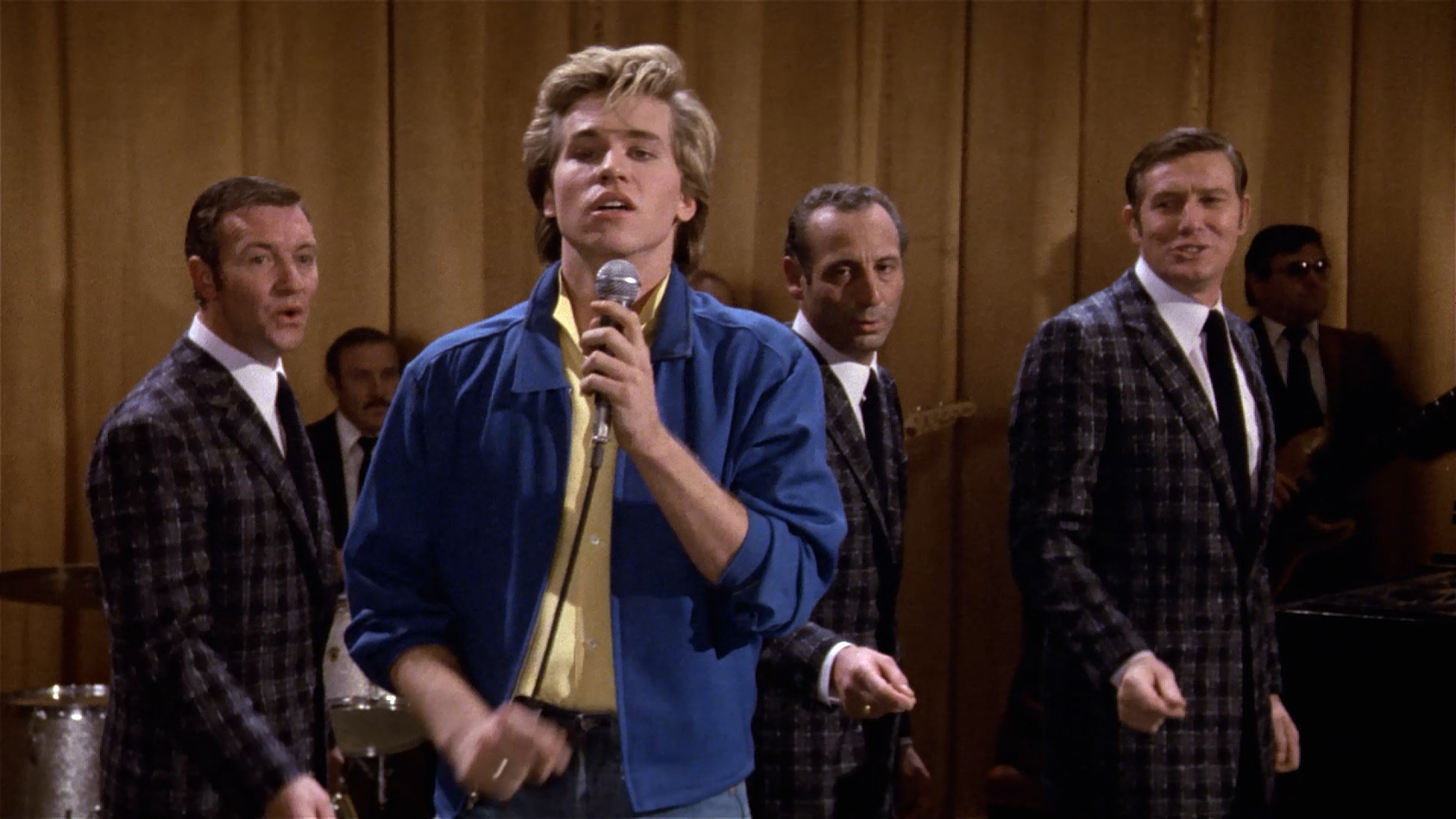 VIDEO AND AUDIO
While this is indeed the first time Top Secret! has been on Blu-ray disc, it's been available previously in HD via Amazon Prime and other streaming platforms, presumably the video source for this release. It's far from the best 1080p has to offer, but to quote Better Call Saul's Gus Fring in a recently bone-chilling scene, "It is, acceptable", considering the film hasn't gone under any restoration. Rating the image itself, there's a slight milky washed-out quality, which isn't instantly noticeable, but does limit the amount of depth and level the of detail Blu-ray usually offers, and colours are a little pale at times. Presented in 1:78:1 widescreen with English subtitles, dual audio tracks DTS-HD 5.1 and LPCM 2.0 are both very strong, especially during the numerous musical numbers and are both mixed and balanced well.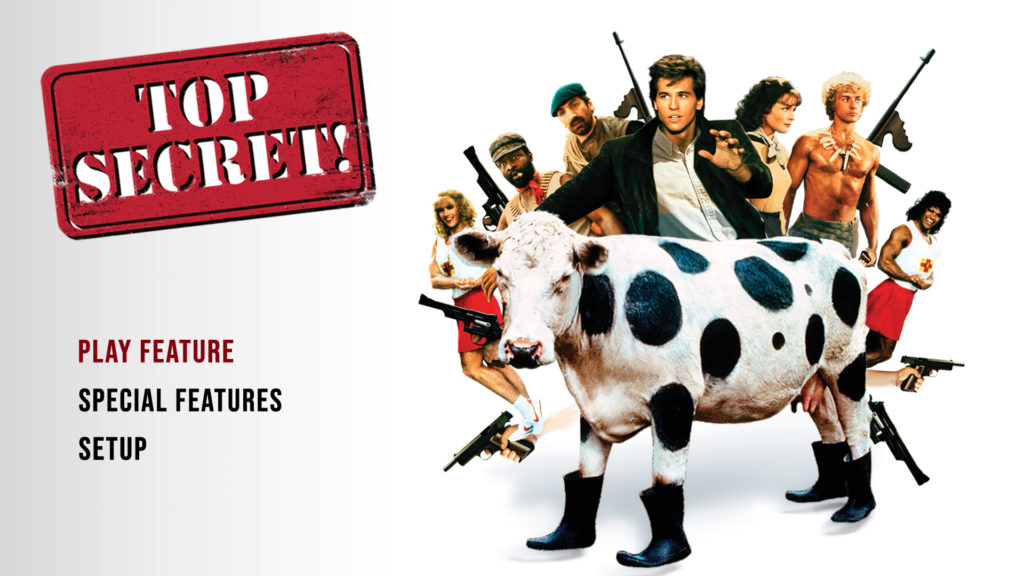 SPECIAL FEATURES
Group Audio Commentary by Directors Jim Abrahams, David Zucker & Jerry Zucker, Producers Jon Davidson & Hunt Lowry and Moderator Fred Rubin
4 Alternate Scenes
3 Storyboard sequences
Coming Soon Trailer
I'm sure most of my fellow reviewers and collectors will agree that this Special Edition release is one of the best from Via Vision's, more so among their format-debut titles. There's a decent amount of extras for a film that lands on the more obscure side of popular with deleted scenes that are simply just more visual gags, although one could have been kept in for context. Storyboards aren't always the most interesting of featurettes, but they're a raw insight into the filmmaking process. If you regularly enjoy audio commentaries, then the group track listed above offers a lot of interesting trivia and is generally an easy listen for 90 minutes.
Top Secret! relies a lot on fan nostalgia as the genre has changed a lot since its release, some might even say it's regressed. I would hope that with this new release younger audiences will make the blind-buy and enjoy this once-popular brand of spoof comedy, which in this case is wrapped around a technically well-made film.
TOP SECRET  
(1984, director: Jim Abrahams, David Zucker & Jerry Zucker)
★★★★
Head over to the Via Vision Entertainment Facebook page for the latest releases, giveaways, great deals and more!
direct blu-ray screen captures
You can follow cinematic randomness on Twitter and Facebook where you'll find all my cinematic exploits. Thank you for visiting!