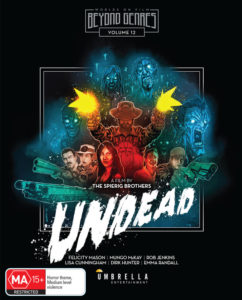 Beyond Genres was a sub-label conceived and launched in 2018 by Umbrella Entertainment, with the aim to champion specific genre titles that are more seminal than most, such as Re-Animator and Razorback for example. Now among the latest batch of releases is the Australian 'almost cult classic' Undead; a product of 80s horror that ran frequently through countless VCRs, which can now be enjoyed on the far less mechanical Blu-ray format.
Set in 'Country Town, Australia' or in this case the fishing community of Berkeley, a meteor shower turns most of the local inhabitants into zombified creatures, leaving a small group of survivors, none of whom get along, to fight their way out.
Undead came amidst the zombie craze of the early-to-mid 2000s, released between 28 Days Later and the remake of Dawn of the Dead. Despite its low budget, the film did make it to cinema screens in both the UK and the US although its box office fell short of the $1 million dollar budget.
Directed by Peter and Michael Spierig who have since found mainstream success overseas, this debut feature plays more like a fan film. Not so much in regards to quality, but rather as an affectionate celebration of the VHS classics the brothers grew up watching. We have a plot that's pulled right out of Ed Wood's closet, namely Plan 9 from Outer Space, combined with elements of Night of the Comet, Night of the Creeps, Night of the Living Dead and The Evil Dead. I detect a subtle theme here. Our titular 'Undead' look very much like 'Deadites' and the make-up effects are quite impressive along with other practical elements.
As for the film's "Australian-ness", it's very pronounced and done in a tongue-in-cheek style, but not obnoxious. It gives the film a colourful quality, which often counters the performances from the mostly unknown cast, whose performances tend to vary.
VIDEO AND AUDIO
Shot on what looks like some high-end digital cameras for the time, Undead regularly jumps from different hues, which tends to hide finer details on the image that would normally show up on Blu-ray. It's not a very sharp picture nor is it bright, but given the context of an enveloping alien invasion, the aesthetic choice makes sense. I really enjoyed the 5.1 DTS-HD Master Audio track, which is very immersive and quite detailed with an array of cosmic and spatter sounds effects. In terms of overall quality, the soundtrack is almost worth the price of admission alone. English HOH subtitles are included and the disc is region-free for intergalactic viewing.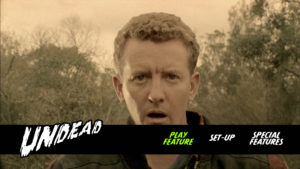 SPECIAL FEATURES
Original Soundtrack CD
Audio Commentary with Directors Peter and Michael Spierig and Cinematographer Andy Strahorn
On the set of the Undead
Attack of the Undead – Short Film
The Making of Undead
Homemade Dolly Video
Undead Camera and Make-up Tests
Stills Gallery
Theatrical Trailer
All the special features on Umbrella's release of Undead are ported from a previous Blu-ray edition but are so expansive, that they would be hard to top with any updated supplements. The Making Of featurette is the most informative and includes on-set interviews with cast & crew and exclusive behind-the-scenes footage which runs for 37-minutes.  On the Set is more of the same but with less talking, instead, viewers are shown rehearsals and shoots, which are the most exciting when zombie action is involved. Attack of the Undead also runs for 37-minutes and is an interesting and amusing pre-cursor to this feature film, and showcases more of the director's key influences. With low-budget movies, most of the fun is in learning how certain effects and scenes were executed with limited resources which all the featurettes on this disc showcase nicely.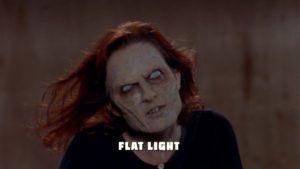 Undead isn't great, but I'm happy to say I enjoyed it more than I expected. It's hard not to appreciate the enthusiasm of Peter and Michael Spierig who simply just wanted to replicate a genre and era of horror many of us enjoyed and still enjoy today. My only gripe is that you don't find out the reason for the film's cataclysmic events it's practically over, which I think having learnt early on would have increased my enjoyment. Overall, this Blu-ray edition is worth owning just for the extras, Simone Sheery's signature artwork and the bonus soundtrack.
UNDEAD
(2003, director: Peter & Michael Spierig)
★★★½
direct blu-ray screen captures
You can follow cinematic randomness on Twitter and Facebook where you'll find all my cinematic exploits. Thank you for visiting!