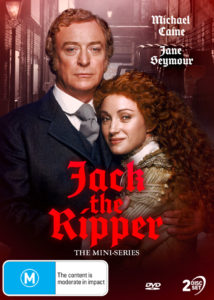 Screened on British television over two nights to coincide with the 100th anniversary of the Whitechapel murders, Jack the Ripper re-ignited the public's fascination with the now mythical cloaked killer.
Available now on DVD from Via Vision Entertainment this award-winning two-parter stars Michael Caine stars as Scotland Yard Inspector Frederick Abberline, a skilled but hard-drinking gentleman who is tasked with investigating the infamously brutal slayings. His various leads and encounters throughout suggest a possible conspiracy linked to the Crown and a future king.
Upon the very optimistic opening credits, my initial expectations were that of a tame series of unfortunate events, but to my surprise, this centuries-old detective story has a rather intense and confronting quality despite the censorship limitations of television.
Michael Caine is front and centre as the flawed but very capable detective, who during a few fleeting moments resembles a "Dirty Harry" type character as he finds himself at odds with his superiors who are under political pressure to have the case solved. Furthermore, a nosy journalist insists on stirring up rumours and speculations through his sensationalised articles, while the leader of a vigilant group uses the murder to further his anti-establishment agenda.
While much has changed in the way of technology and how we obtain information, Jack the Ripper shows that very little has evolved regarding the fundamentals of detective work and how the public and media responded to such horrific crimes. It made me realise that Twitter has become an outlet of modern-day vigilantism, need I say more.
Of course, for mass audience appeal, there's a shoe-horned romantic sub-plot, if you could even call it that, with Jane Seymour as Abberline's love interest, who is strangely second-billed next to our male lead. However, it's Lewis Collins as our main protagonists' right hand, Sergeant George Godley who deserves much praise. He's the main supporting player and carries himself quite well next to Caine. Armand Assante as an American actor Richard Mansfield is charismatic and slightly villainous when he becomes a prime suspect, while the star of the show, Michael Caine, is both the lovable chap we all adore and the embodiment of rage as the story comes to a very dramatic end.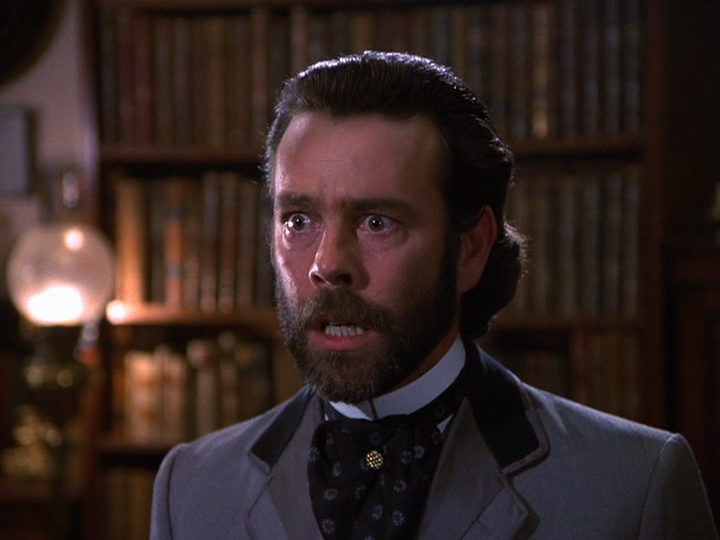 VIDEO AND AUDIO
Previously released by a rival label 18-years-ago, with a very tacky cover design, Via Vision's edition, is a port from presumably the same source, which thankfully holds up well on modern screens. Presented in 4:3 and formatted in NTSC, this very British production retains a good amount of detail in standard definition with strong colour; with red proving to be effectively jarring. Mono 2.0 is your standard audio affair for a telemovie from this era and meets the basic criteria of being clear and loud, and like the image works well alongside today's home theatre equipment.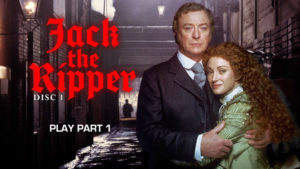 We'll likely never know the identity of Jack the Ripper, but this mini-series does try to satisfy the viewer's need for an answer, which was heavily advertised before it went to air. Although, it's really just a theory, a sound one at that.
JACK THE RIPPER  
(1988, director: David Wickes)
★★★½
Head over to the Via Vision Entertainment Facebook page for the latest releases, giveaways, great deals and more!
direct dvd screen captures
You can follow cinematic randomness on Twitter and Facebook where you'll find all my cinematic exploits. Thank you for visiting!