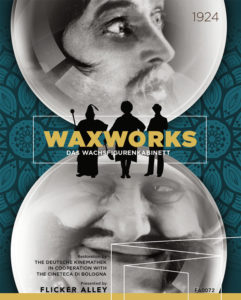 It's a pleasure to be reviewing another title from Flicker Alley, following up on my coverage of Paul Leni's The Last Warning and The Man Who Laughs in 2019, with an earlier classic from the silent film auteur. Waxworks is a light anthology piece that displays unbridled imagination and the most elaborately creative set-design; released on Blu-ray last November via duel-format edition, spine number FA0072.
In need of some creative flair for his life-like exhibits, the owner of a wax museum at Luna Park (strange coincidence) hires a writer to give each of his sculptures a story. Our freelance writer happily accepts and eagerly puts pen to paper, inserting himself and the owner's daughter into these colour fantasies, because why wouldn't you?
Harun al-Rashid marks the beginning of this three-act feature, with a slight of misfortune as a lowly baker, Assad, unknowingly interrupts a game of chess between the titular fifth Abbasid Caliph and his advisors. An impromptu demand for Assad's head quickly turns into a frivolous pursuit of the baker's beautiful wife by the oafish Caliph. Despite being rather silly in tone, the theatrics of silent film actiing are on full display as our character's chase each other around maze-like sets with our hero played by William Dieterle performing some daring stunts along the way.
Moving on to the most twisted of waxed individuals, Ivan the Terrible, played by the magnificent Conrad Veidt (The Man Who Laughs), leads the audiences into the dungeon of 16th century Russia where we find the depraved Mr. Terrible truly in his element. However, his fractured and paranoid mind sows the seeds of his doom before embarking on a social rampage at the wedding of a nobleman's daughter. Veidt's enigmatic performance gives this second chapter of Waxworks a subtle vibe of the horrifying, in addition to the slightly warped and exaggerated Russian orthodox sets and imagery, perhaps a result of Ivan's madness which lingers playfully behind his eyes.
Waxworks concludes with a somewhat rushed and haphazard final act, which involves our writer and his romantic interest stalked by Jack the Ripper via a montage of mesmersizing overlaying shots through the city and its various attractions. Visually, it's very fitting to the film's overall mood but feels underdeveloped and a little empty compared to the previous two stories.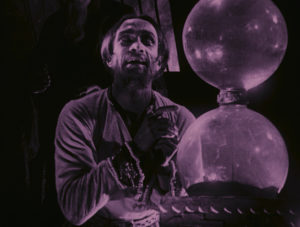 VIDEO AND AUDIO
Scanned in 4K resolution and restored in 2K, this dual-format Blu-ray/DVD presentation debuts thanks to efforts of both Flicker Alley and Eureka Entertainment, complete with two optional films scores; a new piano score by Richard Siedhoff and a new instrumental score by Bernd Schultheis. With the obvious absence of sound from the players, both music treatments, in optional stereo or 5.1 surround, sound wonderful and vibrant, helping to tell the story. Region free on both discs for universal viewing the 1.33:1 image is extremely sharp and detailed and certainly measure up to Flicker Alley's previous silent releases.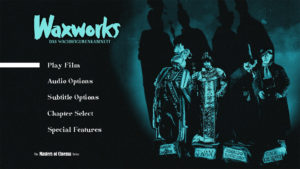 SPECIAL FEATURES
Audio Commentary Track – Featuring Australian film and arts critic Adrian Martin
Paul Leni's Rebus-Films Nr. 1 (1925) – Courtesy of Kino Lorber
In search of the original version of Paul Leni's Das Wachsfigurenkabinett (2020) – An interview with Julia Wallmüller (Deutsche Kinemathek)
A Conversation with Kim Newman (2020) – An in-depth interview with journalist, film critic, and fiction writer Kim Newman, discussing the legacy of Waxworks
Collector's Edition Souvenir Booklet – Limited edition booklet featuring new essays by Phillip Kemp and Richard Combs on the film's history and significance; notes on the restoration process by Julia Wallmüller (Deutsche Kinemathek); and rarely seen production photographs and promotional material.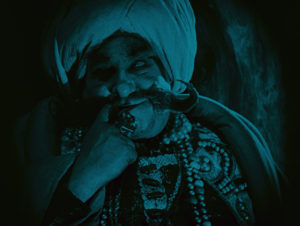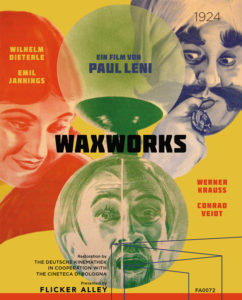 We've got a real history lesson here, starting with Adrian Martin's commentary; a very nice touch given the artistic merit of Waxworks, plus Kim Newman contributes with a deep-dive into the film and its influences. Alternative artwork offers an old fashion style opposed to the official and modern art design, although the collector's booklet appropriately looks like a carnival broacher or guide that one might have kept from the 1920s. Inside of course the essays and selection of productions photographs elevate the booklet well above the quality one might expect from a 'souvenir'.
Waxworks for all intents and purposes is a sideshow attraction and at 84-minutes you won't be wasting your time. Even if you're new watching silent movies or maybe a little hesitant in making the leap, you'll be good hands with Paul Leni who clearly has a great time celebrating what was then, the novelty of cinema.
WAXWORKS  
(1924, director: Paul Leni)
★★★★
direct blu-ray screen captures
You can follow cinematic randomness on Twitter and Facebook where you'll find all my cinematic exploits. Thank you for visiting!