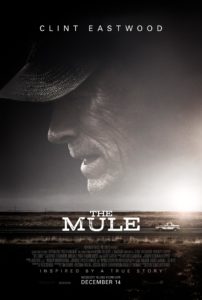 Event cinema can easily be defined in this day and age as the next studio tentpole-release, of which there are many throughout a single year, but personal taste and anticipation are also defining factors. If you're a long-time Clint Eastwood fan like myself, then his latest feature The Mule is one such occasion, which sees the 88-year-old screen veteran back in front of the camera for the first time in six years.
Faced with financial hardship, 90-year-old horticulturist and Korean War vet, Earl Stone, becomes a mule for a Mexican drug cartel, transporting millions of dollars' worth of cocaine through Illinois before ultimately being caught. Based on The New York Times article "The Sinaloa Cartel's 90-Year-Old Drug Mule", Eastwood takes the most compelling elements of this remarkable story to create an impactful tale of personal redemption. Despite the ever present danger of our protagonist's occupation, Stone's motivation to amend years as an absentee husband and father is the film's primary focus. He shares the excess of his unlawful source of income with those he feels deserve it, ironically improving lives with money from something that does the opposite. While this ethical dilemma isn't really explored, the watchful eye of law enforcement act as a counter-weight to Stone's newfound selflessness. These two key elements amount to an engaging plot, which propels the film at a comfortable pace over its two-hour runtime. Clint Eastwood himself crafts a very likable and sympathetic character through his performance as Stone; a welcome departure from that crusty old persona he's become so synonymous with. His charisma and ease enables him to quickly build a friendly rapport with his criminal employees, extending all the way to a cartel boss played flamboyantly by Andy Garcia. However, audiences are soon brought back to reality in terrifying fashion. The Mule benefits from a strong supporting cast, including Dianne Wiest as Stone's estranged wife Mary alongside Alison Eastwood and Taissa Farmiga as his daughter and grand-daughter respectfully; while Bradly Cooper and Michael Peña makes their presence known as diligent DEA agents.
Currently playing in cinemas across Australia through Village Roadshow, The Mule may very well be the last time we have to enjoy Clint Eastwood on the big screen, who still clearly has prowess as a filmmaker after all these years.
THE MULE
(2018, dir: Clint Eastwood)
★★★★
You can follow cinematic randomness on Twitter and Facebook where you'll find all my cinematic exploits. Thank you for visiting!