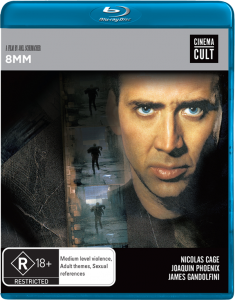 "When you dance with the devil, the devil doesn't change. The devil changes you."
Among us collectors of psychical media, speculation mounts each month over which titles Cinema Cult will be adding to their ever expanding catalogue. One of the two latest acquisitions for November was surprisingly Joel Schumacher's overlooked thriller 8MM, an ideal selection from the Australian based label and a fixture of cinema's darker side. Years before he seized the crown as B-movie king, Nicolas Cage took audiences through a door that should never be opened as private investigator Tom Welles, who is tasked with authenticating an apparent "snuff film" for a wealthy widow, belonging to her late husband.
With most of the film taking place in Los Angeles, the sordid underworld of the city's pornography industry feels like a separate reality, a realm slipped between alleyways and storefront basements awash with neo-noir ambiance. As we venture past the its legal limits we observe a sadistic machine that preys upon the young and naïve, where depraved individuals exploit youth in the sickest way possible.  Through our protagonist's investigation, we see the full scope of the amount of people who go missing each year, with the fate many forever remaining unknown. Cage is quite good as Welles despite being flat at times with his delivery, but his professional conduct solidifies him as the film's hero and we feel the pain when the world he enters begins to take its toll. Joaquin Phoenix as Welles' self-appointed sidekick and guide brings a casualness to the film's serious tone, while the late James Gandolfini is brilliantly repulsive as porn producer Eddie Poole.
Presented in Dolby Digital 2.0, the audio is clear and balanced despite being on the lesser end of the spectrum, while video is sharp and vibrant enhancing the film's nori atheistic.
SPECIAL FEATURES
8MM has held up well over the 18 years since its release and is a welcome addition to the Blu-ray market, currently retailing for $19.99. It's an immensely dark and polarizing mystery that draws a lot of influence from Paul Schrader's classic Hardcore, although rawer in content befitting to the time period.
8MM
(1999, dir: Joel Schumacher)
★★★★
You can follow cinematic randomness on Twitter and Facebook where you'll find all my cinematic exploits. Thank you for visiting!