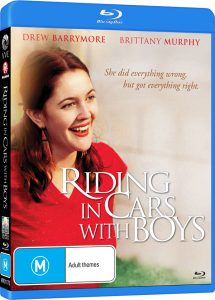 Regular cinema- goers of the early 2000s would have easily been forgiven for assuming Riding in Cars with Boys was just another Drew Barrymore vehicle (no pun intended), but there's more two this dramatic comedy than meets the eye as I discovered for myself thanks to the film's first ever Blu-ray release, produced by Aussie label Via Vision Entertainment. Based on Beverly D'Onofrio's best-selling memoir, a young woman's dream of becoming a writer is put on hold as a result of teenage motherhood and a one-sided marriage.
For anyone who has ever felt stuck in life with their aspirations constantly taking a back seat to unforeseen circumstances or events, then I think this film will speak to you regardless of your age or gender. We're shown human nature at its best and most flawed, selfishness through selflessness and the complexity of relationships, but most importantly is that it's never too late to make your mark in this world. Spanning the decades from the mid-60s to the mid-80s, there's a subtle celebration of these distinctive time periods, mostly through popular music and fashion, which doesn't distract from the story's heart and essence. Drew Barrymore is impressive as Beverly, flexing her comedic chops while being thoroughly convincing during her more dramatic moments. Supporting cast members add variety and to the film's overall enjoyment, particularly Brittany Murphy as Beverly's closest friend Fay, Steve Zahn as the good natured but unreliable Ray and screen veteran James Woods as Beverly's working class father Leonard.
While not an extravagant remastered edition, Via Vision have arranged a modest release offering clear picture and sound plus bonus material, setting an exceptional standard for back-catalogue titles.
SPECIAL FEATURES
Audio Commentary with Drew Barrymore
HBO Making-of Special
Four Behind-the-Scenes Featurettes
Currently retailing for $29.95 online and in stores Riding in Cars with Boys is to put it simply, a really nice movie about personal struggle and triumph and everything in between.
Note: Via Vison Entertainment have also released this film on DVD.
RIDING IN CARS WITH BOYS
(2001, dir: Penny Marshall)
★★★★
You can follow cinematic randomness on Twitter and Facebook where you'll find all my cinematic exploits. Thank you for visiting!