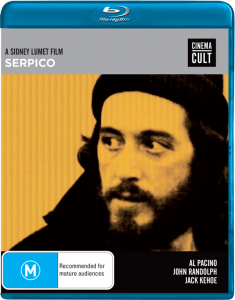 From the early-to-mid 1970s Al Pacino was king; an actor like no one had seen before, who brought an unmatched level of intensity and realism to the big screen.  One of his most popular and acclaimed performances comes as the titular character in Sidney Lumet's riveting crime/drama Serpico, which resurfaced on Blu-ray earlier this month thanks to Cinema Cult. Through the film we follow idealistic New York cop Frank Serpico, an honest man in a dishonest world, who blows the whistle on rampant corruption within the police department.
Rather than the audience merely observing the events depicted on screen, we're placed firmly in our protagonist's shoes and reality. From the feeling of admiration for the individuals who serve and protect the public, to that fleeting moment upon receiving a "free" sandwich in exchange for a blind eye, our innocent view of this institution is compromised, where cops are either complacent or yielding their authority for financial gain. Despite the fear of reprisal from his fellow officers, Serpico does not bend to the reprehensible culture. Although, the strain from being a man alone in his convictions takes an emotional toll, which is highly effective in showing the extent of what he's up against, not to mention a testament to Pacino's performance, who is extraordinary!
Picture is of a suitable grade with bland colours befitting to the film's gritty urban style, while sound is crisp in a DTS HD 5.1 audio track. Unfortunately, there is no bonus content, but if you're wanting to just simply build up your collection of classic cinema, particularly from the ultra-realistic years of the 70s, then Serpico is a must own.
Note: Cinema Cult have also released this film on DVD.
SERPICO
(1973, dir: Sidney Lumet)
★★★★
You can follow cinematic randomness on Twitter and Facebook where you'll find all my cinematic exploits. Thank you for visiting!