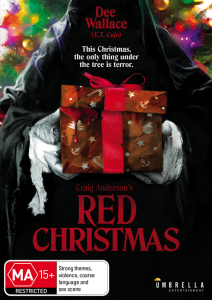 Contrary of the intended purpose of Christmas being the ultimate social equaliser, it often brings folks together who don't particulate enjoy one another's company, which is the case for Diane, a mother of a semi-functional family who she must protect when an unexpected and ghoulish visitor arrives from her past.
If you know anything about the production of Red Christmas, then you would know it was a constant uphill battle for writer and director Craig Anderson. He wanted to make the type of movie he would enjoy watching, like the countless VHS nasties that stand proud in his home video library. I would say that Craig has been successful in his debut cinematic endeavour as we the audience are treated to a traditional slasher, but one with a slight self-awareness that manages to both shock and amuse the viewer almost simultaneously. For a low budget feature, performances are surprisingly good from pretty much the whole cast, especially from actor Gerard Odwyer as courageous son Jerry, and the film's star Dee Wallace is very strong and assertive as the matriarchal Diane. Keeping with the Christmas setting, numerous scenes are awash with vibrant red and green lighting that are initially jarring, but are a significant trope in the film's luminescent visual style.
Available on DVD from Umbrella Entertainment, this slice of seasonal slaughter is an ideal gift for genre fans and the modest amount of addition content more than justifies the purchase. You can also what the film via the convenience of Umbrella On Demand from $6.99.
SPECIAL FEATURES
Audio Commentary with Director Craig Anderson and Actor Gerard O'Dwyer
Behind the Scenes – Part 1
Behind the Scenes – Part 2
Teaser Trailer
Theatrical Trailer
Red Christmas explores the love/hate relationship we something struggle with when it comes to family, and the consequences from a disregard to human life at its most infant level. It's a labour of love from a fellow movie fan and is more than deserving of a spot on your Christmas watch-list.
RED CHRISTMAS
(2016, dir: Craig Anderson)
★★★½
You can follow cinematic randomness on Twitter and Facebook where you'll find all my cinematic exploits. Thank you for visiting!