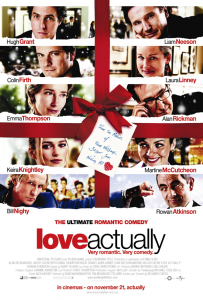 With a cast that almost rivals The Longest Day, it's been a fourteen years since the staple romantic comedy Love Actually swept audiences off their feet and has since become one of the genre's most popular titles ever. I didn't catch the film in cinemas, but remember picking up a copy on DVD when it hit shelves in 2004, along with a copy of The Creature from the Black Lagoon because the two clearly go so well together. Directed by New Zealand born filmmaker Richard Curtis (Four Weddings and a Funeral), we follow several couples and a few individuals dealing with their love lives during the frantic lead up to Christmas.
Exploring romantic situations that are both grounded in reality and common male/female fantasy, Love Actually is sometimes cheesy in its approach but ultimately a heart-warming affair and lovely reminder of a certain phrase popularised by the Beatles. Our most centralised character is the single and newly elected Prime Minister of Great Britain played by Hugh Grant, who has an instant connection with his secretary Natalie (Martine McCutcheon). Whereas the PM's sister Karen (Emma Thompson), a devoted wife and mother must deal with possibility of infidelity on her husband's part played by Alan Richman. Despite being somewhat clichéd in approach, these two loosely intertwined tales are poignant, relatable and illustrate the contrast mentioned above. Heartbreak comes in the form of photographer Mark (Andrew Lincoln), who is in love with his best friend's wife, while washed-up rock star Billy Mac (Bill Nighy) revaluates what's important during some new-found success, showing the audience how coming to terms with aspects can allow us to grow regardless of age.
There's a lot for audience to sink their teeth into, possible too much under a less accomplish filmmaker, but fortunately a carefully woven narrative gives Love Actually an almost universal appeal, celebrating our most endearing and nature quality through various walks of life.
LOVE ACTUALLY
(2003, dir: Richard Curtis)
★★★★
You can follow cinematic randomness on Twitter and Facebook where you'll find all my cinematic exploits. Thank you for visiting!