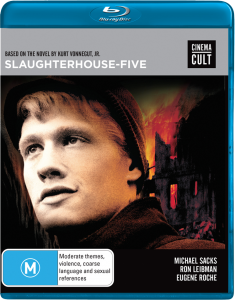 Arriving on shelves next week from Cinema Cult (Shock Entertainment) is George Roy Hill's big screen adaptation of Slaughterhouse-Five, based on author Kurt Vonnegut's satirical WWII novel of the same name.  In a most unusually telling of an individual's life story, we follow the journey of Billy Pilgrim, a man free of the linear restrains of time, thanks to other-worldly intervention.
There's an aurora of sadness that surrounds our hero as he struggles to cope with his grim experiences during the war, in particular the controversial bombing of Dresden, Germany in 1945. Viewers are enveloped in Billy's losses and gains curtesy of the film's wonderful sense of atmosphere which fills us with both dread and wonder; often hanging in the air like a foul odour. Numerous moments throughout Billy's life are presented as sobering parallels to one another, such as personal triumph, facing uncertainties or recovering from illness. This pattern within the film's narrative shows how our personal histories can rhyme and how the smallest of encounters or occurrences can leave a profound and lasting impact. George Roy Hill shows great attention detail with a clear emphasis on authenticity, especially in relation to scenes depicting war-torn Europe. He captures both the scope and scale of widespread destruction. True to Vonnegut's novel, the darkly humours tone is used effectively to capture the often absurd nature of war and what it brings out in people, which is a credit to the variety of performances from a well-rounded cast.
Slaughterhouse-Five is a fascinating film to dissect and discuss as it's unlike anything you've seen before. Challenging ideas of what we know about time and space, a life lived is fictionally documented at its most unconventional. You can pick up this classic on Blu-ray or DVD from July 5th.
SLAUGHTERHOUSE-FIVE
(1972, dir: George Roy Hill)
★★★★
You can follow cinematic randomness on Twitter and Facebook where you'll find all my cinematic exploits. Thank you!