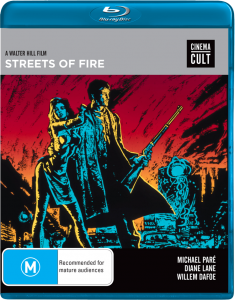 I first came to see Walter Hill's classic rock 'n' roll fable three years ago during my time as budding YouTuber, exploring some lesser known titles from 1984. I enjoyed it immensely, while shocked that I had never came across it earlier. Moving forward to present day, Cinema Cult, a designated label under Shock Entertainment, have released Streets of Fire on in full high definition Blu-ray. Set in "another time, another place" we follow lone mercenary Tom Cody, who is reluctantly hired to rescue his ex-girlfriend, a popular signer, from a notorious motorcycle gang.
Existing in its own unique universe where the aesthetics of the 1950s have somehow managed to adopted an 80s soundtrack, Streets of Fire is remarkably both familiar and unfamiliar as a result from the palpable merging of cultural staples from two distinctive decades. There's an energy to the film which burns relentlessly, elevated by genre defining music that pops under an impressive digitally enhance audio track. While it doesn't add a lot to the films plot, which consists of common tropes centered around a rugged hero getting the girl, the catchy tunes performed during extended musical numbers provides fitting bookends to what is an exciting home cinema experience. Michael Paré doesn't particularly impress as Tom Cody, but thankfully supporting players certainly pick up the slack, such as Amy Madigan as tomboyish ex-soldier McCoy, Diane Lane as femme fatale Ellen Aim and Rick Moranis as her no nonsense manager Billy Fish.
Throughout a year that was filled with a number of iconic titles, such as The Terminator, Gremlins and A Nightmare on Elm Street just to name a few, Streets of Fire is defiantly worth your time and has held up extremely well over the past thirty years.
STREETS OF FIRE
(1984, dir: Walter Hill)
★★★★
You can follow cinematic randomness on Twitter and Facebook where you'll find all my cinematic exploits. Thank you for visiting!