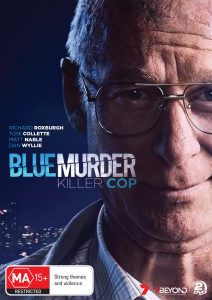 Shortly after writing my review of Blue Murder just over a year ago, I read some internet chatter about a possible follow-up series being in the works, but gave the rumour little credence. Much to my surprise while grabbing a late night coffee from McDonald's I discovered it was not only a reality, but two weeks away from airing. Under the less than inspired title, Blue Murder: Killer Cop we're reacquainted with disgraced former New South Wales detective Roger Rogerson, following his "career" after the police force to his life sentence behind bars for the murder of Sydney student Jamie Gao.
While I rate this miniseries as mostly positive, much of it is on the back of Richard Roxburgh's intimidating performance as Rogerson, reprising the role that eared the now veteran actor the highest of praise over twenty years go. Clinging to what little connections he has left, Rogerson is still recognisable but clearly a diminished figure with his true nature more exposed. Watching him sink his teeth into the criminal underworld, we see the contrast to his glory days a policeman is shown remarkably well, offering a stark reflection to self-righteous sociopath he truly is. As an overall production Blue Murder: Killer Cop does suffer from a polished look that often comes from programs produces by commercial networks. I really missed that grittiness that was so prevalent in the ABC original, but as I mentioned above this made-for-TV feature does rest a lot on the performances with Matt Nable, Dan Wyllie and Toni Collette filling out the supporting cast.
Blue Murder: Killer Cop lacks the impact of its unrelenting predecessor, but is far from a disappointment and appropriately closes the door on the media's and our own fascination with extraordinary life of Australia's most corrupt police man.
BLUE MURDER: KILLER COP
(2017, dir: Michael Jenkins)
★★★½
You can follow cinematic randomness on Twitter and Facebook where you'll find all my cinematic exploits. Thank you for visiting!