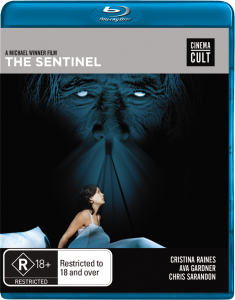 "Did you ever see the movie, The Sentinel, Mr. Peterson?" asked Corey Feldman's character in The 'Burbs, Joe Dante's classic dark comedy. Upon hearing that question I had neither seen nor heard of the obscure horror film, but I vowed one day to seek it out. Nineteen years later I finally did and thanks to Cinema Cult, an exclusive brand of Shock Entertainment, I now own it on Blu-ray in glorious high definition.
Based on Jeffrey Konvitz's novel of the same name, we follow a neurotic fashion model who takes resident in a lavish Brooklyn Heights apartment building where the rent is unusually cheap and strange individuals wholeheartedly occupy. It isn't long until frightening occurrences plague our fragile protagonist. Are they a product of her mental instability or something more sinister and other-worldly? There's something very odd that resonates from The Sentinel; a constant feeling of dread that quickly nestles in the pit of the viewer's stomach. Even thinking about the film conjures up an unsettling vibe. With all the bizarreness that is frequency encountered, it feels like we've stepped into a carnival of horrors, which is attributed mostly to the horde of eccentric and in some cases horribly deformed characters. The film's central location of an historic Brooklyn brownstone is a lifeform in itself, reminiscent of classic spook-house horror where you might find the likes of Borris Karloff or Vincent Price roaming the halls. Christina Raines stars in the leading role as Alison Parker, whose vulnerability and anxiety comes across strongly on screen, reflecting the audience's experience. An ensemble of renowned Hollywood veterans fill-out the supporting cast, including John Carradine, Martin Balsam, John Carradine, Ava Gardner and Burgess Meredith just for starters.
If you're a potential first time viewer of The Sentinel or are thinking of upgrading from DVD to a Blu-ray copy, then Cinema Cult's release fits the bill with a fairly priced release that offers crisp clear audio and picture worthy of your movie collection. You can find it online at www.shock.com.au or at your nearest JB Hi-Fi store.
THE SENTINEL
(1977, dir: Michael Winner)
★★★★
You can follow cinematic randomness on Twitter and Facebook where you'll find all my cinematic exploits. Thank you!