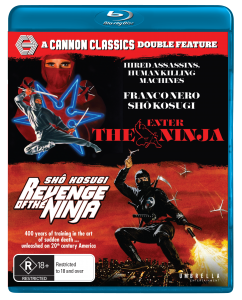 Outside of the Teenage Mutant Ninja Turtles, my phase of watching movies centred around the traditional Japanese art of Ninjutsu was relatively short lived, with only a couple of titles leaving an impression. Due to the continuing wave of celebration towards the now-defunct Cannon Films, I was recently able to re-experience one of those (said) titles in addition to its famed predecessor which I sat down to watch for the first time thanks to one over-the-top double feature Blu-ray by Umbrella Entertainment.
In the very tongue-in-cheek Enter the Ninja, we follow an army veteran-turned-ninja warrior, who finds himself feuding with a greedy crime-boss in the Philippines in defence of an old war-buddy. While not a particularly good film overall, it's saving grace is its light comedic nature and the self-awareness towards all the absurdity and shenanigans within. Franco Nero as our disciplined hero, Cole, feels out of place in the lead role, but we get the sense that he knows it too, which only adds the fun. His adversary and fellow ninja, Hasegawa, is played by the more capable Shô Kosugi who's natural ability is evident and is a force to be reckoned with as we see in Revenge of the Ninja, the second feature in this HD double bill. Strangely my grandparents introduced me to this cult sequel when I was a child, which I enjoyed immensely. Unfortunately, it's not as good as I remembered which is often the case for many films we loved during childhood as we're blind to their flaws. However, Revenge of the Ninja actually lives up to the phrase "action-packed", that is often used very loosely by fans and critics alike.
I'm confident that lovers of genre cinema will no doubt get a lot of enjoyment out of this martial arts extravaganza, offering the eyes and ears over three hours of remastered picture and sound thanks to Roar Digital. Complete with reversible cover art you'll find the Cannon Classics Double Feature in store and online as of next Wednesday, June 7th.
ENTER THE NINJA / REVENGE OF THE NINJA
(1981 & 1983, dir: Menahem Golan, Sam Firstenberg)
★★★½
You can follow cinematic randomness on Twitter and Facebook where you'll find all my cinematic exploits. Thank you!