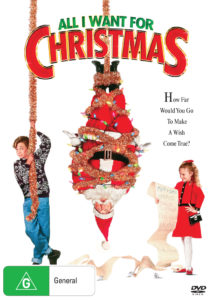 I remember All I Want for Christmas playing a lot on TV during my childhood, but strangely never around Christmas. Now it's out on DVD from Shock Entertainment and I've noticed that it hasn't exactly been resonating with movie fans, considering the nostalgia binge most of us are on. However, being that it's wedged between Home Alone and its popular sequel, it would be easily overshadowed.
Similar to Disney's The Parent Trap, two siblings, Ethan and Hallie, set out to bring their divorced parents back together for Christmas. Together they hatch an elaborate scheme resulting in many hijinks while Hallie seeks help from a Macy's department store Santa for good measure. All I Want for Christmas may not be an advocate for consumerism during the holidays, but it's very idealistic in regards to the film's domestic settings, which is unmistakably upper class, more so on the mother's side, Catherine. Whereas, father Michael is a small business owner, yet lives quite well in spacious Manhattan loft apartment. Despite everything looking perfect, even the snow, the warm message pertaining to family and togetherness is not lost and our two precocious leads are relatable to younger viewers despite their privileged life. Ethan is your typical early teen, slightly anxious and not entirely sure of himself, especially in the company of the opposite sex; who is portrayed well by Ethan Embry, who at the time was billed as Ethan Randall. If you've seen Can't Hardly Wait, he more or less plays the same character, just creepier. Thora Birch as Hallie, is rather sophisticated and seemingly wise beyond her years, yet still subscribes to the belief in Santa and the magic of Christmas, which is sweet and akin to the child in all of us. Santa is played by Leslie Nielson who makes a few brief and memorable appearances, while veteran actress Lauren Bacall is the word's nicest but slight scary mother-in-law, Lillian.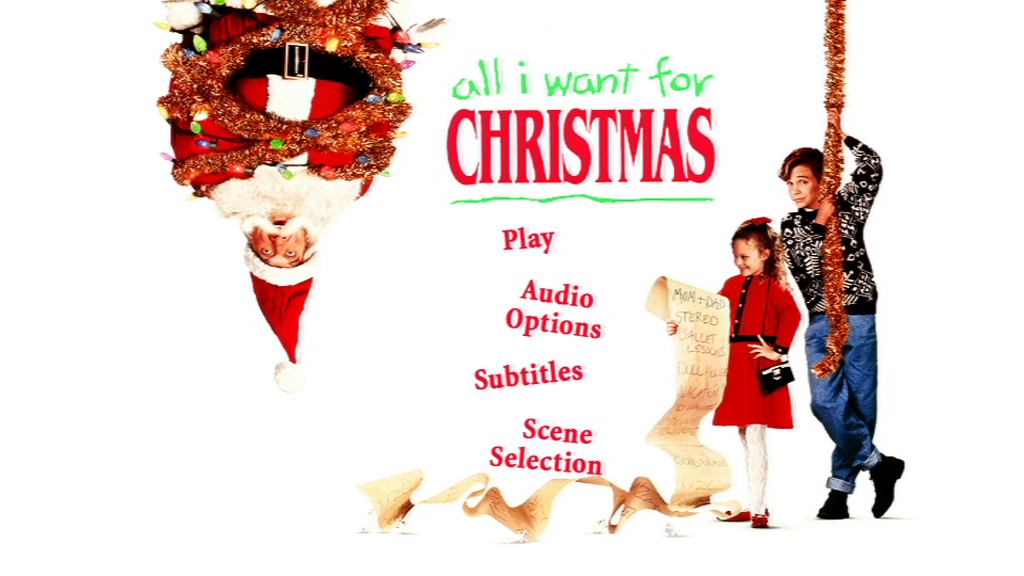 VIDEO AND AUDIO
Shock have re-packaged the previous DVD release of All I Want for Christmas, which thankfully is a Paramount disc with English subtitles and five additional language tracks, including French, German, Hungarian, Italian and Spanish. PAL formatted and region 4 encoded, the 16:9 presentation offers gentle balance of colour with a nice softness that's typical of holiday films. While the SD image unscaled well on modern devices, adding some subtle picture clarity, sound is especially strong in 5.1 Dolby Digital enhancing the wintery magnificence of Christmas in New York City.
All I Want for Christmas may not be earning 500k in royalties annually like the Mariah Carey song of the same name, but it's a wholesome classic worth checking out this December for its simplicity to story, picturesque setting and fun whimsical charm.
ALL I WANT FOR CHRISTMAS
(1991, dir: Robert Lieberman)
★★★½
direct dvd screen captures
You can follow cinematic randomness on Twitter and Facebook where you'll find all my cinematic exploits. Thank you for visiting!