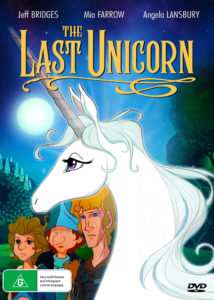 I loved fantasy adventure as a child, but mostly the live-action variety and providing it starred Arnold Schwarzenegger, so naturally, I never crossed paths with The Last Unicorn, which has since galloped to DVD here in Australia thanks to Via Vision Entertainment, who have been broadening my horizons since 2016.
Written in the late 60s, likely with assistance from some mind-altering substances, this beautiful watercolour-esque animated feature, leaps from page to screen under the direction of none other than Arthur Rankin Jr. and Jules Bass.
The Last Unicorn sets out to learn if she's exactly that, and along the way is swept up in adventure with a variety of characters who are far from unique to the genre, yet together, they craft a magical and meaningful story, reminiscent of a thousand bedtimes tales.  Rankin and Bass, who are known famously for their seasonal stop-motion television, bring their collective sentimental quality to The Last Unicorn, which they infuse with Japanese animation and the soft rock band America, who have exchanged one 'Horse with no Name' for another as they provide the film's very whimsical soundtrack.
Voice talents are in good supply with Mia Farrow as the Unicorn, along with the late Alan Arkin as the aspiring wizard Schmendrick and Jeff Bridges as Prince Lir, just to name a few. Despite both Arkin and Bridges sounding a little out of place, you can feel warmth and depth of feeling from the Hollywood stars. Christopher Lee who serves as the main antagonist, an actor with immense respect for literary works, performs as if he were on the stage in London's West End performance Shakespeare.
SPECIAL FEATURES
Like all good "making of" featurettes, The Story of the Last Unicorn, takes viewers on an in-depth retrospective of our feature presentation's roots as a novel to its steady journey to the big screen. Author Peter S. Beagle talks about how his subconscious mind shaped the famous story and its key themes, as well as divulges on his initial hesitancy on partnering with Rankin & Bass studios. Whether you're a long-time fan or a first time viewer, this 45-minute supplement is worth watching for insight on The Last Unicorn's humble beginnings and cult status. Equally interesting is the 11-minute featurette detailing the film's screening tour from the early 2010s where Beagle has several heartfelt interactions with passionate admirers of his work. – by Hannah Lynch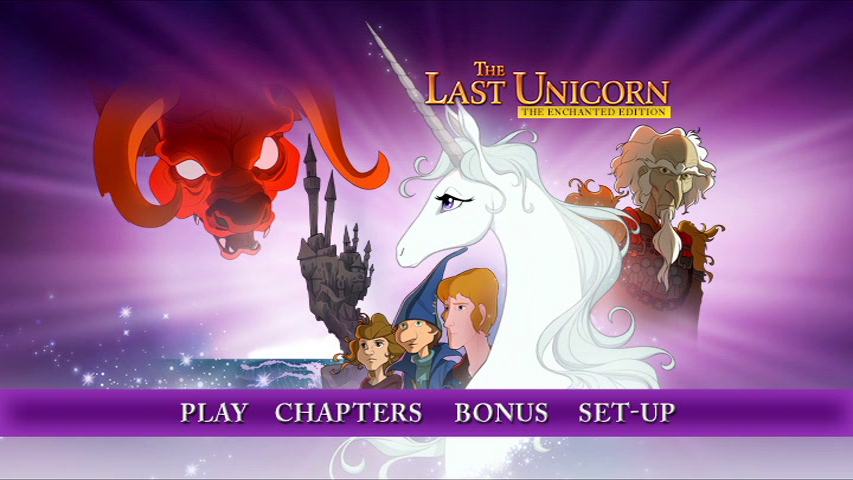 VIDEO AND AUDIO
Despite being two formats behind the HD eight-ball, The Last Unicorn fares quite well on DVD offering some amazing vibrant colours presented in standard 16:9 widescreen with optional 2.0 and 5.1 Dolby Digital tracks; both of which are rich in quality. I do, however, recommend the two-channel option for louder dialogue. NTSC formatted, the disc is region 4 locked and subtitles are not included.
The Last Unicorn is a touching, almost bittersweet, metaphor of how our world changes when viewed through adult eyes, mainly the feelings and desires we held throughout youth. However, it's films like these that serve as a timeless gateway back to those innocent times, emphasising the importance of occasionally looking back.
THE LAST UNICORN
(1982, director: Arthur Rankin, Jr. & Jules Bass)
★★★★
direct dvd screen captures
You can follow cinematic randomness on Twitter and Facebook where you'll find all my cinematic exploits. Thank you for visiting!