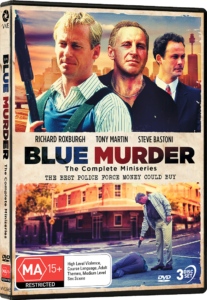 Stemming from its meagre beginning as a penal colony for the British Empire, Australia has developed a colourful criminal history over the two centuries that followed. This unlawful element of the past I think has been glamorized far too often in recent years through numerous overly embellished television series. However, before this tacky trend began, a two-part miniseries produced by the Australian Broadcasting Corporation (ABC) set a new standard for TV crime/drama, changing the landscape for years to come. Based on true events, Blue Murder takes place in Sydney during the 70s and 80s; exploring the relationship between controversial New South Wales Detective Sgt, Roger Rogerson, and the notorious high-profile criminal, Arthur "Neddy" Smith.
There's something remarkably polarizing about what's portrayed in this landmark series, and I can only narrow it down to sheer street-level grit of criminal life or the blatant corruption that was rife within a faction of the New South Wales Police Force. Roger Rogerson, who was arguably Australia's most crooked cop, was the embodiment of this rotten culture. One of the most highly decorated officers among his respective peers, he was the best and worst of law enforcement. His unofficial partnering with Neddy Smith who was a fundamental criminal in his own right becomes increasingly affectionate as the duo bond over many beers while planning their illegal endeavours. One of two key events which Blue Murder dramatizes is the infamous daylight shooting of low-level drug dealer, Warren Lanfranchi, committed by Rogerson, in which Smith was a pivotal player in the proceedings that followed. The second significant chapter entails the failed assassination of an undercover detective, Michael Drury, who Rogerson attempted to bride. Despite being a television-based production, there's a striking cinematic quality that was rarely seen in living rooms at the time. Dim lighting that was often accompanied by a thick vale of cigarette smoke creates an almost film-noir aesthetic, appealing to fans of the genre. Richard Roxburgh as Rogerson is a performance unmatched in terms of transformation, charisma and intimidation; the psychical and verbal likeness to his real-life counterpart is unquestionable. It's without a doubt, one of, if not the greatest ever seen on Australian television. Neddy Smith is portrayed by renowned character actor, Tony Martin, and he's furiously menacing as the career criminal, loyal and ruthless in equal measure.
VIDEO AND AUDIO
Blu-ray Murder has previously seen two DVD releases through ABC, neither of which were of particularly good quality, but with the classic mini-series recently landing on streaming services, a new HD rendering has made a significant improvement. Via Vision has presumably sourced their DVD edition from the same new master, which has better sharpness and colour and comes presented in its original 1.33:1 aspect ratio; PAL formatted and region 4 locked.  Despite the series' limited sound design and mixing, the Dolby 5.1 track gives it a nice kick and feels very immersive during many of the livelier scenes with Rogerson and company. Subtitles are not included.
SPECIAL FEATURES
Audio Commentary with director Michael Jenkins and editor Bill Russon
Blood Brothers – The Making of Blue Murder
Editing Blue Murder
Cast Biographies
Original Trailer
Stills Gallery
Ported from the previous 3-disc set, the above list of extras isn't the most exciting, but seem to have more value now during this new age of cinematic television and the stronger emphasis placed on writing. The audio commentary gives the best insight and historical context Via Vision's new cover design is by far the best design; a welcome upgrade from the less inspired efforts.
Blue Murder is exciting, addicting yet at the same time a deplorable portrait of police corruption that brazenly rubbed shoulders with Sydney's underbelly. Rogerson now resides behind bars, following his 2016 life sentence conviction for the murder of a student, Jamie Gao, after a drug deal gone wrong; a somewhat poetic closing chapter for the most bent cop in Australian history.
BLUE MURDER (1995)
(1995, dir: Michael Jenkins)
★★★★½
Head over to the Via Vision Entertainment Facebook page for the latest releases, giveaways, great deals and more!
production still courtesy of Via Vision Entertainment 
You can follow cinematic randomness on Twitter and Facebook where you'll find all my cinematic exploits. Thank-you!