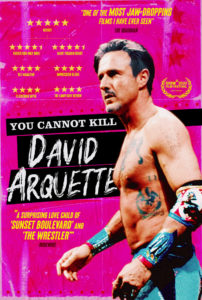 I still can't figure out if David Arquette is a good actor or not; an assessment I've been struggling with since I first watched Scream as an early teen. His supporting role as the socially clumsy, Deputy Dewey Riley, in the slasher remains memorable to this day and one that was savagely lampooned in the inaugural Scary Movie. I feel his style of acting and slightly off-beat personality merge when he's on-screen, blurring the line of what's considered a quality performance. However, and seemingly out of nowhere, it was his controversial 12-day reign as the WCW Heavyweight Champion in 2000 that revealed a different side to the marginally successful actor.
You Cannot Kill David Arquette is a documentary feature that charts Arquette's return to the squared circle as a means of gaining respect not only for himself but from the business he's loved and admired since childhood. With his career all but stalled, we meet a man who's come to a crossroads in life, both personally and professionally. While he enjoys fatherhood and a happy marriage, midlife anxieties are beginning to stir, thus igniting his gruelling journey for what he hopes to be a triumphant return to the ring. Much like Hollywood and the business he wants to make a splash in, there's a few moments throughout this otherwise candid documentary that feels slightly staged, such as Arquette's impromptu visit to a backyard wrestling event. Nevertheless, this supposed low key appearance is clearly an energising experience from the would-be wrestler, who then travels down to Mexico where he mingles with various Luchador performers, learning some street-level moves in front of oncoming traffic. Reminiscent of the timeless training montages seen in the likes of Rocky and the Karate Kid, this cultural encounter helps Arquette shake off the goofy persona that's followed him along most of his career. However, a setback soon follows at the hands of a hardcore wrestler, Nick Gage, a scene I won't spoil, but if you follow the sport closely, you likely know what I'm referring to.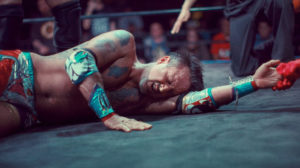 David Arquette strikes me as someone who hasn't lost their child-like wonderment, which I think is quite evident from the snippets we see of his backyard, which looks like a mix of Willy Wonka and Alice in Wonderland. He wears his heart on his sleeve and despite his insecurities, his passion and determination are beyond question, hence the title of this intimate and well-travelled documentary. You don't have to be a fan of wrestling to enjoy it, just someone who simply admires a good comeback story.
You Cannot Kill David Arquette is currently streaming in Australia on Amazon, iTunes, FetchTV and Stan.
YOU CANNOT KILL DAVID ARQUETTE (2020)
(2000, dir: David Darg & Price James)
★★★★
production still courtesy of  Katie Armstrong of October Coast
You can follow cinematic randomness on Twitter and Facebook where you'll find all my cinematic exploits. Thank you for visiting!