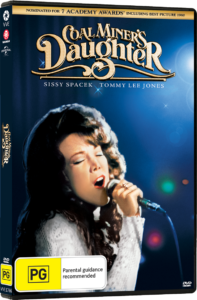 I remember Coal Miner's Daughter being one of those 'event' DVD releases during the format's glory days and while I was a pretty avid collector of classic titles at the time, it was one of the few that slipped by me. However, the classic Hollywood biopic is back on store shelves thanks to Via Vision Entertainment, reacquainting film fans with the story of country music icon Loretta Lynn through her rise to fame from humble beginnings.
Opening in the rural Kentucky coal mining community of Van Lear, we're introduced to 13-year-old Loretta, on the cusp of her 14th birthday. Her life is simple, although, like most of the townsfolk, poverty is always in close proximity despite her father's hard work under the employment of the town's sole industry and lifeblood. Depiction of this lifestyle feels very authentic, which is largely attributed to on-location filming. Lorretta marries Oliver "Mooney" Doolittle Lynn at age 15 with the prospect of a better life elsewhere and finds herself a mother of four before 20-years-old. Her rise to fame is gradual, prompted by the gift of a guitar from her husband, which leads to occasional singing at local honky-tonks and radio performances. Director Michael Apted and screenwriter Thomas Rickman don't rush with showing the whirlwind success that would eventually encompass Loretta Lynn's life, as each pivotal event throughout her journey is given time for the viewer to absorb the emotions behind it. Loretta's marriage to Mooney is the central focus of the film, one of mutual love, but constantly fraught by strain from Mooney's personal demons and feelings of inadequacy. There's a powerful statement about a man's masculinity when he's not the main bread-winner during a time when not being so was looked upon unfavourably within the working class. Unlike many music-oriented biographies that feature some painfully obvious dubbing, the film's star Sissy Spacek and supporting actress Beverly D'Angelo as Patsy Cline both impressively sing all the songs featured in the film. Spacek as Lynn is a remarkable likeness to the real-life country star, who captures the innocence of a young woman thrown into adult life at a premature age while Tommy Lee Jones is enduring as Mooney, an instrumental figure in Loretta's life, who eventually finds his place after many years of uncertainty.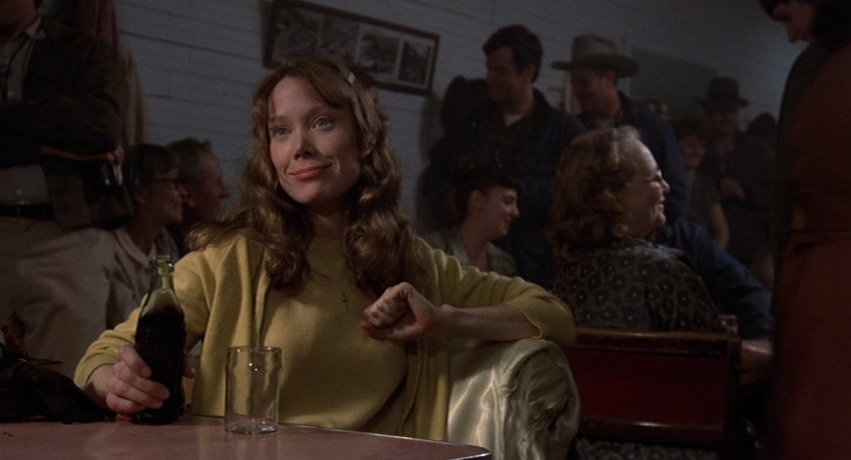 VIDEO AND AUDIO
Coal Miner's Daughter comes presented in 1.85:1 widescreen one a single NTSC formatted disc and much like the recent string of classic titles Via Vision have been releasing, quality is exceptional. Picture is rich in detail and despite the absence of bright colours throughout large portions of the film, there's solid clarity and the image is very clean. Sound, on the other hand, makes the biggest impression via an enhanced 5.1 track with restored audio, which appropriately elevates the film's music.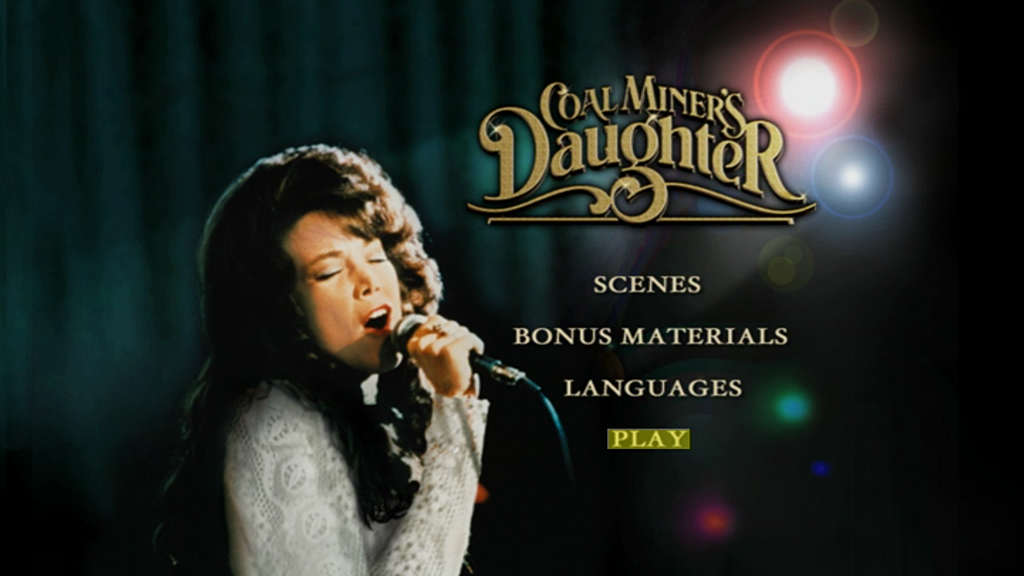 SPECIAL FEATURES
Audio commentary with Sissy Spacek and director Michael Apted
Tommy Lee Jones remembers Coal Miner's Daughter
Interview with Loretta Lynn and director Michael Apted
President George Bush Sr. salutes AFI and Coal Miner's Daughter
Bonus content consists mostly of commemorative material, highlighting the film's significance to country music and the rural working-class spirits, which the story largely stem from. Tommy Lee Jones, who is known for not being the most talkative during interviews, is quite candid as he reflects on making the film with director Michael Apted, who also speaks to Loretta Lynn in a spate featurette. Lynn speaks of her difficulty in watching the film as it hits too close to home but commends Apted for its accuracy and truthfulness. Capping off the extras is an unusual featurette of George Bush Sr. giving what sounds like a sincere speech at the American Film Institute in 1989 about America's heart and soul seen through film, singling out Coal Miner's Daughter among others.
Coal Miner's Daughter is a powerful story about the rise from adversity and the struggles along the way; relatable and inspiring to many in search of identity and self-worth. It's more about people rather than the music which echoes the sentiments of those who live and die without recognition.
COAL MINER'S DAUGHTER
(1980, dir: Michael Apted)
★★★★
Head over to the Via Vision Entertainment Facebook page for the latest releases, giveaways, great deals and more!
You can follow cinematic randomness on Twitter and Facebook where you'll find all my cinematic exploits. Thank you for visiting!