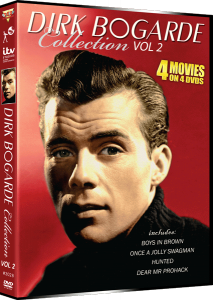 While the surname is similar, I wouldn't say Dirk Bogarde is the UK's answer to Humphrey Bogart. Unlike the rough exterior of 'Bogie', not to mention his unique manner of speaking, Derek Niven van den Bogaerde, is a clean-cut gentleman who speaks the Queen's English flawlessly. Whether he's playing a hardened criminal or a reform schoolboy, The Dirk Bogarde Collection Vol 2 from VCI Entertainment is pure variety.
BOYS IN BROWN (1949)
After a poor decision made out of desperation, Jackie, played by a young and stocky Richard Attenborough, finds himself behind the walls of the British Borstal reform institution with a three-year term. It's here where he falls in with the manipulative Alfie (Bogarde), who along with an assortment of characters are plotting an escape. You could say this is a precursor to Alan Clarke's Scum, but with far more humanity and a positive outlook; as the 'catch 'em when they're young' moto, plays a significant part in this social drama. Contrary to the rather depressing situation our lead finds himself in, it's a rather uplifting film. Attenborough is very sympathetic as Jackie, while Bogarde is devious and slippery as Alfie, the main and most memorable supporting act.
ONCE A JOLLY SWAGMAN (1948)
Fed up with his factory job, unmotivated young man, Pat (Bogarde), takes a job as a novice motorcycle racer at the local speedway. His natural ability quickly gains him attention, which leads to a brush with high society. I can relate to Pat's situation. No, I'm not a racer by any means, but I've experienced prejudice towards my chosen profession, which doesn't fit one's idea of a "real job". This leads to great uncertainty and indecisiveness, which Pat feels throughout most of the picture and his subsequent trouble of re-entering the workforce after a prolonged absence is something that's very relevant in today's society.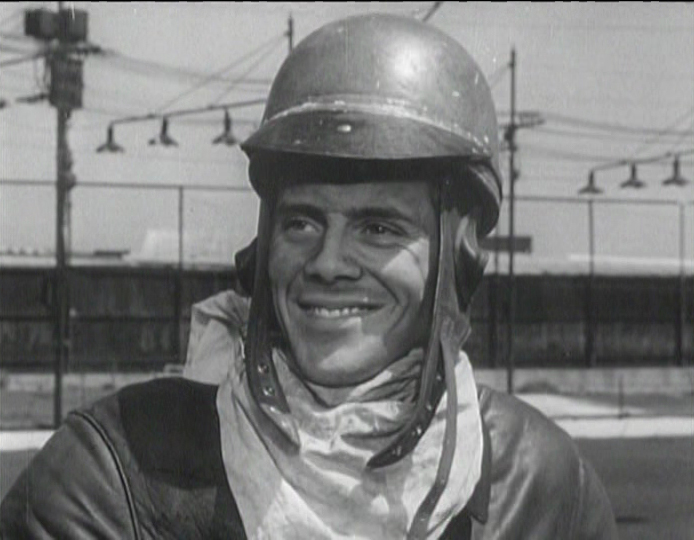 HUNTED (1952)
Robbie, a neglected six-year-old boy, runs into the arms of a violent fugitive, Chris Lloyd (Bogarde), on the streets of London. Together they head to the Scottish border, both seeking salvation. With a jarring backdrop of post-war Britain this particularly gritty drama, I think in small measure, epitomises the lost feeling many faced after bombs stopped falling in 1945. Cast out by a fractured society, our pair embark on a journey that's unforgiving while forming a friendship they're both been longing for. Jon Whiteley, who played Robbie, passed away in May of last year and Hunted was his first of only a handful of screen credits. For such a young child, he's quite good in the role, delivering a very naturalistic performance.
DEAR MR. PROHACK (1949)
Arthur Prohack, a notorious treasury official known for his very stingy stance on public spending, inherits a private fortune and his family insist he lives accordingly to his newfound wealth. Prohack lives within his means, and would rather set a good example to the British tax-payer than hypocritically flaunt around his money. I have a somewhat distant cousin who's practically a millionaire but lives like it's the Great Depression. It seems the more he has, the less he's willing to spend; an attitude that's all too common. However, in the case of this high-energy comedy, our lead's family, partially his son, Charles (Bogarde) creates chaos that sends his father hilariously to the edge of sanity. Bogarde gets the least amount of screen time here compared to the previous three films, in many instances, Dear Mr Prohack works an ensemble. Should you decide to check it out for yourself, look out for Denholm Elliott (Raiders of the Lost Ark) in his very first screen role.
VIDEO AND AUDIO
Considering the relative obscurity of these four titles compared to Bogarde's more mainstream hits, it's not surprising the DVD presentation falls short of what's achievable with the format. Nevertheless, this is a perfectly serviceable set of films you won't find on any streaming service. ITV Global Entertainment provided the source material direct to VCI from their Digital Beta masters. Despite all features being presented in Dolby 2.0, there is an audible hissing, but it's not distracting and actually works in with the vintage style. English subtitles included and the two discs are region 1 locked.
If you're a movie collector wanting to add more classics to your home library. VCI's collection sets are great value for money and contain many cinematic gems that have fallen through the cracks.
DIRK BOGARDE COLLECTION VOL 2  
(1948-52, director: Various)
★★★★
You can follow cinematic randomness on Twitter and Facebook where you'll find all my cinematic exploits. Thank you for visiting!