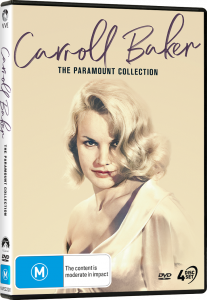 I first saw Carroll Baker in Kindergarten Cop when I was far too young to be watching it. She played criminal matriarch, Eleanor Crisp, mother to the film's main villain, Cullen Crisp, played by Richard Tyson. Now on DVD from Via Vision Entertainment is Carroll Baker: The Paramount Collection, four classic titles from the blond-bombshell's most prominent years.
BUT NOT FOR ME (1959)
Clarke Gable stars as an aging Broadway producer in what is a high-energy love triangle between himself, his young secretary (Carroll Baker) and his meddling ex-wife (Lilli Palmer). It's by far the most entertaining film out the four as it explores the double standard of relationships between a younger woman and an older man, when the woman is the instigator. While there no arguing that Baker's role is significant to the plot, the film is very much Gable's, who gives an all-out performance as the insecure and indecisive producer. Lilli Palmer, however, is a total scene-stealer, outshining Baker who gets second billing.
SYLVIA (1965)
When a California millionaire hires private detective, Macklin, to investigate the past of his beautiful fiancé, Syliva West, mystery and reality slowly merge as our clever P.I. puts the pieces together. Despite being a little long and cliché towards the end, this soft romantic drama is rather risqué for its time with some dark subject matter and subtly hinted lesbian love expressed from one of the minor characters. George Maharis as Macklin is a strong male lead next to Baker's titular Sylvia, who embodies the film's very haunting aura of mystery, which carries the viewers through a number of different locations across the country.
HARLOW (1965)
While fabricated and embellished, this story of actress Jean Harlow, Hollywood's original platinum blonde, starts off fairly well as we follow the struggle of achieving fame in a male-dominated industry built on superficiality. Baker is perfectly cast the as Harlow, who at the time was almost a modern equivalent of the ill-fated actress. However, the film gets down into the gutter after a pivotal scene, becoming very trashy while losing much of the substance from its first half. Perhaps it was the sensationalized approach it opted for, but the film seems to fall into the same traps the story warns against. Nevertheless, this story is certainly glamourized in almost every respect, from the costumes by Edith Head to the extravagant set design.
THE CARPETBAGGERS (1965)
Released previous on Blu-ray under Via Vision's premium label, Imprint Films, is a hot mess of a film, much like Harlow. Baker plays more or less the same character, minus the up-hill struggle. Although, her overall narrative is actually more accurate to the real-life Jean Harlow. I covered film in full, which you can read here – Blu-ray Review: The Carpetbaggers (Published November 9)
VIDEO AND AUDIO
Quality varies with this collection with the better half of this collection, Sylvia and But Not for Me (presented in 4:3) sourced from a basic SD master, the latter I presume, a digital Beta to be more specific. Both The Carpetbaggers and Harlow come from an obvious re-mastered source and still manage appear impressive on DVD, with strong colour and sharpness. The set is NTSC formatted and presented in Dolby 2.0, which varies in the level of impressiveness and clarity. English subtitles are included.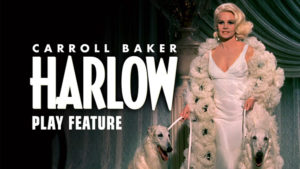 Having now seen several of Baker's earlier works, I feel confident in saying that her role in the Schwarzenegger action/comedy mentioned above is one she was put on this earth to play. Baker harbours a quality that's slightly scary which didn't come about with old age. Maybe it's her rather harsh way of speaking or icy personality. Either way the Oscar-nominated actress has was a lure for film audiences and this DVD set showcases some of her most publicized movies.
CARROLL BAKER: THE PARAMOUNT COLLECTION  
(1959-65, director: Various)
★★★½
Head over to the Via Vision Entertainment Facebook page for the latest releases, giveaways, great deals and more!
You can follow cinematic randomness on Twitter and Facebook where you'll find all my cinematic exploits. Thank you for visiting!