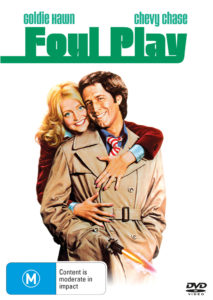 It's no secret that Chevy Chase ruffled some feathers when he suddenly left Saturday Night Live halfway through its second season in 1976 to pursue a movie career in California. Almost an instant transition, the "The funniest man in America," landed his first leading role in comedy-mystery, Foul Play, alongside top-billed star Goldie Hawn a year later. Now available once again on DVD in Australia, this time through Shock Entertainment, the movie follows shy librarian, Gloria Mundy (Goldie Hawn), as she becomes involved in a bizarre and sinister plot with whispers of dwarves and albinos, and a connection to the Catholic Church. Romantic entanglements ensue when a bumbling cop, Tony Carlson (Chevy Chase), is put on the case.
Opening with the murder of a Catholic archbishop, Foul Play quickly shifts to a charming introductory scene via an innocent dinner party where our two stars share a brief encounter before parting ways. Befitting of a classic film-noir, the plot begins inside a movie theatre where the fictitious feature, This Gun is Mine, starring genre icon Alan Ladd, is playing to an engaged audience. It's here where Gloria is given the ominous warning of "Beware the dwarf" by a mysterious stranger she met earlier. Foul Play is a fun comedy and even the film's more dramatic moments are played for laughs exceptionally well; in a similar fashion to a Billy Wilder film in how the tone is perfectly balanced and measured for optimum enjoyment for the viewer. Set in picturesque San Francisco, the bayside environment adds a lot in terms of aesthetic and highlights the late 70s fashion exhibited by the numerous characters who come in a wide variety. Goldie Hawn and Chevy Chase have great chemistry together and it's easy to see why Chase was initially hailed as the next Carey Grant, despite being a little green as an actor. The actor's dialogue is sharp with a few raunchy one-liners that viewers don't see coming, and, as expected, we get some of his trademark pratfalls. Hawn is adorable as Gloria, a woman frustrated over a stalled-love life, but the rush of excitement in her otherwise mundane life is like something out of a pulp novel (in a good way). Supporting players like the elderly, yet spry landlord, Mr. Hennessey (Burgess Meredith) bring some nice spontaneity, along with Dudley Moore as would-be womaniser Stanley Tibbets, and Billy Barty as a dwarf bible salesman on the hilarious receiving end of mistaken identity. The late great Brian Dennehy also makes an appearance in a minor role as Chase's partner, Fergie.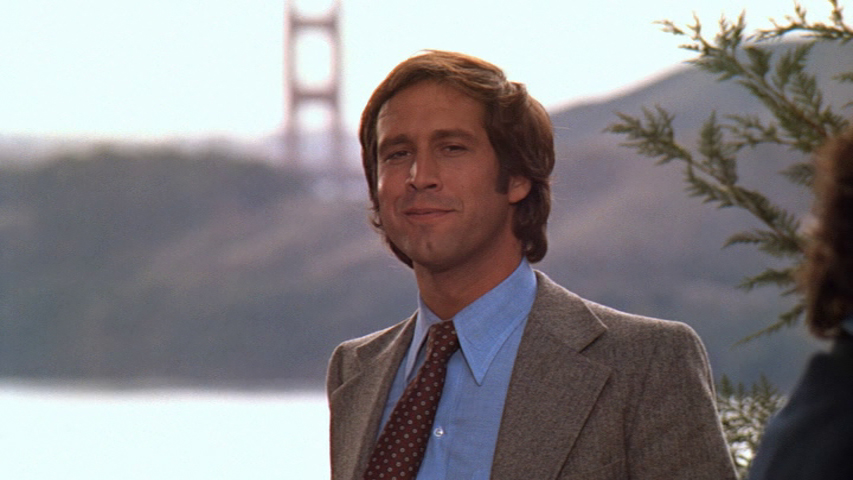 VIDEO AND AUDIO
I had my fingers crossed for a straight port of the previous DVD release, but unfortunately, that's not the case; there's not even a menu screen or chapter stops here. However, the surprisingly good picture and sound plus Shock's very slick and colour co-ordinated sleeve is well worth noting. Region 4 encoded, the NTSC disc offers strong colour in 16:9 and the picture upscales to 1080p remarkable well overall. Sound unexpectedly blasts through those two front speakers in Dolby Digital 5.1, a flawless audio track that's immune to the often annoying mismatch between sound effects and dialogue.
Foul Play is worth more than a budget release, but with the industry struggling, anything more isn't always going to be viable. Thankfully though, quality is given to this disc where it matters the most and we're talking good value for money, so pick up a copy.
FOUL PLAY
(1978, director: Colin Higgins)
★★★★
direct dvd screen captures
You can follow cinematic randomness on Twitter and Facebook where you'll find all my cinematic exploits. Thank you for visiting!