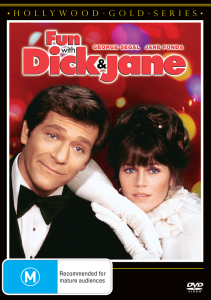 Out now on DVD from Shock Entertainment under their Hollywood Gold Series, is Fun with Dick and Jane, a comedy from versatile director Ted Kotcheff (Wake in Fright), starring George Segal and Jane Fonda as our titular couple. Dick Harper is a successful aerospace engineer but when he is suddenly fired, a substantial mortgage and lack of income force him and his lovely wife Jane to commit armed robbery in order to sustain their excessive lifestyle.
While a product of its time, this energetic parody on suburban living has a lasting relevance, especially in today's society which practically encourages one to live well beyond their means. Dick and Jane represent a rather common attitude of the additional stock put into a household's income, such as social status and appearances. Despite their efforts to make appropriate sacrifices, it's simply a means to eventually resume their frivolous existence. Most of the film's humour stems from how unemployment is treated like a daring new adventure for our once proposes couple, who must navigate the benefits system, which is oddly utilised by only Hispanics. Luckily for Dick two kindly Latino gentlemen school him in the art of obtaining food-stamps. As I'm sure you're wondering, this blatant display of political incorrectness also extends to African Americans, who delight in partying, whilst gainfully employed. To the film's credit this racial element is not handled in a mean-spirited way and does make a noted point regarding the social economic divide between white America and certain minority groups. Georg Segal and Jane Fonda perfect as Dick and Jane, both delivering fun and equally enthusiastic performances. I've always enjoyed Segal's flair for sarcastic humour, while Fonda brings a gracefulness through physical comedy.
VIDEO AND AUDIO
Presumably repackaged from a previous release, based on this DVD's menu, Fun with Dick and Jane looks exceptional for a back-catalogue release with consistent film grain and picture clarity worthy of the SD format. Presented in widescreen 1.85:1 with a Dolby Digital 2.0 track, the region 4 encoded disc is quality edition of lovers of classic cinema.
For most of us with a steady income it's easy to take things for granted, often forgetting that a significant aspect of our lives can hang by a thread, one that can snap without warning. So when you're done taking in the laughs from this hilarious cautionary tale, maybe take some time to look at your own situation, because you never know what might be around the corner.
FUN WITH DICK AND JANE
(1977, dir: Ted Kotcheff)
★★★★
You can follow cinematic randomness on Twitter and Facebook where you'll find all my cinematic exploits. Thank you for visiting!