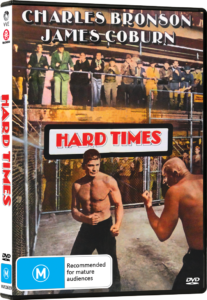 I've seen a lot of Charles Bronson movies, but not nearly all of them. Hard Times ranks among my favourites from the blue-collar actor and marks the directorial debut of Walter Hill (The Warriors). Punching its way to DVD from Via Vision Entertainment earlier this month, the mid-70s classic takes audiences back to the midst of The Great Depression in New Orleans, 1933. Bronson is a drifter named Chaney, an unassuming bare-knuckle street fighter, who teams up with local gambler/promotor Speed (James Coburn) to earn a few bucks before moving on.
With such a literal title, the film certainly does epitomise the constant struggle faced by many during the film's setting of widespread hardship. It also serves as a meaningful slice-of-life centred around a group of diverse characters who are either walking the outskirts of society or trying to find a sense of purpose during uncertain times. Bronson as Chaney, a man of few words, represents the collective spirit of these underdogs, whose endurance as a fighter reflects the will to overcome adversity. Whereas the unscrupulous Speed aims to satisfy the everyday person's appetite for illegal activity which offers the lure of easy money. Coburn is fantastic in the role, whose knack for playing wheelers and dealers is out in full force. Coming in at 93 minutes, Hard Times moves at a steady pace with Chaney taking on numerous fellow street fighters with opponents becoming more formidable as the stakes increase. Bronson shows tremendous skill and agility for a man in his mid-50s as he throws hands with men closer to their prime. Fighting sequences are entertaining, well-choreographed and deliver a raw quality without becoming gratuitous. The time between bouts is spent developing our cast of characters, who are each likeable in their own way. Strother Martin makes his presence known as decrepit cutman Poe in a more restrained performance than usual, while Jill Ireland (Bronson's real-life wife) as the lonely Lucy Simpson, embarks on an uneasy affair with Chaney.
VIDEO AND AUDIO
Much like The Stone Killer, Via Vision Entertainment has likely sourced Hard Times from its original Columbia Pictures release, which I recall often seeing at my local Target during my formative years of DVD collecting. Picture quality is excellent and benefits well from HD upscaling via modern playback devices and sound is adequate in what I assume is a 2.0 Dolby track as there are no specs listed on the case.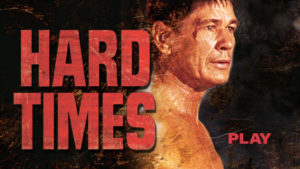 Hard Times echoes a number of poignant themes in addition to the sentiments of a nation in despair. It strives to be more than just another rough-and-tumble period drama and its two prominent stars, Bronson and Coburn, are never better as unlikely partners.
HARD TIMES
(1975, dir: Walter Hill)
★★★★
direct dvd screen captures
You can follow cinematic randomness on Twitter and Facebook where you'll find all my cinematic exploits. Thank you for visiting!