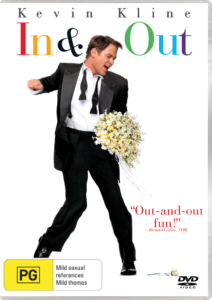 I remember when In & Out came out, no pun intended. There was a lot of fanfare surrounding the film and entertainment critics acted like it was trendy to be 'cool' with gay people, even though it was a far less welcoming world compared to today. Shock Entertainment has re-issued the now, technically classic, comedy on DVD starring Kevin Kline as Midwestern school teacher, Howard Brackett, who is outed by a former-student-turned movie star. Even though Howard is about to get married to fellow teacher, Emily, he begins to question his sexuality, especially since he didn't even know he was 'in'.
In & Out embodies that simple Midwestern rural charm within the confines of a friendly and idealistic town setting, where everyone knows everyone. It's far from mean spirited towards the idea of a homosexual being just as an important member of the community as a heterosexual, but it does perpetuate stereotypes and ideas of masculinity versus femininity, which would easily come across as offensive in today's society. Despite these issues, one could view the film as a measuring stick in how far society's progressed since its release. Staying within the context of protagonists' story, the feature does makes for a highly entertaining comedy with some genuine laugh-out-loud moments, mostly from Kevin Kline. The actor really carries the film as a stunned teacher coming to terms with who he really is, even whilst knowing it will lead to heartache for his bride-to-be, played by the always over-the-top Joan Cusack. Other supporting players round out the cast, including Debbie Reynolds and 'Mr. Diabetes' himself, Wilford Brimley, as Howard's old-fashioned folks; Matt Dillon as Cameron Drake: the unintentional instigator of all the controversy, and Tom Selleck portrays the enlightened gay reporter, Peter Malloy.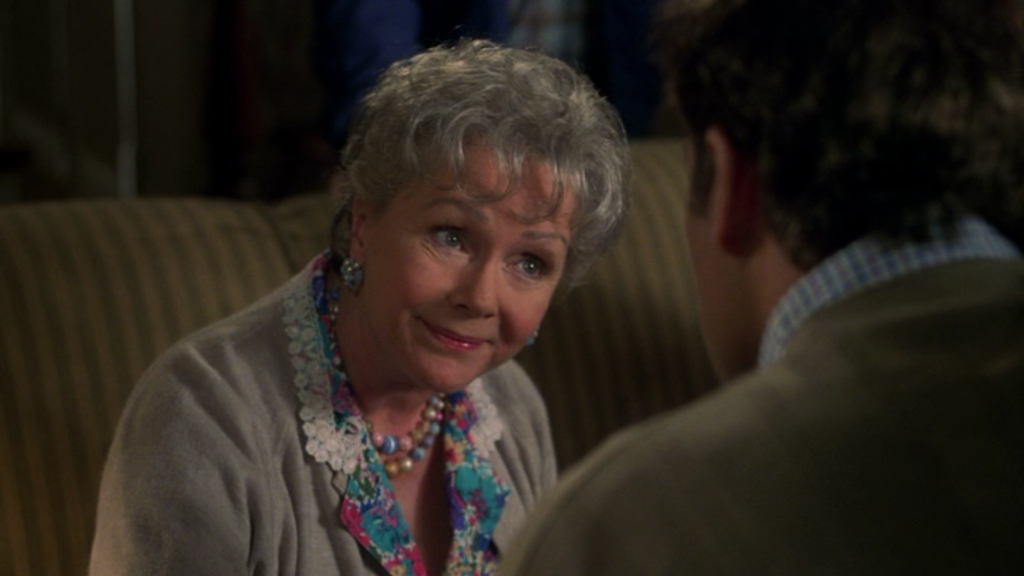 VIDEO AND AUDIO
Ported from the original Paramount DVD, this re-issue from Shock retains all the same specs of its predecessor, including subtitles. However, the release is missing a menu screen and chapter stops, which I'm noticing is becoming problematic when playing these discs through an optical drive on a PC or MAC. Regardless of the technical shortcuts, it's a nice example of a first-generation DVD with strong colour in 16:9 PAL format, and sound is in solid Dolby 5.1 track which is a plus given the movie's pop-heavy soundtrack.
While the film may not have not aged well in some respects, In & Out is well-intended and does end with a positive message celebrating acceptance, and how an individual is not defined by his or her sexual orientation.
IN & OUT   
(1997, director: Frank Oz)
★★★½
direct dvd screen captures
You can follow cinematic randomness on Twitter and Facebook where you'll find all my cinematic exploits. Thank you for visiting!