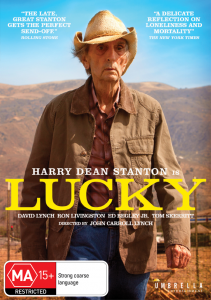 Whether the late Harry Dean Stanton intended Lucky to be his last film, he and audiences alike could not have been given a better send off to an all-time great character actor. This thoughtful drama from first-time director John Carroll Lynch, bids us to ponder life's ultimate questions and the fate that is bestowed upon us all.
Following a short but well received theatrical run in Australian cinemas late last November, Lucky recently arrived on DVD through local distributor Umbrella Entertainment, and tells of a 90-year-old atheist who embarks on an unexpected spiritual journey in his small but hospitable desert community. The subject of life and death undeniably gives this film a universal quality, with the discussion ranging from personal experience, observations and philosophical thought, all from a limited but broad cast of characters who thoroughly entertain and provide meaningful insight. On a personal note I saw a lot of my grandmother in the titular Lucky, a strong willed woman who beat lung cancer, despite an almost 60-year smoking habit and is currently in otherwise remarkably good health. Call it "some sort of scientific abnormality" to quote Ed Begley Jr.'s character of the town doctor, as our lead character shares a similar stroke of physical well-being. John Carroll Lynch certainly proves himself capable behind the camera, capturing the tranquil atmosphere of the American desert with some stunning photography, and of course, crafting a beautiful character piece via a genuinely sincere performance from Harry Dean Stanton, reiterating the message of how death is inevitable and not scheduled.
Also available on the streaming service Umbrella On Demand, Lucky on DVD is presented in 2.40:1 widescreen, NTSC format colour and 5.1 Dolby Digital, exceptional quality for an aging format. Coming in at a runtime of just 88 minutes, not a moment feels wasted and every scene has significance.
LUCKY
(2017, dir: John Carrol Lynch)
★★★★½
You can follow cinematic randomness on Twitter and Facebook where you'll find all my cinematic exploits. Thank you for visiting!